Martin Donnelly's Horrific Near-Death Crash Forced Formula 1 to Rethink Everything
Racing is a risky sport. No matter how many safety regulations are in place, the combination of high speeds and long race times leads to accidents. In fact, the history of racing is in many ways a history of crashes. Many drivers have died. Others sustain injuries that impact them for years. That's the case with former Formula One driver Martin Donnelly.
The British racer was involved in a horrific crash back in 1990. Let's look back over Donnelly's time as a race car driver, the crash that derailed his career, and how safety measures have changed since then.
Martin Donnelly's racing career
Donnelly was born and raised in Belfast, Ireland, where he developed a passion for racing from his youngest years. By 1988, at the age of 22, he was already competing in Formula Three and Formula 3000 events. As a member of the Eddie Jordan Racing team, details Speed Sport Magazine, he managed to place third in the 1988 International Formula 3000 season.
Through a combination of skill and lucky breaks, including injuries to other drivers, Donnelly earned a substitute place in the French Grand Prix. He put in a good show during the qualifying round, earning 14th position and beating out his friend and more experienced teammate Eddie Cheever. In the race itself, Donnelly finished three laps down, in 12th place.
Though he didn't win the event, his strong showing did wonders for Donnelly's visibility in the sport, and it didn't take long for him to receive serious interest. In 1990, Team Lotus signed Donnelly to compete with them in the upcoming Formula One season. Just like that, in the span of two years, the talented young driver had broken through into the pros.
A horrific near-death crash
Donnelly's first season in Formula One was a rough one. Despite a few seventh- and eighth-place finishes, he failed to score any points. His V12 Lotus-Lamborghini was also prone to engine failure, forcing him to retire early in some of his races. Yet Donnelly was thrilled by his racing journey and was still considered one of the top young prospects in the sport.
Unfortunately, he didn't get to enjoy the fruits of his labor for very long. While still in his first year with Lotus, Donnelly suffered a serious crash during a practice session at the Circuito de Jerez, a racing circuit in Spain. The crash saw Donnelly's car collide with the race barrier while traveling at 167 miles per hour, details VHR. The car exploded and Donnelly went flying through the air, still attached to his seat.
Fellow racing driver Damon Hill later described the accident in harrowing terms. According to Historic Racing News, he said, "All I could see was Martin lying like a crippled doll in the middle of the circuit. He was blue." At first, spectators assumed that Donnelly had died in the crash. Yet he was still alive — barely.
He suffered multiple serious injuries, including lung and brain contusions, severe leg fractures, and massive organ and muscle trauma. Doctors kept him in a coma for seven weeks in order to keep his body's systems from fatally shutting down. Eventually, however, Donnelly pulled through. Of course, he still faced many years of rehab and physical therapy.
The personal and professional aftermath of the crash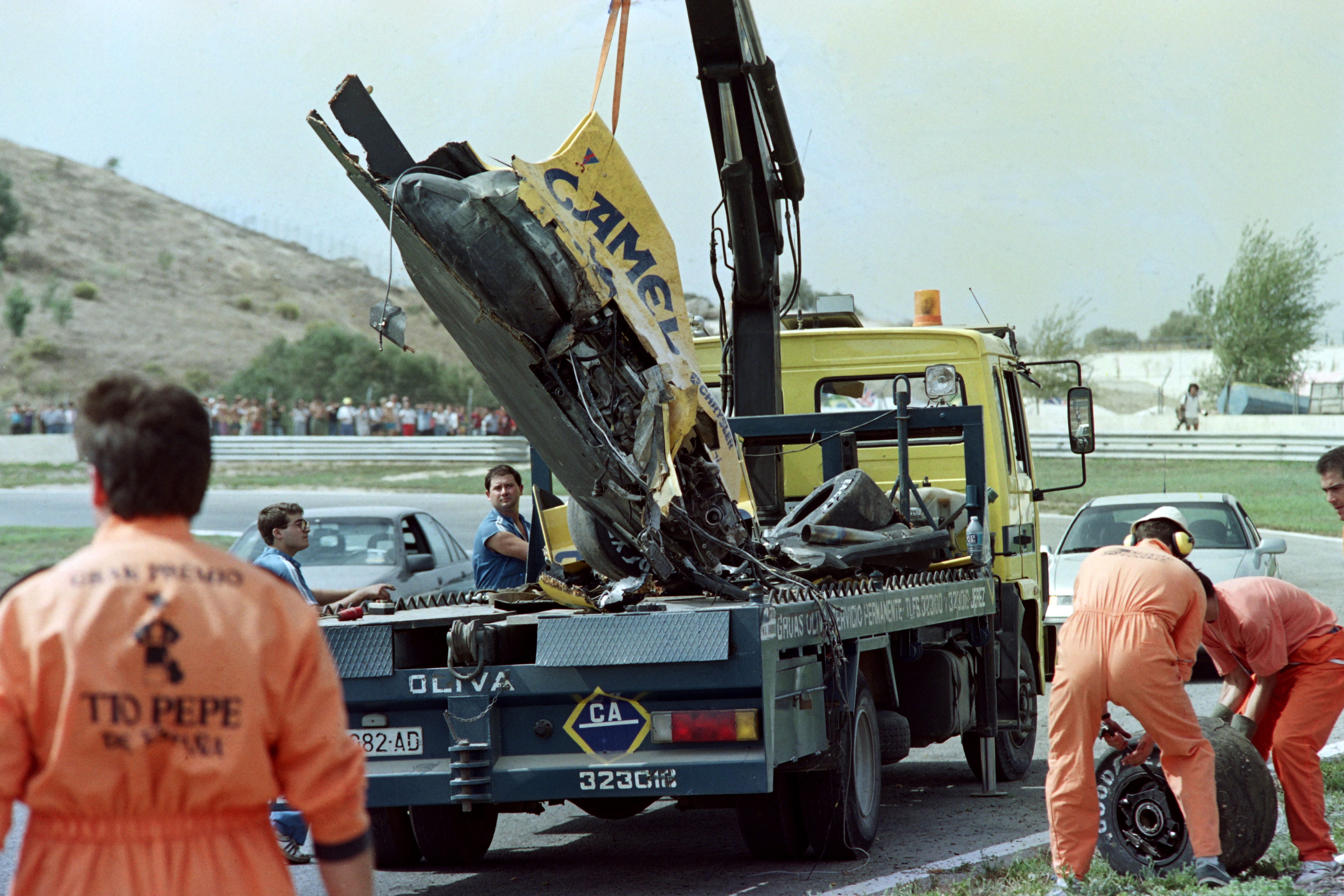 Initially, doctors told Donnelly that he would never be able to race again. In the end, Donnelly was able to prove them wrong. He has returned to the race track on numerous occasions, though always in smaller club events and never at the Formula One level. At first, Donnelly harbored some bitterness at the loss of his professional career.
He had a change of heart in 1994 though when his friend and fellow racer Ayrton Senna died in a crash while leading the 1994 San Marino Grand Prix. That tragedy made Donnelly realize how lucky he was to have survived at all. Donnelly and Senna's crashes also forced the league to implement more stringent safety protocols, both in terms of protective features and circuit design.