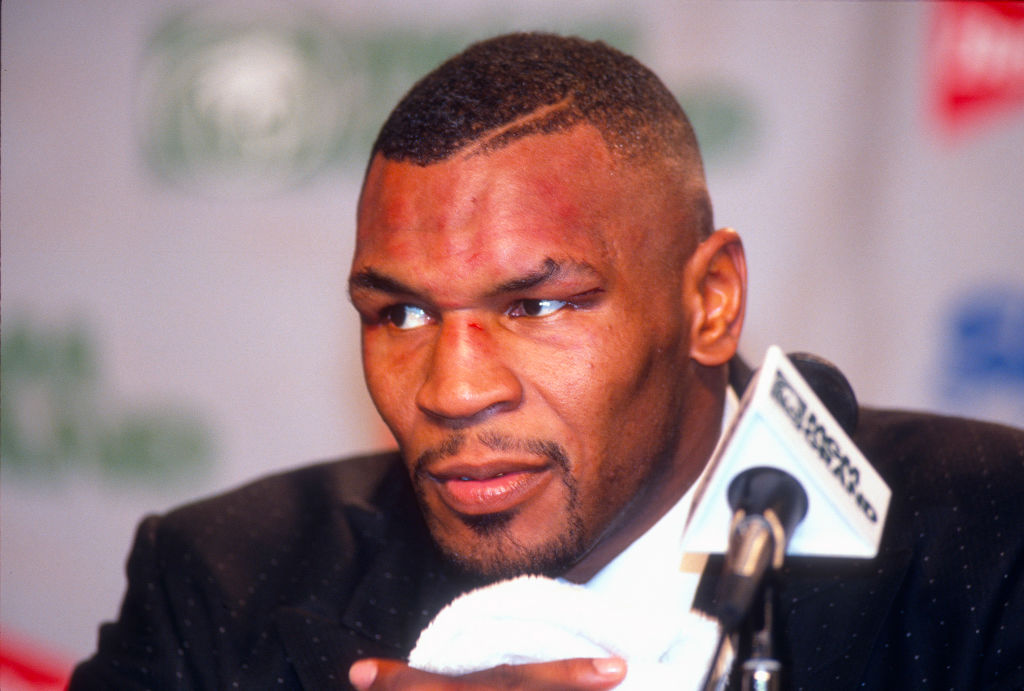 Mike Tyson Has a Bizzare Pick for the Biggest Regret of His Life
While Mike Tyson has made plenty of poor decisions and major missteps in his life, his biggest regret involves Tupac Shakur, not boxing.
Beyond their star status, even the biggest professional athletes are, at the end of the day, still human. Mike Tyson provides a perfect illustration of that reality. Iron Mike may have been an unstoppable force in the ring, but no amount of physical strength could stop his dramatic fall from grace.
Like everyone else, the former heavyweight champ has accumulated his fair share of regrets in life. Mike Tyson's biggest regret, however, pretty bizarre, even by the boxer's standards.
Mike Tyson's impressive rise to boxing stardom
Once he became a professional boxer, Mike Tyson quickly rose through the ranks. His first fights, however, took place without bright lights or fanfare.
Growing up in Brooklyn, Tyson's first fight came after a bully killed one of his beloved pigeons. At the Tyron School for Boys in upstate New York, however, he stopped brawling and started boxing. Thanks to Bobby Stewart, a fighter turned youth counselor, the teenage Tyson lined up with Cus D'Amato. That relationship would change everything.
While Tyson had raw strength and intimidation in his corner, D'Amato gave him a technical basis to build upon. Thanks to the peek-a-boo style, Iron Mike was able to absorb virtually anything his opponent threw at him before releasing his own devastating flurry of punches.
That combination allowed Tyson to become boxing's heavyweight champion at only 20 years old. His career, however, would turn into a roller coaster rather than a fairy tale.
Iron Mike had plenty of regrettable moments in his life
For all of Mike Tyson's talent, he wasn't infallible. If anything, the boxer's career can serve as a classic example of celebrity self-destruction.
In 1991, Tyson was convicted of raping Desiree Washington, who was 18-years old at the time. As recorded in the New York Times, the boxer received a 10-year prison sentence, but the last four years of it were suspended; he ultimately spent three years behind bars and an additional four years on probation.
While that was the worst of Tyson's offenses, his regrettable behavior—and legal issues— wasn't confined to one isolated incident. Against his better judgment, he purchased some pet tigers; the boxer even paid a woman $250,000 after one of the cats attacked her. Iron Mike also infamously bit Evander Holyfield's ear, threatened to eat Lennox Lewis' children, squandered his money, and hit rock bottom in a hotel room full of drugs and women.
Mike Tyson's biggest regret actually involves Tupac
Looking back on his life, Mike Tyson could easily pick out a number of missteps as his biggest regret. The former champ, however, has something else in mind: smoking with Tupac Shakur.
"He always wanted me to smoke weed with him, and I never did it, and I wish I did," Tyson told the Associated Press in 2010, as recounted by SFGate. While Iron Mike apparently had the opportunity to partake with the rapper, he missed the chance. "That's my biggest regret," he concluded.
While Mike Tyson and Tupac smoking together may sound like a zany scenario dreamed up by a fan of all things 1990s, all of the elements seem to be accounted for. As laid out in Rolling Stone, we know Tupac and Tyson thought highly of each other; Iron Mike also has a cannabis ranch and has boasted about his prolific smoking habits.
For all of his missteps, Tyson considers missing out on smoking with Tupac to be his biggest regret. If nothing else, that rendevous would have produced quite the story.