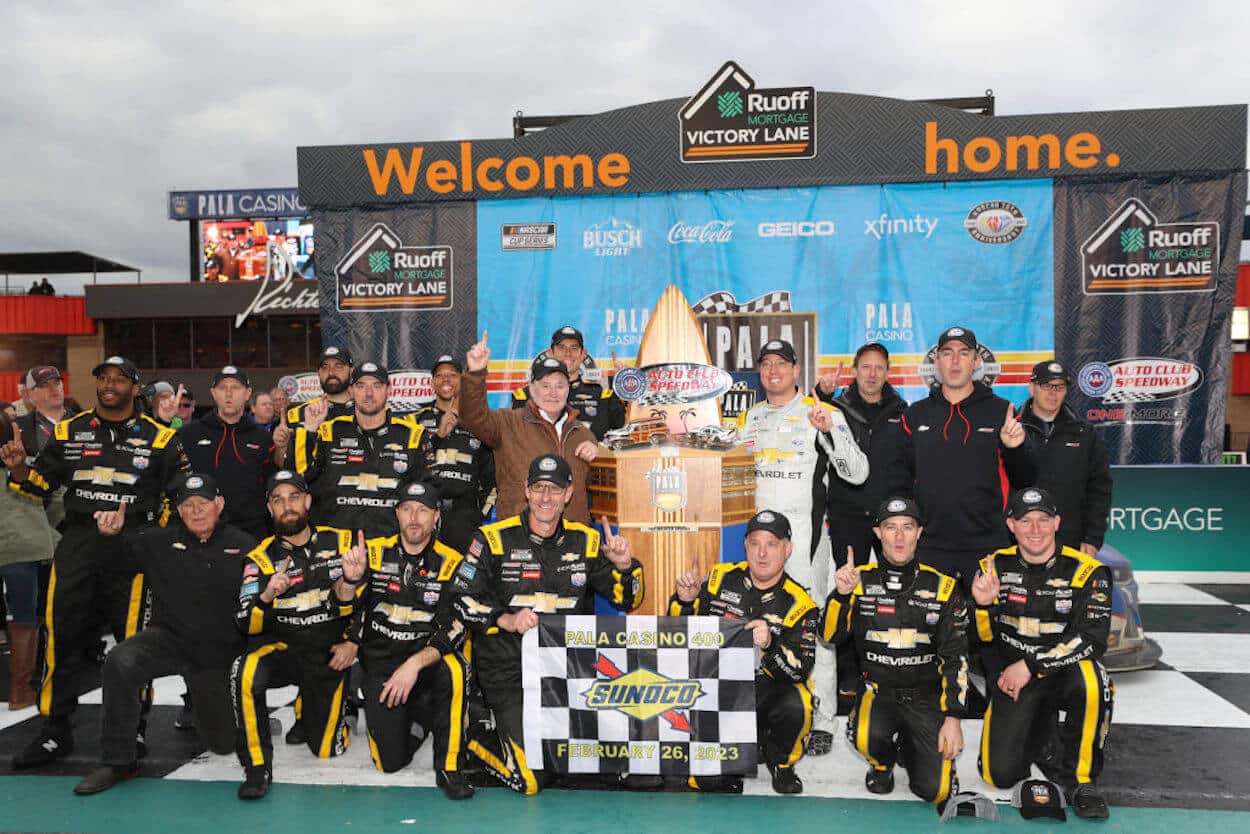 NASCAR Report Card Time: Where the Major Cup Teams Stack Up a Quarter of the Way Through 2023
With a quarter of the NASCAR campaign in the books, let's consider whose worthy of an A+ and who is in desperate need of improvement.
Can you believe the 2023 NASCAR Cup Series season is already nine races old and a quarter of the way to completion?
That's pretty mind-boggling, considering it really does just feel like we were in Daytona.
Nevertheless, with the season having reached the one-fourth mark, now feels like a natural time to pass out a few grades.
Starting at the bottom and working our way to the top, we're assigning all the major teams a letter grade based on their performance — whether it be sucky, stellar, or somewhere in between.
Wood Brothers Racing (Grade: F)
Although a single-car team in the strictest sense, the Wood Brothers  — thanks to their close technical alliance with Team Penske — are anything but. However, despite essentially being in a fourth car for one of the Cup Series' most elite organizations, second-year Cup driver Harrison Burton has struggled mightily.
How bad has the 22-year-old son of former Cup veteran turned broadcaster Jeff Burton been?
In the nine races run so far, he's posted a best finish of 15th — on two occasions — while leading just nine laps. Worst of all, he has an average finishing position of 24.6 and sits 30th in the standings. If Burton's seat got any hotter, his hind parts would be on fire.
Legacy Motor Club (Grade: D-)
Just ahead of Harrison Burton but nonetheless out of its league in 2023, the newly rebranded Legacy Motor Club organization has been downright woeful despite having one of the sport's all-time greatest drivers — seven-time Cup Series champion Jimmie Johnson — as a co-owner and part-time driver.
Legacy Motor Club full-timers Noah Gragson and Erik Jones own just one top-10 result between the two of them, and neither has taken the checkered flag in the top five.
If anything, it seems that the organization has actually regressed a bit from 2022, when Jones went to Victory Lane at Darlington on Labor Day weekend and finished 18th in the standings. Jones and Gragson are currently 28th and 31st in points, respectively.
Kaulig Racing (Grade: D)
When Kaulig Racing moved Cup Series veteran AJ Allmendinger from a part-time Cup Series role into a full-time Cup role with the organization for 2023, some observers expected the organization to show at least modest improvements from last year.
That hasn't happened, though. Allmendinger, who shared his No. 16 Chevy with two other drivers in 2022, is 25th in the standings, with teammate Justin Haley just ahead of him in 24th.
The two have combined for just three top-10 finishes in their combined 18 starts, and neither has been in serious contention to win a race. On the bright side, NASCAR recently restored the 100 points it had docked Haley for a rules infraction discovered on his car at Phoenix in March, so the mood around the Matt Kaulig-owned organization isn't altogether terrible.
Roush Fenway Keselowski Racing (D+)
In its second season under its current ownership structure with driver Brad Keselowski as a co-owner, RFKR has upped its game ever so slightly from 2022.
For example, Keselowski is already halfway to his top-10 total of six top-10s from a season ago. Teammate Chris Buescher, meanwhile, is up five spots in the standings from where he finished last year (in 21st). But this doesn't paint the full picture.
Buescher has recorded only two top-10 finishes this season, meaning he's not on pace to reach his total of 10 top-10s from a season ago when he celebrated a win on the Bristol concrete. Keselowski, though 12th and a dozen positions better in the standings than where he ranked at the end of last year, has posted only one top-five and is in the middle of a nearly two-year absence from Victory Lane.
RFKR still has major work to do, without question, to get to where it wants to be.
23XI Racing (C-)
A total mixed bag of results this season, the Michael Jordan- and Denny Hamlin co-owned 23XI Racing bunch has enjoyed quick success with newcomer Tyler Reddick, who gave the company its first victory of the year on the road course at Circuit of The Americas and is currently one of the hottest drivers in the Cup Series.
But then there's third-year 23XI driver Bubba Wallace, who has fallen off from where he ranked last year in almost every major statistical category. Perhaps with its continued technical support and close alliance with Joe Gibbs Racing, 23XI as a whole will eventually turn the proverbial corner. 
It hasn't happened yet, though.
Front Row Motorsports (C)
Always unheralded, Front Row Motorsports is quietly enjoying a solid albeit naturally unspectacular season. The longtime linchpin of the organization's driver lineup, Michael McDowell, is five positions better in the standings than where he wrapped up last season in spite of losing 2022 crew chief Blake Harris to Alex Bowman's No. 48 team at Hendrick Motorsports.
However, McDowell is nowhere near on pace to reach his career-high 12 top-10 finishes from a season ago, and he's yet to post a single top-five.
On the brighter side, second-year teammate Todd Gilliland already has two top-10 finishes — matching his total in that category from his rookie season of 2022. Gilliland, however, isn't running the full season as he did last year but is sharing seat time with reigning NASCAR Craftsman Truck Series champion Zane Smith.
Stewart-Haas Racing (C+)
It's been another season of mediocrity for Stewart-Haas Racing, an organization not all that long ago considered one of the sport's elite. After going to Victory Lane a total of three times in 2022 between its four drivers, SHR made an offseason driver change by moving Ryan Preece into the seat that had been occupied by Cole Custer.
But a quarter of the way through 2023, no SHR driver has tasted victory. That includes Preece, Aric Almirola, Chase Briscoe, and Kevin Harvick — who announced before the season that this would be his last in NASCAR's top series. At least Harvick is third in the standings, just 15 points back of the series lead.
After struggling out of the gate this year, Briscoe heads to Talladega this weekend on the heels of consecutive fifth-place finishes that have landed him 14th in points. But the struggle has been real for Almirola and Preece, who rank 26th and 27th in points, respectively.
Richard Childress Racing (B-)
The arrival of Kyle Busch at RCR this year hasn't boosted the organization to the extent that many observers expected. Sure, the two-time Cup Series champion won in just his second time out with the organization when he took the checkered flag atop the leaderboard at Auto Club Speedway in February.
But teammate Austin Dillon — team owner Richard Childress' grandson — has struggled mightily, netting just a pair of top-10s in his nine starts a season after winning a race and reaching the playoffs. Busch is eighth in the standings on the strength of not just his win but four top-10s, while Dillon is a lowly 29th.
Team Penske (B)
A season after winning its second title in five years with Joey Logano, Team Penske started 2023 from a position of power and prominence. But of the three Penske drivers, only the reigning Cup Series champ has done anything to write home about.
Logano won from the pole at Atlanta to punch a ticket into the playoffs, and he also has a pair of runner-up results. However, fellow Team Penske drivers Ryan Blaney and Austin Cindric have posted only one top-five finish between the two of them and have failed to impress in any notable way.
Trackhouse Racing (B+)
The proverbial bar was raised dramatically for Trackhouse Racing ahead of the 2023 season after drivers Ross Chastain and Daniel Suarez came out of nowhere to combine for three victories in 2022, with Chastain winning twice and finishing runner-up in the standings and Suarez placing 10th in points largely on the merits of a Winner's Circle visit at Sonoma.
A season after both breaking into the Cup Series win column for the first time, Chastain and Suarez have been unspectacular so far. Chastain is second in the standings but has yet to find his way to Victory Lane, while Suarez has struggled more than expected and sits a disappointing 17th in points.
The two teammates haven't always seen eye to eye, either, engaging in a tense post-race exchange at Circuit of The Americas a few weeks back.
JTG Daugherty Racing (A-)
Easily the most pleasant surprise of 2023, JTG Daugherty Racing started the year out in style with Ricky Stenhouse Jr.'s upset win at the Daytona 500. However, the success didn't stop there for the single-car team co-owned by former NBA star Brad Daugherty.
Stenhouse has recorded three more top-10 finishes, including a fourth-place finish on the Bristol dirt. The veteran driver has only two outcomes outside of the top 20 and is 13th in the standings, matching his best career points finish that he recorded in 2017 with Roush Fenway Racing.
Joe Gibbs Racing (A)
Life after Kyle Busch seems to have lowered the bar a bit for Joe Gibbs Racing, which replaced the two-time Cup Series champion this season with Cup rookie and reigning NASCAR Xfinity Series champion Ty Gibbs — grandson of team owner Joe Gibbs. While Ty, 20, has performed at a modestly high clip for his age and inexperience, he's still in search of his first top-five.
Meanwhile, JGR veterans Martin Truex Jr. and Denny Hamlin are winless as well. Leading the charge for the organization all season has been Christopher Bell, who captured JGR's only win of 2023 at the Bristol dirt race after being the company's lone representative in last year's Championship 4.
Bell is atop the Cup Series standings and owns a Cup Series-high five top-fives.
Hendrick Motorsports (A+)
It's been a banner season for Hendrick Motorsports, winners of four races thanks to Kyle Larson and William Byron's two trips to Victory Lane apiece. Meanwhile, Alex Bowman has been one of the Cup Series' most consistent frontrunners — even leading the points standings for a bit.
On a not-so-positive note, Hendrick driver Chase Elliott had to miss six consecutive weeks after suffering a broken leg in a snowboarding accident that followed Race No. 2. Even worse, multiple Hendrick drivers and teams have been hit with multiple penalties from NASCAR for irregularities on their respective race cars.
The largest of those penalties — which affected all four Hendrick teams — was overturned on appeal, but the organization opted not to appeal its latest penalties. Collectively, the penalties have left somewhat of a stain on an otherwise stellar season for the company led by NASCAR Hall of Famer Rick Hendrick.