Osi Umenyiora Went From $45 Million Defensive End to Award-Winning British Sportscaster
The New York Giants drafted Osi Umenyiora hoping he'd grow into the league's next elite pass-rusher. When Umenyiora left after nearly a decade in New York, the Giants had to be satisfied with how things turned out.
A London-born pass-rusher of Nigerian descent, Osi Umenyiora became an American football icon. Here's a look back at the excellent defensive end and what he meant to the Giants.
Osi Umenyiora was an elite defensive end
Osi Umenyiora was one of the NFL's more premier defensive ends for nearly a decade. A second-round pick from Troy, Umenyiora recorded seven sacks, forced three fumbles, and recovered another four in 2004.
Osi Umenyiora joined the starting lineup on a full-time basis in 2005 and instantly made an impact. Umenyiora earned All-Pro and Pro Bowl honors with a 14.5 sack, four-forced fumble season.
Osi Umenyiora had three seasons with double-digit sacks from 2005-10; he also had nine sacks in an injury-shortened 2011 season.
Umenyiora added another 3.5 sacks that postseason. When Umenyiora forced a league-high 10 fumbles and registered 11.5 sacks in 2010, he somehow 3didn't even earn Pro Bowl honors.
Umenyiora finished his career with the Atlanta Falcons from 2013-14. Although he recorded 7.5 sacks in 2013, his 2.5 sacks in 2014 were the fewest since he entered the league.
Umenyiora played a key role in the Giants' Super Bowl teams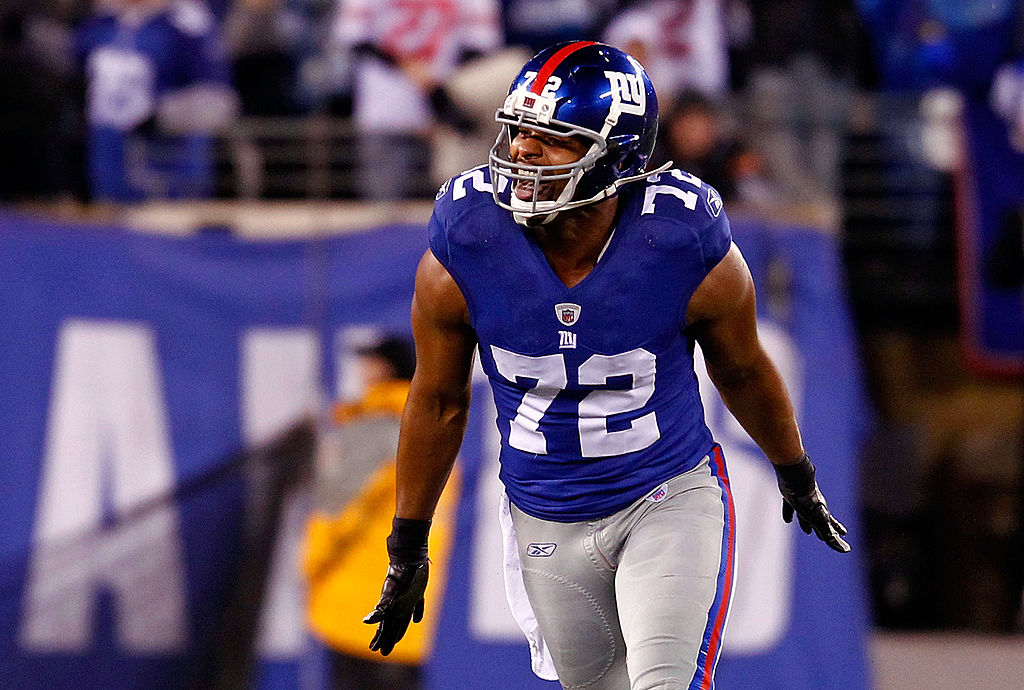 Without Osi Umenyiora, the New York Giants would not have won the Super Bowls in 2007 or 2011. New York may not have even made the postseason those years without the veteran defensive end lining up in the trenches.
When Eli Manning struggled in the 2007 regular season, Osi Umenyiora had 13 sacks, 11 tackles for loss, and forced five fumbles.
Although Umenyiora didn't have a sack that postseason, he racked up eight QB hits for the Super Bowl champions.
A preseason knee injury and a late-year ankle ailment limited Umenyiora to just nine games in 2011.
He still had nine sacks and eight tackles for loss that year for the NFC East champions.
Umenyiora registered 3.5 sacks and a forced fumble in four playoff games off the bench.
Although the 2008 New York Giants' early playoff departure was partially blamed on Plaxico Burress' infamous gunshot wound, it is worth noting Umenyiora missed that season with a knee injury.
Osi Umenyiora is now an award-winning sportscaster in England
Osi Umenyiora retired with over $45 million in career earnings, according to Spotrac. The bulk of that came from a seven-year, $32 million contract he signed with the Giants in 2005.
Umenyiora re-negoiated his contract before the 2012 season. He played his final year in New York on a one-year, $6 million deal.
Umenyiora joined BBC Sport and the company's NFL coverage in his native England after he retired in 2015. The former Pro Bowler also played a key role in helping the NFL grow overseas, especially during the league's yearly International Series.
Osi Umenyiora won the Royal Television Society Performance Awards for Best Sports Presenter, Commentator or Pundit in 2017 and 2019.
He also earned the 2018 Sports Journalists' Association British Sports Pundit of the Year award