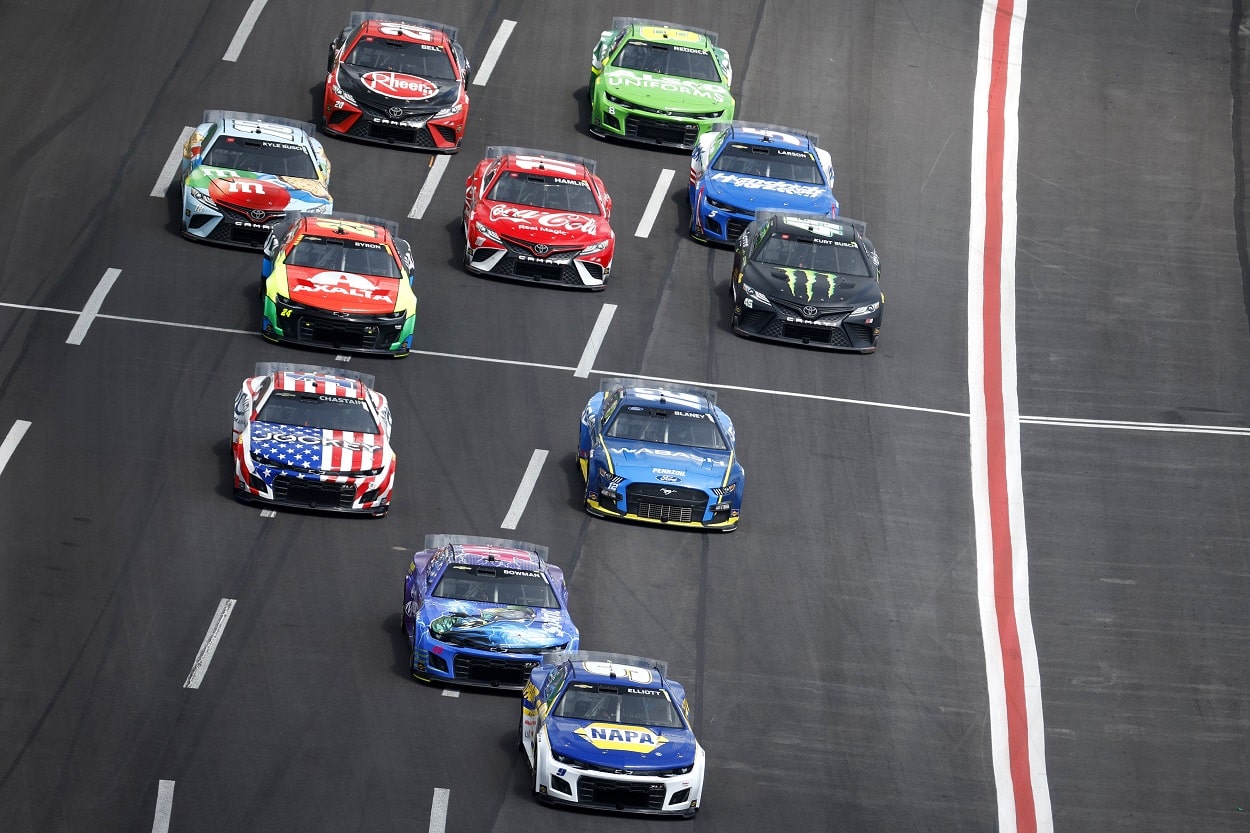 Ranking the Top 10 NASCAR Drivers With the Best Chance to Win the 2022 Cup Series Regular-Season Title
A look at the 10 drivers with the best chance to win the 2022 NASCAR Cup Series regular-season title.
Seven races remain before 16 NASCAR Cup Series drivers claim playoff spots for the 10-race postseason.
Since the Cup Series went to its current playoff-styled format, The postseason spots have traditionally gone to race winners and the regular-season points champion, which could be crucial this season if Ryan Blaney manages to overtake Chase Elliott for the regular-season points title after Daytona's Coke Zero Sugar 400 on August 27.
Despite sitting second in the points standings heading into this Sunday's race at New Hampshire, Blaney is still without a victory this season. A win in the next seven races coupled with his place in the points standings would guarantee Blaney a playoff spot.
Even if he overtakes Elliott for the regular-season points lead, Blaney could be shut out of the playoffs if he is without a victory, and the series crowns three new winners over the next seven weeks. 
So far, the Cup Series has 13 different winners in 19 races this season.
The series will close the regular season on three intermediate tracks (mile, 1.5 miles, 2.5 miles), two road courses, a short track, and a superspeedway.
With points available for stage wins, race victories, and place spots, several drivers are still within striking distance of Elliott as the regular season heads toward the homestretch. Here are the top 10 favorites to win the regular-season points title.
10. Christopher Bell
All season, it has seemed like the talented Christopher Bell would break through at any minute, and with that, the flood gates would open. Bell has four top-five and 10 top-10 finishes this season. He would need a near-historic late-season surge to secure the regular-season points lead – and for Joe Gibbs Racing to overcome its recent dysfunction.
9. Martin Truex Jr.
Currently sixth in the points standings, 118 points behind Elliott, veteran Martin Truex Jr. is still without a victory this season. His fourth-place finish at Richmond earlier this year was his best of the season. He has three career victories at Richmond and two at Pocono, so there has been some success at the seven remaining tracks, including an average finish of 10th and a win at Pocono.
8. William Byron
William Byron must return to his early-season form to challenge for the top spot in the regular-season standings. Sitting in 10th place, Byron is 179 points behind Elliott with two victories in four weeks in March and April (Atlanta and Martinsville). During that stretch, Byron had the two wins, a third, and a 12th place.
7. Kevin Harvick
Kevin Harvick is currently 11th in the points standings, with New Hampshire waiting. The 2014 Cup Series champion is 180 points behind Elliott but has won four times at New Hampshire, five times at Michigan, three times at Richmond, twice at Daytona, and once each at Pocono and Watkins Glen. He knows where Victory Lane is and how to get there when it counts, but he is without a victory this season and is well behind the current points leader.
6. Joey Logano
Currently seventh in the points standings, Joey Logano is 122 points behind Elliott with a pair of victories (Darlington, St. Louis), but the remaining schedule sets up nicely for the Team Penske driver. He has recorded three wins at Michigan and two at New Hampshire. Among the seven tracks remaining on the regular-season schedule where Logano has more than one appearance, his worst average finish is 18.7 at Daytona, and that includes one victory.
5. Kyle Larson
The remaining regular-season schedule also sets up nicely for Kyle Larson, the defending Cup Series champion, who is fourth in the points standings, 105 points behind Elliott. Larson has three wins at Michigan, one at Watkins Glen, and one at Pocono, along with six top-10 finishes in 11 starts at New Hampshire.
4. Kyle Busch
Kyle Busch sits 115 points behind Elliott and has a race victory this season, so his playoff spot is secure, but if anyone can reel off top finishes in bunches, it's Busch. He has six wins at Richmond, but getting to the top of the points standings would require a turnaround. Busch and the No. 18 Toyota have finished no better than 20th in their past four races.
3. Ross Chastain
Ross Chastain is a two-time winner with checkers at Atlanta and Circuit of the Americas, so he is unfazed by Watkins Glen and Indianapolis coming up and has the ability to win at any of the remaining tracks. He sits 50 points behind Elliott and three behind Blaney heading into New Hampshire.
2. Ryan Blaney
Ryan Blaney is 47 points behind Elliott, with New Hampshire looming. He needs a win to all but secure his spot in the playoffs, but overtaking Elliott over the next seven weeks could secure his place in the postseason as well. The schedule sets up well for Blaney down the stretch. He has victories at Pocono, Daytona, and Michigan.
1. Chase Elliott
Chase Elliott has won three times this season and twice in his last three outings. The 2020 Cup Series champion has proven he can win anywhere, so the two road courses coming up (Indianapolis, Watkins Glen) play in his favor. He's won twice at Watkins Glen, and an average finish of 7.7 in 11 starts at Michigan. Barring bad luck, Elliott probably holds on to the top spot at the end of the regular season.
Stats courtesy of Racing Reference
Like Sportscasting on Facebook. Follow us on Twitter @sportscasting19 and subscribe to our YouTube channel.