Rob Gronkowski Left New England Behind, but He Hasn't Forgotten About a Lesson He Learned From Robert Kraft and the Patriots
The Tampa Bay Buccaneers' victory in Super Bowl 55 had to be a strange experience for New England football fans. On one hand, Rob Gronkowski and Tom Brady lifted the Lombardi Trophy. On the other, though, those two men were no longer wearing Patriots jerseys. Gronk, however, recently made it clear that he hasn't completely forgotten his time up north.
Although the big tight end no longer plays his football in New England, Gronkowski still has a soft spot for the city of Boston. In fact, he used his sizable net worth and a lesson from Robert Kraft to pitch in and lend the local children a major hand.
Rob Gronkowski made a name for himself in New England before heading to Florida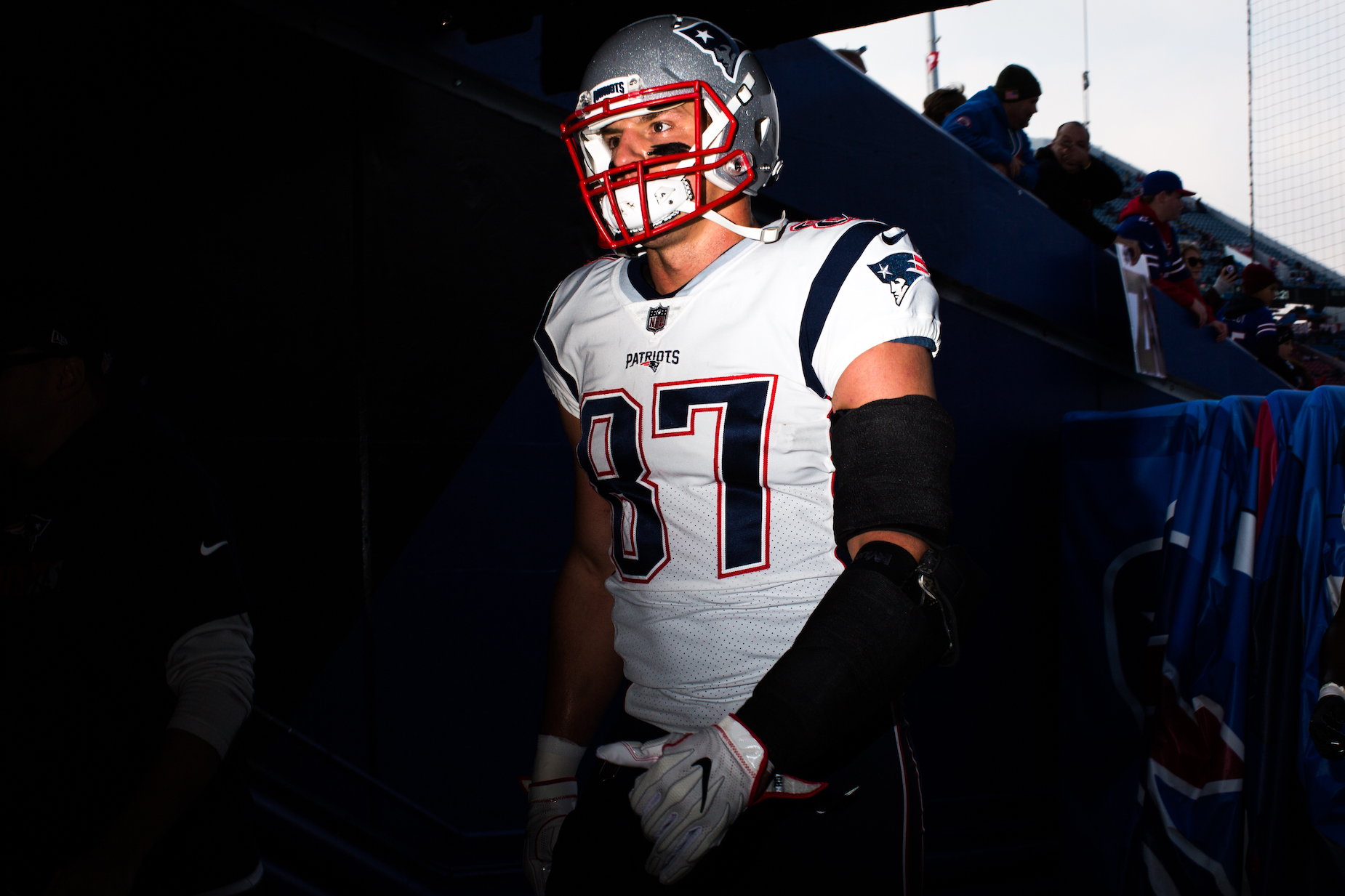 In cold, northern states, some people will escape to sunny Florida as soon as they're able to retire. Gronkowski followed that playbook, albeit from a slightly modified football perspective.
Gronk played his college football at the University of Arizona and, despite a questionable pre-draft interview, joined the Patriots as a second-round pick in 2010. The big tight end quickly formed a partnership with Tom Brady and started shredding NFL defenses.
With his unique blend of size and athleticism—he could move like a receiver but had the strength to bulldoze anyone who stood in his way—Gronk became a legitimate offensive threat. Injuries proved to be his Achilles Heel, though, and the tight end retired in March 2019 with three Super Bowl rings under his belt.
Gronkowski, however, couldn't stay away from football for long. When Brady joined the Buccaneers in 2020, he came out of retirement to reunite with his former quarterback. Although the tight end initially struggled to get back up to speed, he did post a solid season and eventually lifted the Lombardi Trophy for a fourth time.
Giving back to Boston using Robert Kraft's lesson
Coming out of retirement just to leave New England might not have been the best way for Gronk to endear himself to Patriots fans. The tight end, however, clearly still has a soft spot for the city of Boston.
As reported by NFL.com, Gronkowski donated $1.2 million " to renovate the aging Charlesbank Playground in Boston's Charles River Esplanade." He also made reference to Robert Kraft and the Patriots, who showed him the value of helping the community.
"The Patriots taught me the importance of giving back from the very first day I stepped in that organization," Gronk explained, according to Lisa Kashinsky of the Boston Herald. "A huge shout-out to Mr. Kraft and the Patriots for instilling that into me and showing me the importance of what it's like to give back."
The tight end also made sure to shout out the people of New England, who had cheered him on for the first nine years in the NFL.
"No matter where I go or where I live, I will always have a special connection to New England and the people who live here," Gronk added.
Rob Gronkowski's net worth is massive enough to easily absorb that donation
For the average person, $1.2 million is a life-changing amount of money. Gronk, however, is far from the average person in a variety of ways, including his overall net worth.
In terms of raw salary alone, Gronkowski has made just over $62 million during his time in the NFL; according to Spotrac, he'll break the $70 million plateau with his 2021 earnings. The tight end's cash flow, however, isn't limited to football.
While Gronk can seem like somewhat of a dumb jock, he's actually proven to have some financial smarts. Earlier in his playing career, for example, he decided to save his salary and live off his endorsement money. The tight end has also kept his eyes open for new opportunities, getting into the CBD business during his retirement and, more recently, diving into NFTs.
In total, CelebrityNetWorth estimates Gronkowski's fortune at roughly $45 million. While that's nowhere near Kraft's bottom line, it's still more than enough to help out the city of Boston.