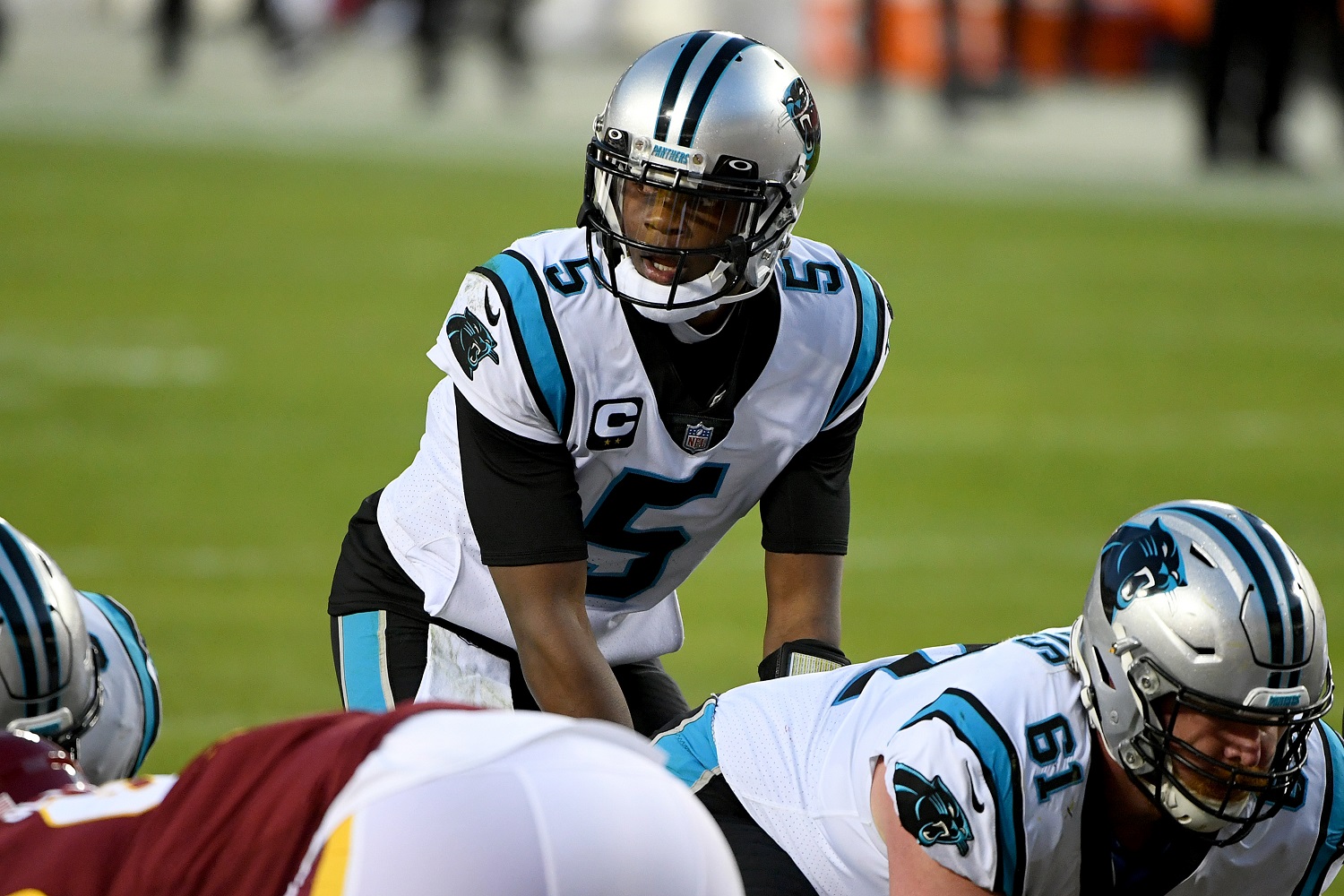 The Carolina Panthers Have Burned an Important Bridge to Start Their NFL Offseason
Teddy Bridgewater and the Carolina Panthers are heading toward a breakup. The NFL team is clearing cap space for a big move and the quarterback no longer follows the Panthers on social media.
The Carolina Panthers are doing a poor job of hiding the fact that they covet Deshaun Watson. So, the first inclination is to suggest that Teddy Bridgewater didn't need to read the gossip pages to learn that his team is sweet on the Houston Texans quarterback.
Upon further review, however, Bridgewater may have to go that route. He's divorced his team on social media, which means not returning the Panthers' phone calls can't be far away. So, maybe monitoring TMZ and the New York Post's Page Six will be his best way of finding out when he's been officially dumped.
Teddy Bridgewater may not have been the answer
When Drew Brees went down with an injury in Week 2 in 2019, Teddy Bridgewater became the league's super sub. Acquired before the 2018 season after completing a lengthy rehab from a catastrophic knee injury, Bridgewater won five straight starts.
Counting his relief appearance the day Brees was injured, Bridgewater completed 67.7% of his throws with nine touchdown passes and two interceptions. Understandably, that made him a hot prospect in free agency. The Carolina Panthers signed Bridgewater for $63 million over three years after giving up on Cam Newton — which looks wise in retrospect.
Nevertheless, the first season with Bridgewater at quarterback and Matt Rhule, brought in from Baylor as head coach, did not go smoothly. Carolina opened with two losses and finished 5-11.
As often happens with QBs, Bridgewater attracted disproportionate criticism. Although he completed a career-best 69.1% of his throws, the former University of Louisville star threw only 15 touchdowns and was picked off 11 times.
One mitigating factor was the loss of star running back Christian McCaffrey to injuries. After back-to-back 1,000-yard seasons during which he totaled 22 TDs, McCaffrey played in just three games. Mike Davis picked up some of the load, but Carolina was one of the poorest-performing teams inside the red zone. Naturally, some of that falls on Bridgewater.
The Carolina Panthers are making preparations
The new NFL league season, including the start of free agency, begins March 17. The Carolina Panthers have been doing housecleaning and juggling to free up spending money.
Cutting defensive tackle Kawann Short and defensive end Stephen Weatherly preserved more than $14.5 million. A series of lesser moves, including restructuring their deal with center Matt Paradis, added close to $10 million more in cap space.
Reports say Carolina is intent on doing something big at quarterback: The Panthers have entered the Deshaun Watson derby despite the fact that the Houston Texans insist they intend to keep their guy.
The problem is that multiple other NFL teams also believe they're in the running for the best young quarterback not named Patrick Mahomes. There's already a game of musical chairs in progress with Philip Rivers having retired and Drew Brees expected to join him. Matthew Stafford, Jared Goff, and Carson Wentz have changed teams recently.
There's always the possibility that the Dallas Cowboys don't get something done with Dak Prescott. But whichever teams don't get Watson or Prescott under contract will either have to start over via the draft or settle for a bargain-bin option that may or may not include Sam Darnold, Mitch Trubisky, Nick Foles, and/or Tua Tagovailoa.
It's debatable as to whether any of them – and drafting at No. 8 might only get Carolina the third-best rookie — pose a more attractive option than Teddy Bridgewater.
The Carolina Panthers have offended Teddy Bridgewater
Teddy Bridgewater can sense which way the wind is blowing. He already heard his name mentioned as part of a trade for Matthew Stafford that didn't materialize because the Detroit Lions made a better deal with the Los Angeles Rams.
With the team's moves to clear cap space a likely sign that the Panthers are preparing to spend on a quarterback for the second straight offseason, Bridgewater has seen enough. Multiple media outlets reported that Bridgewater has set his Instagram account to private. Larry Brown Sports reported that the quarterback also unfollowed the Panthers' social media account.
It's similar to the strategy undertaken by then-Minnesota Vikings receiver Stefon Diggs at about this same time a year ago. Diggs got what he wanted – a trade – and it worked out nicely. Time will tell if it works out for Bridgewater.
Meanwhile, there's no going back now for the Panthers. Ticking off the incumbent signal-called means they have little choice but to land Deshaun Watson or someone comparable.
All stats courtesy of Pro Football Reference