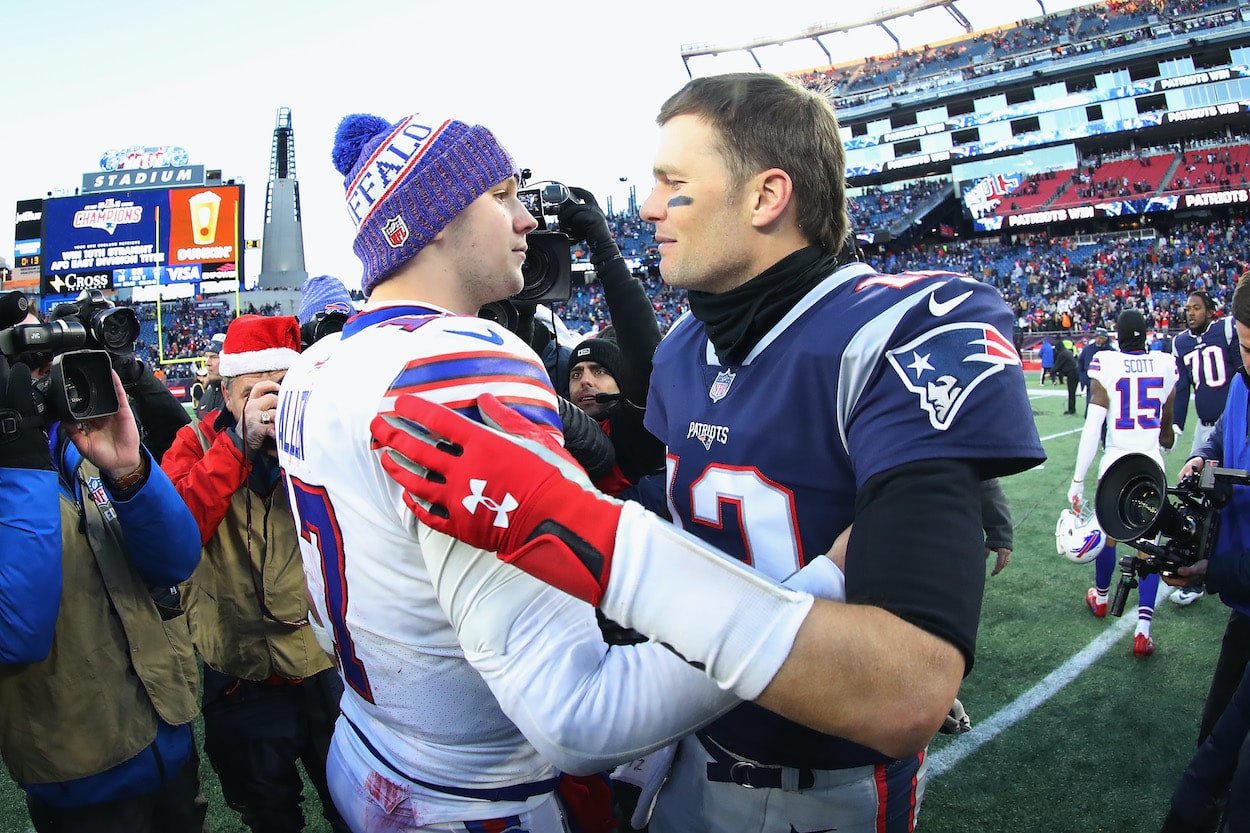 Tom Brady Crushes Josh Allen Ahead of 'The Match': 'Josh Hasn't Really Backed Much Up on the Football Field'
Josh Allen and Tom Brady are about to go head-to-head in 'The Match,' but Brady already won the trash-talk battle before the round tees off.
Tampa Bay Buccaneers quarterback Tom Brady can do it all. He can play football, talk football, sell products, chug beer, and even play golf. The GOAT can also talk trash with the best of them. That's something one of his opponents in "The Match," Buffalo Bills quarterback Josh Allen, just found out the hard way.
'The Match' will feature four NFL quarterbacks in June
The Match is a made-for-TV golf event that started in 2018 when Phil Mickelson took on Tiger Woods in a winner-take-all, $9 million, head-to-head match at Shadow Creek Golf Course in North Las Vegas, Nevada.
Mickelson took home the purse after 22 holes.
In 2020, Mickelson added NFL QB Tom Brady as a partner, and Woods took Peyton Manning on his winning team. Later in the year, the next match features Michelson and NBA star Charles Barkley vs. Manning and Stephon Curry. The team with the pro golfer won this event.
In 2021, there were two more editions of The Match. In the first, Mickelson and Brady lost to Aaron Rodgers and BrysonDe Chambeau, and later in the year, DeChambeau played (and lost to) frenemy Brooks Koepka.
Now, with Mickelson in professional golf's (and much of the golf-watching public's) dog house over his involvement in the Saudi Super League, 2022's The Match will feature four NFL signal-callers.
The more experienced (in years, football, and The Match) Rodgers and Brady will take on Josh Allen and Patrick Mahomes.
On Wednesday, June 4, we'll get to see who gets the best of who on the course (Wynn Golf Club in Paradise, Wyoming). However, a week out from The Match, Brady is already giving it to his dormer division rival, Allen.
Brady gave Allen a savage burn about his trash-talking and his football accomplishments
The golf featured in The Match isn't on par with what you'll see at The Masters or even a decent PGA tournament. However, what you do get is to be a fly on the wall during a round of golf that features some of the most intense competitors in the world.
Pro golfers, NBA players, and NFL quarterbacks usually got to where they are by being the most competitive guy on the course, court, or field. And that competitive streak often extends off their sports arena of choice as well.
The Match is an excellent example of this as you get to hear the participants joke, get frustrated, and talk trash to each other.
In the past, the trash talk has started before the round teed off and continued after the round was over. This year is no exception.
Tom Brady threw the first jab this year, aiming it at Josh Allen. The 44-year-old said of Allen, per Greg Auman of The Athletic:
Golf s***-talk is a little different than pro football s***-talk. … Josh really hasn't backed much up on the football field in his career, let's be honest, especially playing against me.

Tom Brady on Josh Allen
That's a savage line from Brady, and we'll see whether it gets in Allen's head. The question is, though, is it true?
Josh Allen vs. Tom Brady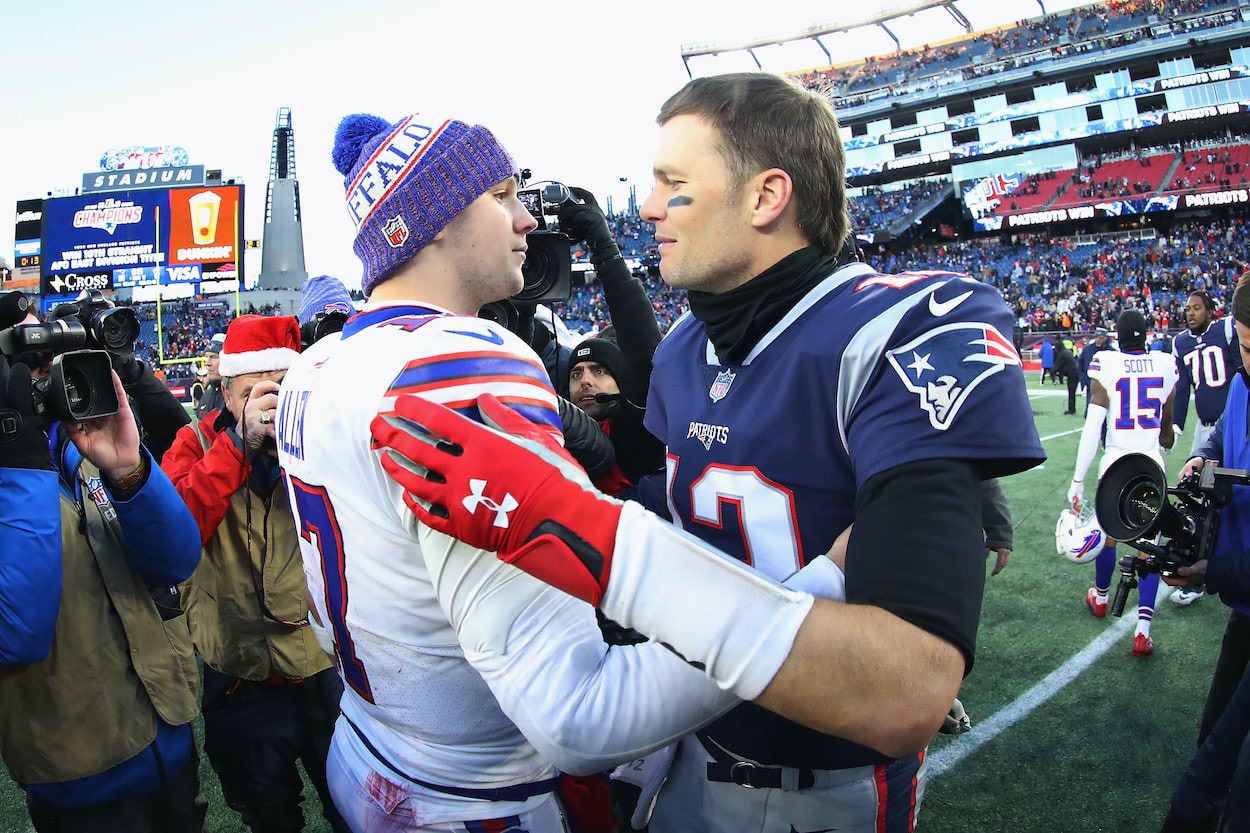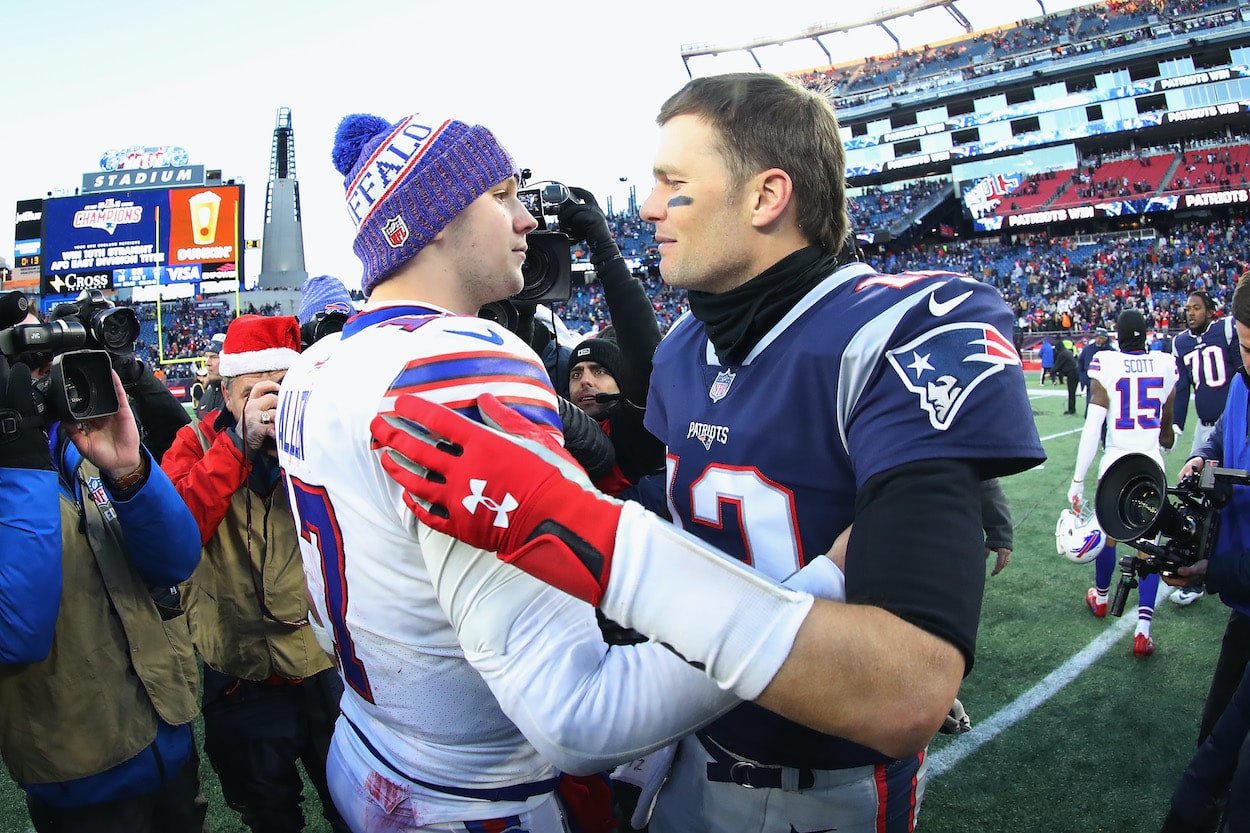 While you'll have to figure out on your own whether golf s***-talk is any different than NFL s***-talk, we can help figure out if Brady is right about his "rivalry" with Allen on the field.
Brady has been playing NFL football for 17 years longer than Allen, so it's unfair to compare the former New England Patriots and current Tampa Bay Buccaneers QB's 15 Pro Bowls, three All-Pro teams, and seven Super Bowls to the Buffalo Bills signal-caller's one Pro Bowl.
However, Brady did mention their head-to-head battles.
Brady and Allen have gone up against each other four times in their careers. The older QB has beaten the younger passer each time. The last meeting in 2021 was an impressive duel, with Allen leading a 21-point second-half comeback that fell short in overtime.
Looking at wins and losses isn't a pure measure of quarterback play, however. Team factors weigh heavily in that area.
Another thing to look at is the best statistical season in both their first four seasons. For Allen, that's 2020, and, for Brady, it's 2002. Here's what that comparison looks like:
Allen: 4,544 passing yards, 69.2% completion rate, 37 touchdowns, 10 interceptions, 102 carries, 421 rushing yards, eight rushing touchdowns
Brady: 3,764 passing yards, 62.1% completion rate, 28 touchdowns, 14 interceptions, 42 carries, 110 rushing yards, one rushing touchdowns
While Allen has the advantage there, Brady did win the Super Bowl in 2001, 2003, and 2004.
So, in the end, Brady might be right in his assessment of Allen right now. But, at 26-years-old with all the athletic ability in the world, the Bills QB is just getting started, and he can begin his rebuttal of Brady's trash-talk in The Match and go from there in the 2022 season.
All stats courtesy of Pro Football Reference
Like Sportscasting on Facebook. Follow us on Twitter @sportscasting19 and subscribe to our YouTube channel.