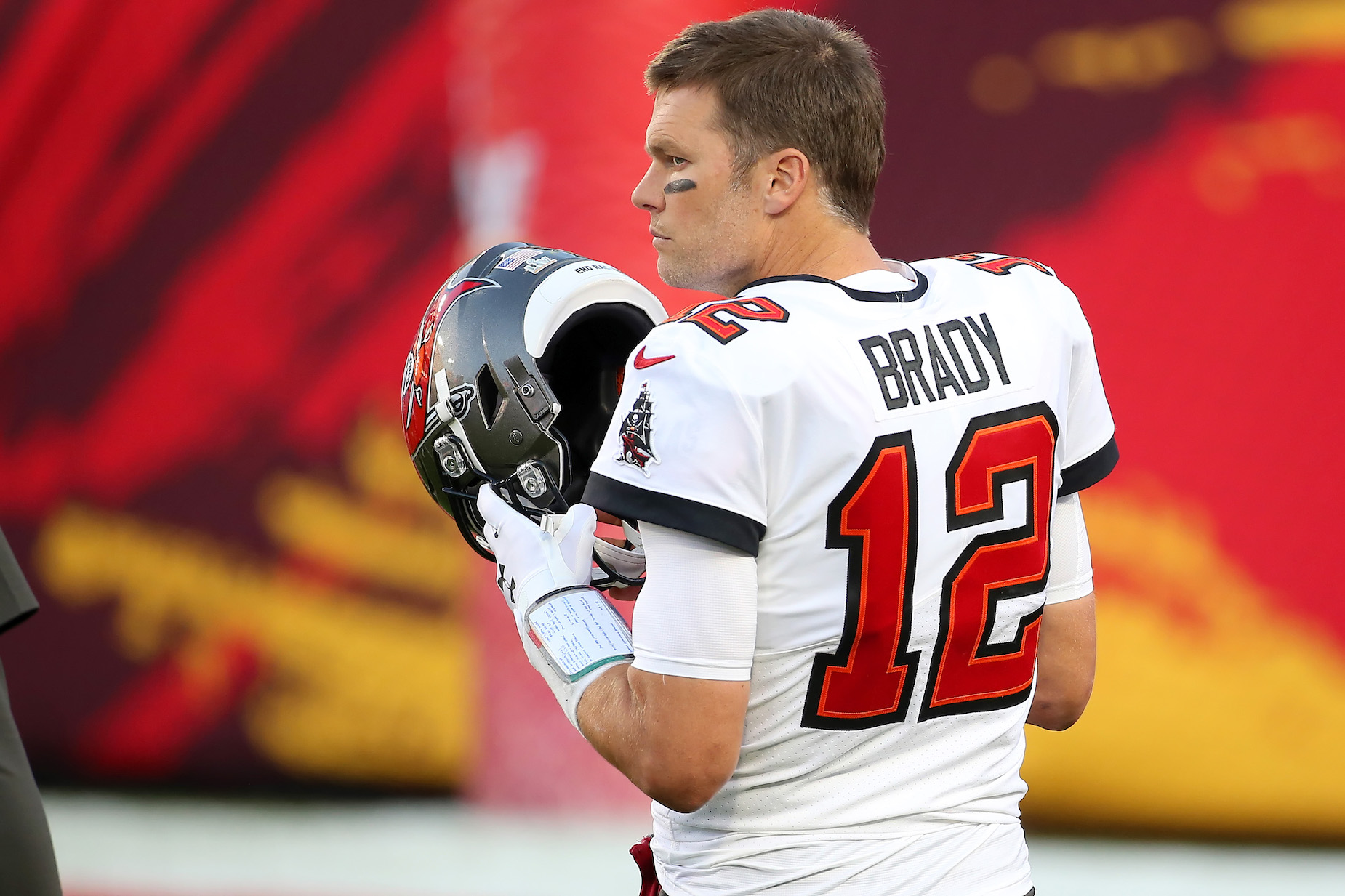 Tom Brady Indirectly Explained Why He's Not Ready to Retire From Pro Football Just Yet
While Tom Brady has seen and done it all in the NFL, he's not ready for retirement just yet.
Whether you love him or hate him, it's pretty tough to argue with Tom Brady's NFL resume. During his time in the pros, the veteran quarterback has done just about everything possible, rising from an anonymous rookie to a seven-time Super Bowl champ and legitimate contender for the title of GOAT. You won't catch TB12 resting on his laurels, though.
While you could excuse the quarterback for taking things a bit easy in his old age, that's not the case; Tom Brady is still motivated to hit the gridiron and give it his all. In a recent interview with James Corden, he explained what keeps driving him forward and, indirectly, pinpointed what's keeping him from retirement.
Tom Brady has done virtually everything possible in the NFL
For most professional athletes, it's a dream come true to win a single championship. During his time in the NFL, however, Tom Brady has done quite a bit more than that.
TB12 didn't enter the NFL as a surefire star, though. After playing his college football at Michigan, Brady joined the New England Patriots as the 199th-overall pick of the 2000 NFL draft. Even Drew Bledsoe, the starter at the time, didn't think the rookie would become anything more than a backup.
Fate, however, had other plans. Bledsoe got hurt during the 2001 campaign, leaving Brady in charge of the offense. Despite some early struggles, he pulled the team together; that season won with a Super Bowl title, and, from there, the rest is history.
Since then, Brady has put together an NFL resume that would make him the envy of virtually any other player. He has, of course, won seven Super Bowls, three NFL MVP titles, and two Offensive Player of the Year awards. By leaving New England and finding success in Tampa Bay, he's also proven that he's more than a one-trick pony, capable of thriving in Bill Belichick's offense and nowhere else.
What keeps TB12 motivated and out of retirement?
Given his NFL success, it would be somewhat excusable for Tom Brady to lose a bit of his competitive edge; chasing an eighth championship just isn't the same as trying to win your first. The veteran quarterback, however, isn't willing to rest on his laurels and recently explained what keeps him motivated, even after 21 full seasons in the league.
"First of all, I think it's a real love for what I'm doing," Brady explained in a conversation with James Cordon and Lewis Hamilton on IWC Schaffhausen's Youtube channel. "This isn't like a job. It's really a true love, and I fell in love with what I'm doing a long time ago."
While no one directly raised the topic of retirement, Brady then seemed to clearly explain why he's not ready to leave the NFL behind just yet.
"People, from the outside, would think, 'what else do you want to do," Brady continued. "I don't know. You [James Cordon] love what you do, and Lewis loves what he's doing. Like why take away one of the great loves of your life just arbitrarily to go do other things when maybe not the timing is right? I think the love of what I'm doing and the willingness to continue to learn and to improve is really what's the most enjoyable."
Tom Brady, in theory, won't retire for at least two more NFL seasons
Based on his comments during the interview, it seems like Tom Brady won't be leaving the NFL anytime soon. His previous quotes and current contractual situation seem to support that.
In the past, Brady has spoken about playing football past age 45; the quarterback will reach that milestone ahead of the 2022 NFL campaign. Conveniently, his recent contract extension will expire after that season, theoretically letting TB12 accomplish that long-stated goal before riding off into the sunset.
It goes without saying, though, that retirement can be a tricky thing to predict for professional athletes. While the breadcrumbs seem to suggest that Brady will be playing through at least the 2022 campaign, something like a major injury could obviously prompt a change of plans.
Without knowing exactly what will happen in the future, though, Tom Brady's plans seem pretty clear. As of now, he simply loves playing football too much to consider retiring.