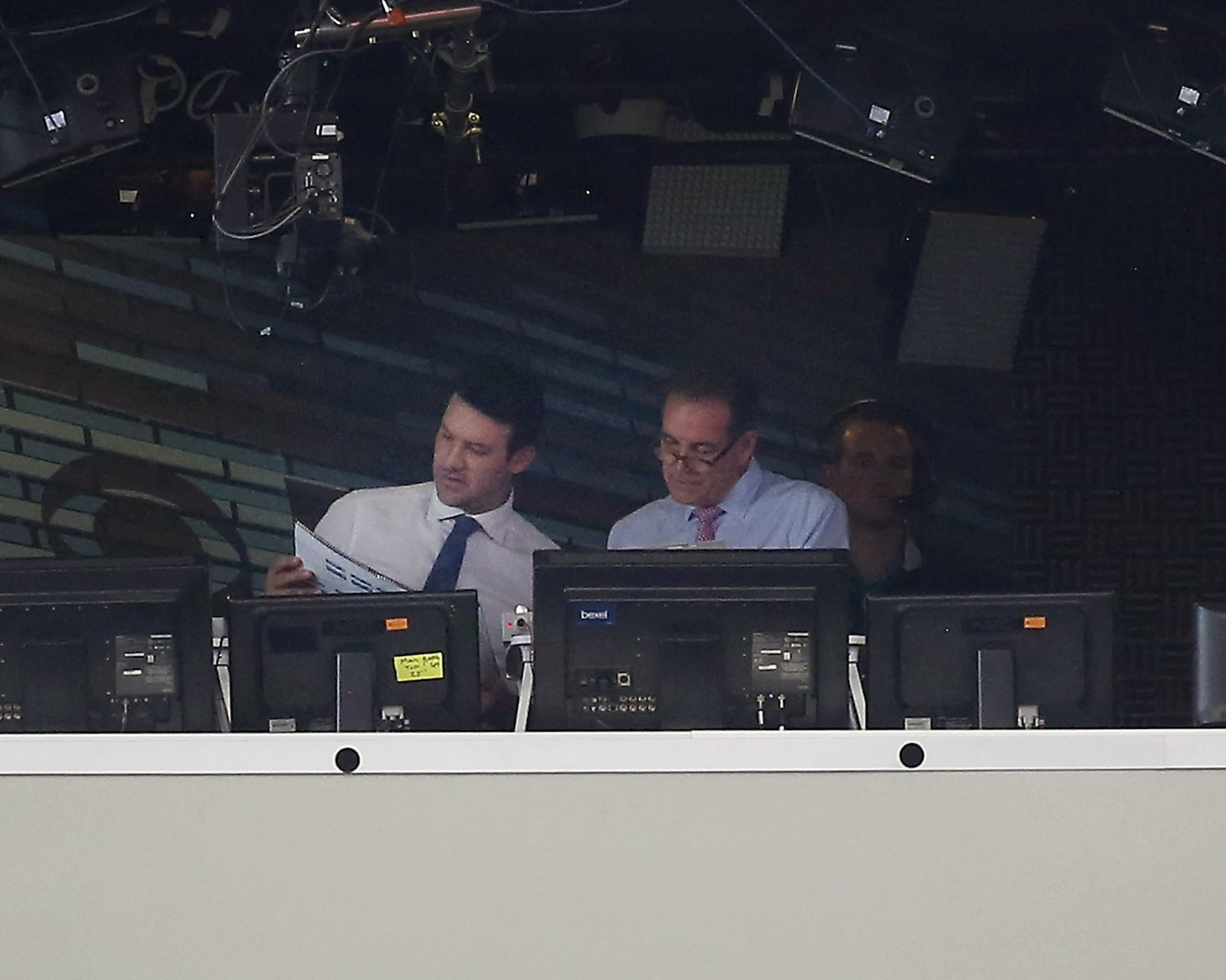 Tony Romo Could Return To Work for Wild-Card Weekend in the Most-2020 Way Possible
While CBS' Tony Romo missed Week 17's game, he could return to work for Wild-Card weekend in the most 2020 way possible.
Whether you love or hate the Dallas Cowboys, most football fans can agree on one thing: Tony Romo is a pretty good color commentator. During his relatively short time in the broadcast booth, the former quarterback has become one of sports media's rising stars. When Week 17 of the 2020 NFL season rolled around, however, he was nowhere to be found.
While we do know that Tony Romo missed Week 17 due to COVID-19 protocols, there is a chance that he could return to action during the first week of the NFL playoffs. That doesn't mean he'll be back in the booth, though.
Tony Romo has become a big-name broadcaster
While calling a football game might seem easy, there's more to the job than meets the eye; if nothing else, it can be tough to spend three straight hours talking without making at least one dumb comment. Tony Romo, however, has stepped into the broadcast booth with incredible ease.
After his playing career came to an end, Romo signed with CBS and made his debut in debut alongside Jim Nantz in 2017. While some questioned the decision to immediately place a TV rookie on the top broadcast team, everything has worked out.
Although every media member, including Romo, will inevitably have some critics, the former quarterback has already earned critical acclaim for his color commentary work. He's been praised for striking the perfect balance; Romo is able to break down a play like the former quarterback he is but still keeps the broadcast from turning into a boring lecture full of technical jargon.
CBS, it seems, agrees with that praise. In early 2020, the network signed Romo to a massive contract extension, reportedly making him the highest-paid commentator in pro football.
COVID-19 protocols cost him Week 17
Under ordinary circumstances, injury reports will tell you which NFL players are unable to hit the field on a given weekend. During Week 17, however, Tony Romo was also unable to suit up for his assignment.
As reported by ESPN's Adam Schefter, Romo missed the game due to COVID-19 protocols; CBS didn't confirm whether the former quarterback had tested positive himself or had been in close contact with someone who had. Either way, Boomer Esiason filled in alongside Jim Nantz on Sunday.
While Esiason is both a football and media veteran, his time in the booth didn't exactly go off without a hitch. He made headlines for criticizing Cardinals rookie quarterback Chris Streveler and taking a shot at the entire Canadian Football League in the process.
Tony Romo could work from home during Wild-Card Weekend
During 2020, working from home became much more widely accepted. It's now 2021, but Tony Romo could be getting in on the trend for Wild-Card Weekend.
As reported by Andrew Marchand of the New York Post, CBS could have Romo provide his color commentary for the New Orleans Saints-Chicago Bears game from home, similar to how Kirk Herbstreit called the Ohio State-Clemson game. Nothing, however, seems to be set in stone just yet. Marchand also explained that Romo could make the trip to Louisiana, assuming he is cleared to travel, or miss another weekend of work.
For better or worse, the 2020 NFL playoffs are just around the corner. It remains to be seen, though, whether Tony Romo will be ready for Wild-Card Weekend.