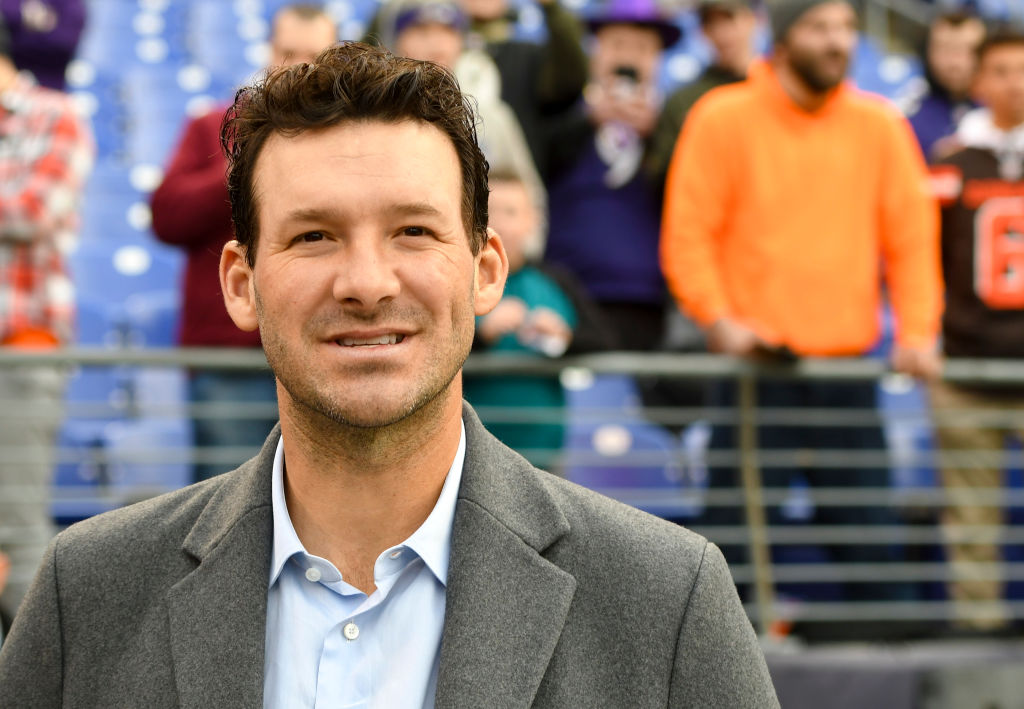 Tony Romo Is Smart Not to Talk About His Record-Breaking Contract
Earlier this offseason, Tony Romo signed a massive contract with CBS. Don't expect the former quarterback to talk about the negotiations, though.
While the rest of the sports world is standing still, the NFL offseason is underway with relative normalcy. That means plenty of players are signing new contracts and bringing home the bacon; they're not the only ones earning raises, however. Just ask Tony Romo about that.
Earlier this offseason, the former Dallas Cowboys quarterback signed a massive new contract with CBS. Don't expect Romo to tell you how he negotiated that deal, though.
Tony Romo's rise as a color commentator
During his playing career with the Dallas Cowboys, Tony Romo was more than capable under center. The former quarterback, however, may be even better at breaking down the game from the broadcast booth.
After his retirement, Romo linked up with CBS, stepping into the booth alongside the legendary Jim Nantz. The pair turned out to be a natural team. Romo, as a former quarterback, has a knack for explaining what happened—or should have happened—on a given play; as a veteran broadcaster, Nantz is adept at calling the game and giving his partner opportunities to shine.
While CBS initially signed Romo to a three-year deal worth roughly $4 million per season, the former quarterback earned himself a nice raise. With ESPN circling, CBS signed their star color commentator to a new contract this offseason, worth about $17 million a year. In a matter of seasons, Tony Romo went from an NFL quarterback to the highest-paid analyst in football.
Don't ask about the contract negotiations, though
It goes without saying that Tony Romo got what he wanted at the negotiating table. Don't expect the CBS analyst to reveal exactly what went down, though.
"I'm not going to go into detail with the contract stuff," Romo told Graham Bensinger. "I just don't like talking about contract stuff."
Whatever the reason behind Romo's dislike for publically discussing business is, though, it's probably smart. After years in the spotlight, he's well versed in public relations; talking about financial details could rub both fans, who have found Romo incredibly likable in the booth, and his bosses the wrong way. On a more cynical front, it's also possible that he doesn't want to reveal his negotiating secrets for the next time he needs a new contract.
How Tony Romo once negotiated a new deal with the Dallas Cowboys
While Tony Romo isn't prepared to talk about his deal with CBS, he did share one negotiation story. It took place in 2006 when Romo was still serving as the team's back-up quarterback.
"Jerry Jones and Bill Parcells sit me down right before a preseason game," Romo explained to Bensinger. "They're like, 'We need you to sign this deal for $500,000.' I'm making the league minimum, $250,000 or so. I told them, 'The only way you'll play me is if you have something invested in me that makes you want to see if I'm worth it.' I told them $2 million. 'For that, I feel like you'll want to put me in a game to see.' Believe me, I didn't want to do it. It was as nerve-wracking a situation as I've ever been in."
Romo's gambit, however, paid off. Jones and Parcells apparently appreciated his gumption and gave the young quarterback the deal he wanted; by the start of the next season, he was the team's full-time starter.
While we don't know exactly what Romo told CBS, we can assume he headed into negotiations with one mantra in mind. "[That negotiation with Jones and Parcells] probably taught me you can stand up and just tell people the truth a little bit, and it'll be fine," the quarterback explained. "People respect that."