Tua Tagovailoa and the Dolphins Just Suffered an Unexpected Blow to Their Chances of Taking Down Mac Jones and Bill Belichick
Coming off a rookie campaign in which he got benched twice for Ryan Fitzpatrick, Tua Tagovailoa enters the 2021 season with enormous expectations on his shoulders. After all, the Miami Dolphins won't make the playoffs if the southpaw signal-caller doesn't take a substantial leap forward in his second season with the team.
While Tagovailoa might prove his doubters wrong by the end of the year, he could have some serious struggles on the first NFL Sunday of 2021.
With a matchup against a revamped New England Patriots squad on the horizon, the Dolphins just suffered an unexpected blow to their chances of earning a Week 1 victory over Bill Belichick and Mac Jones.
New England and Miami both boast playoff potential heading into the 2021 season
The Dolphins enter Week 1 with a decent shot of making just their third postseason appearance since 2002. Tua Tagovailoa headlines an offense that includes exciting rookie receiver Jaylen Waddle, athletic tight end Mike Geisecki and veteran pass-catchers like DeVante Parker, Will Fuller, and Albert Wilson. On the other side of the ball, the Dolphins will rely on the dominant cornerback duo of Xavien Howard and Byron Jones to shut down opposing quarterbacks. Plus, Flores has a young, talented front seven that features recent first-round picks Christian Wilkins and Jaelen Phillips, 2020 second-rounder Raekwon Davis, and highly-paid linebacker Jerome Baker.
Of course, Miami must contend with the Buffalo Bills and the Patriots, both of whom boast talented rosters. While the reigning division champions look poised to make another deep playoff run, New England must answer a few questions.
Can Mac Jones stay healthy and play at a consistent level as a rookie?
Does the offense have enough weapons?
Will the defense regress without Stephon Gilmore?
The first test of Bill Belichick's roster-building skills will take place on Sunday when the Dolphins face the Patriots at Gillette Stadium. Fortunately for the legendary coach and his new starting quarterback, Tagovailoa and his team just suffered an unexpected setback that could help New England get off to a 1-0 start.
Tua Tagovailoa and the Dolphins just suffered an unexpected blow to their chances of defeating Bill Belichick and Mac Jones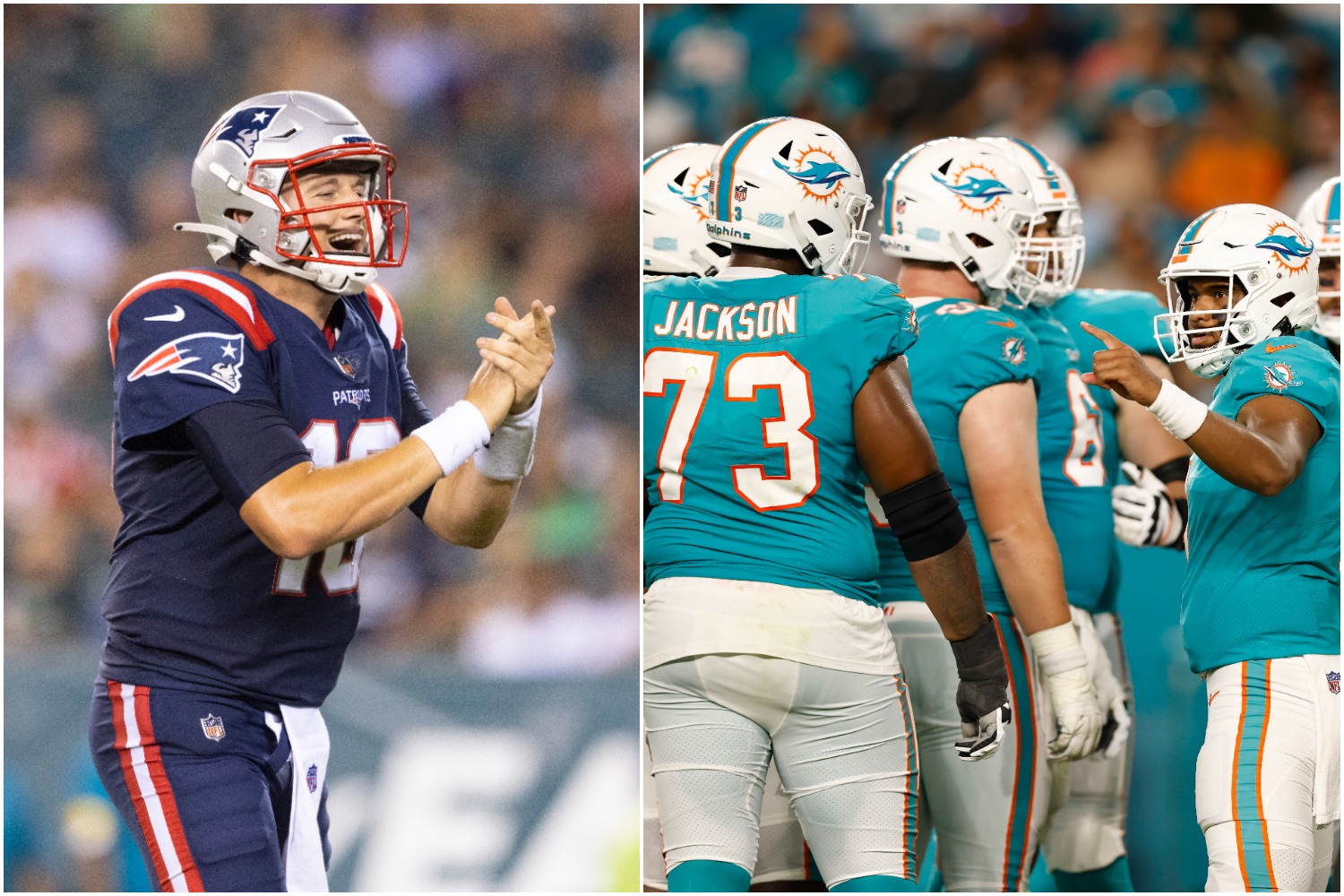 On Monday, the Dolphins suffered an unexpected blow to their chances of handing Belichick and Jones a season-opening loss. According to Mike Florio of Pro Football Talk, starting left tackle Austin Jackson got put on the reserve/COVID-19 list. Depending on his vaccination status and subsequent test results, the 2020 first-round pick could miss Sunday's matchup against the Patriots.
With Jackson's availability suddenly up in the air, Tagovailoa's odds of earning a victory over his college teammate don't look promising. Unfortunately for the second-year quarterback, the Dolphins' biggest weakness (their offensive line) could get exposed in Foxborough. A Patriots front seven that includes high-priced free agent Matt Judon, battle-tested linebackers Dont'a Hightower and Kyle Van Noy, and recent early-round draft picks Josh Uche and Christian Barmore should dominate the line of scrimmage and apply pressure on a consistent basis.
Miami didn't appear in good shape even with Jackson penciled into the lineup. After all, the team recently traded for Greg Little, a 2019 second-rounder who failed to develop with the Carolina Panthers. At the very least, though, Jackson has a first-round pedigree and familiarity with the system. If he can't suit up on Sunday, Tagovailoa would be stuck in the unenviable position of having a new starting left tackle trying to protect him from a defense that boasts top-five potential.
Belichick should already be thinking of ways to confuse and disrupt a passer who still has a long way to go before he earns the "franchise quarterback" label. Ultimately, the Patriots look primed to take advantage of a major mismatch and emerge victorious over a familiar foe.
Don't be surprised if Jones outperforms his former teammate in his first season with the Patriots
Ironically, the Dolphins and the Patriots both bet big on Alabama quarterbacks. But based on all the factors at play, the former Crimson Tide star who seems poised to succeed the most in 2021 doesn't call Miami home.
Despite his rookie status, Jones looks capable of outperforming Tagovailoa from the jump. Not only does he have excellent intelligence and processing speed, but he also throws the ball with tremendous accuracy and touch. Belichick spent an unprecedented amount of money in free agency to secure proven pass catchers in Jonnu Smith, Hunter Henry, Nelson Agholor, and Kendrick Bourne. Plus, the Patriots have a top-five offensive line, an impressive stable of running backs, and one of the top coordinators in the league, Josh McDaniels.
Jones demonstrated plenty of poise for a first-year player during training camp and the preseason. And he clearly made enough progress to convince Belichick to cut ties with Cam Newton and name a rookie as his starting quarterback.
As for Tagovailoa?
While he has decent weapons at his disposal, his offensive line features a bunch of question marks. The running game doesn't exactly have great upside. And the defense doesn't have many established high-end starters outside of Howard, Jones, and Baker.
Could Miami make the playoffs?
There's certainly a chance.
Ultimately, though, the Patriots have the pieces in place to move back up the division rankings ahead of the Dolphins.
Only time will tell whether Bill Belichick and Mac Jones can topple the Bills from their throne.
Like Sportscasting on Facebook. Follow us on Twitter @sportscasting19.