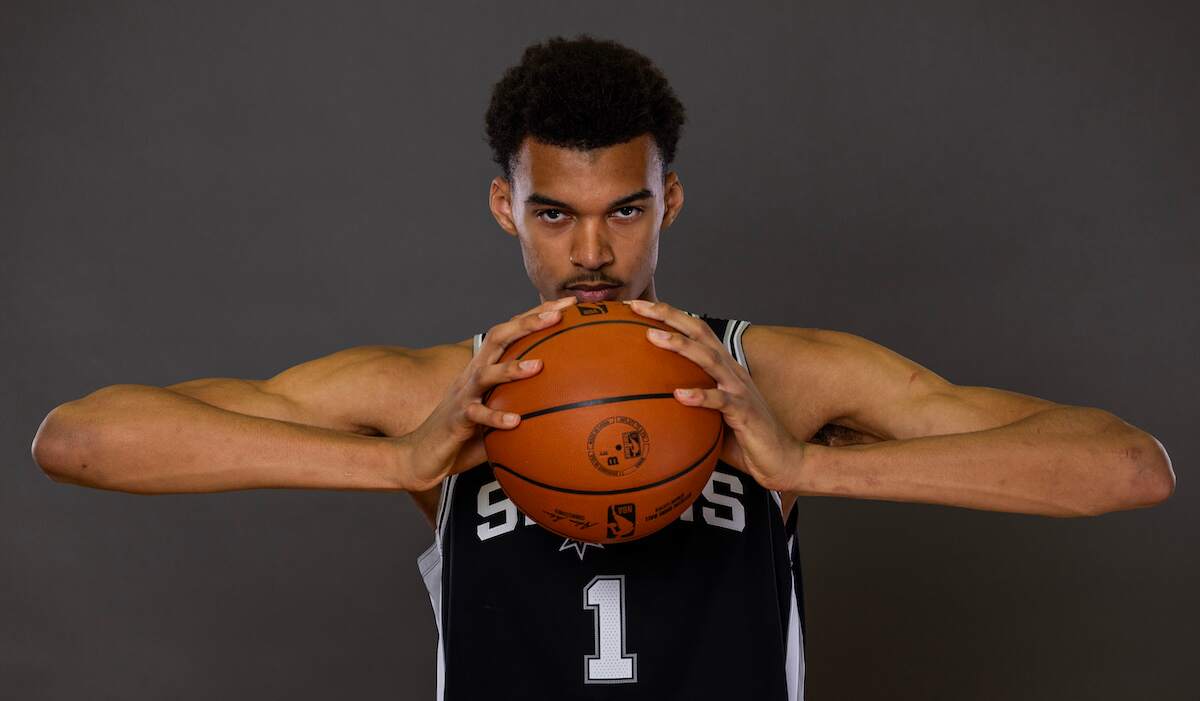 Victor Wembanyama Highlights: The 3 Games That Launched the NBA Player to Stardom as a Teen
These three Victor Wembanyama highlights predicted the French basketball player's rise to stardom in the NBA when he was just a teen.
Victor Wembanyama has been the literal talk of the town in the NBA. Believe it or not, Wembanyama was only 10 years old when he was first scouted to play for Nanterre 92, a well-known professional basketball club in France, where Wembanyama was raised. As the story goes, the young athlete was so tall that Michaël Allard mistook him for a coach. 
The ironic and interesting anecdote would be the first of many Victor Wembanyama highlights. The star basketball player just made his sold-out NBA debut. On that note, let's look back at the three monumental games that helped launch Wembanyama's career. 
March 11, 2018: Victor Wembanyama leads JSF Nanterre U18 to become the French League runner-up
Mike Schmitz, a former NBA draft analyst for ESPN, has been following Wembanyama and his skills for years. Back in 2018, Schmitz was in Europe reporting on the top, most talented international basketball candidates. To no one's surprise, Wembanyama was amongst them.
With the help of Wembanyama, at just 14 years old, the JSF Nanterre U18 team was the noteworthy runner-up in 2018. Even being about three years younger than the rest of the players and his competitors, Wembanyama and his talents clearly stuck out. 
More and more scouts began to take notice of the French basketball player. It became clear Wembanyama was a name and player to watch. Yahoo Sports' feature captured the details and importance of the moment.
July 11, 2021: Victor Wembanyama delivers an MVP-level performance during the FIBA U19 World Cup gold-medal game
Wembanyama and his team may have lost to the USA at FIBA U19 Basketball World Cup 2021. However, even without the gold medal, Wembanyama left a winner. As FIBA put it, "The tournament in Latvia will forever be remembered as the coming-out party for France superstar prospect Victor Wembanyama."
Scouts and recruits were already excited about the rising basketball athlete, and the interest and excitement in Wembanyama skyrocketed after his 2021 FIBA appearance. During the nail-biting final game against America, "He scored 22 points, grabbed 8 rebounds, and blocked 8 shots in 27 minutes".  
After the game, Jonathan Givony shared, "Victor looked like the best prospect on earth." It is safe to say the feelings were a bit worldwide and mutual. 
Now for the final Victor Wembanyama highlight that secured his reputation as an elite prospect:
October 5, 2022: Wembanyama takes on Scoot Henderson in the NBA G League Ignite series
Wembanyama did it again during the NBA G League Ignite series. In what would be his first game in the United States, the French basketball player didn't hold back. 
Many looked at the game as a matchup between Wembanyama and Scott Henderson, arguably one of Wembanyama's biggest competitors. Both players brought it. Even though Wembanyama and his Metropolitans 92 team weren't able to secure a win, he delivered stats that were simply out of this world. 
From sinking three-pointers to his infamous blocking skills, recruiters, fans, and viewers couldn't get enough of Wembanyama in action. Even though Wembanyama and his team didn't win the game, the highly-talked-about matchup put Wembanyama on the map in a whole new way. After the game, Wembanyama's coach Vincent Collet shared, "What he can do with his size, his agility, mobility, not only his ability to shoot the 3, moving very well." 
Kevin O'Connor described the game as "Victor Wembanyama vs. Scoot Henderson: a where were you basketball moment." Fortunately, ESPN has all the details on the infamous and highly-talked-about matchup. 
So far, in the NBA'a summer league, Wembanyama has been playing well for the San Antonio Spurs. His fans and followers definitely look forward to what is to come.