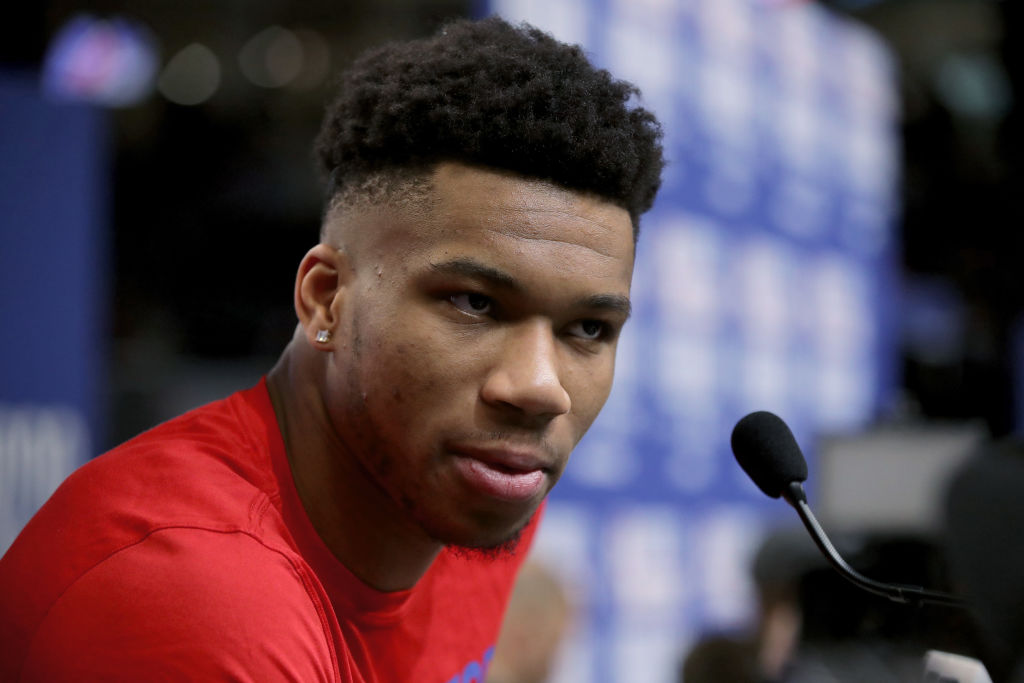 Why Barack Obama Still Expects More From Giannis Antetokounmpo
Giannis Antetokounmpo is one of the NBA's biggest stars, but former President Barack Obama still expects more from the Greek Freak.
By all reasonable measurements, Giannis Antetokounmpo is an NBA star. The Greek Freak isn't resting on his laurels, though; despite winning the NBA MVP Award last season, he's still on pace to finish 2019-20 with an even better stat line. Former President Barack Obama, however, still wants to see more from Giannis.
During NBA All-Star Weekend in Chicago, Obama had a conversation with Antetokounmpo, Chris Paul, and Kevin Love about leadership and character. While the former president was full of praise, he also challenged Giannis to improve in one specific way.
Giannis Antetokounmpo's road to the top
In the modern NBA, few players have more impact than Giannis Antetokounmpo. The Milwaukee Bucks star, however, grew up in much different circumstances.
In Greece, Antetokounmpo's parents struggled to make ends meet. Giannis and his brothers needed to pitch in and do their part; as boys, they sold sunglasses, purses, and other merchandise on the street. When it was time to take a break and play basketball, the siblings would share a single pair of sneakers.
Giannis' talent eventually shone through, though. He joined the Filathlitikos organization and, in 2013, declared for the NBA draft. The Milwaukee Bucks snagged a young, lanky Antetokounmpo at 15th overall; no one expected him to turn into one of the association's elite players.
The Greek Freak was only 18-years-old when he arrived in North America and hadn't grown into his body; during his rookie year, he averaged under seven points a night. With each passing season, though, Giannis improved in virtually every metric. He's now a legitimate NBA star, who is capable of averaging 30 points, 13.5 rebounds, and 5.8 assists per outing.
Barack Obama still expects more, though
While Barack Obama certainly has done a great deal throughout his life, the former president hasn't lost his love of basketball. With the NBA All-Star Game coming to Chicago, you knew Obama would make an appearance.
On Saturday night, Obama hosted a "fireside chat" with Giannis Antetokounmpo, Chris Paul, and Kevin Love. Their conversation focused on leadership, community outreach, and community service, with each athlete drawing on his own personal experiences to inform his outreach.
"Part of the reason I wanted to convene these three, in addition to being amazing athletes, they're good people, and each of them are at different stages in their careers," Obama explained. "You've got old Chris Paul down at the end, the young guy [Antetokounmpo] here and Kevin somewhere in the middle. But each of them has shown character on the court but also off the court."
Despite that praise, Obama had one specific challenge for the Greek Freak: push further outside of his comfort zone. "I want you to be more public, Giannis," the former president said, "because I think you have something to give in terms of giving back."
How can Giannis Antetokounmpo do more?
On the court, Giannis Antetokounmpo is capable of doing just about anything he wants. His charity work is at a similar stage of development; while the Greek Freak is already shining brightly, he's still growing.
"I'm the MVP, my brothers play basketball also," he explained on Saturday night. "I'm in a position that we can give back. One of the things that we did last summer, we built courts. Not only did we build courts, we had an academy that kids could go and get educated, and at the same time, play sports. So, as much as I can right now, I really don't have a mission, but all I know is that people gave to me, I've gotta give back."
That mission, and ability to stand out as community figure, it seems, is the next step that Barack Obama was alluding to. Guys like Kobe Bryant and LeBron James shaped the global landscape with their basketball skills and charitable efforts; Giannis has the same capability.
While Giannis Antetokounmpo is a legitimate star, he's still comparatively new to the NBA scene. He's growing by leaps and bounds on the court; his off-court efforts won't be far behind.