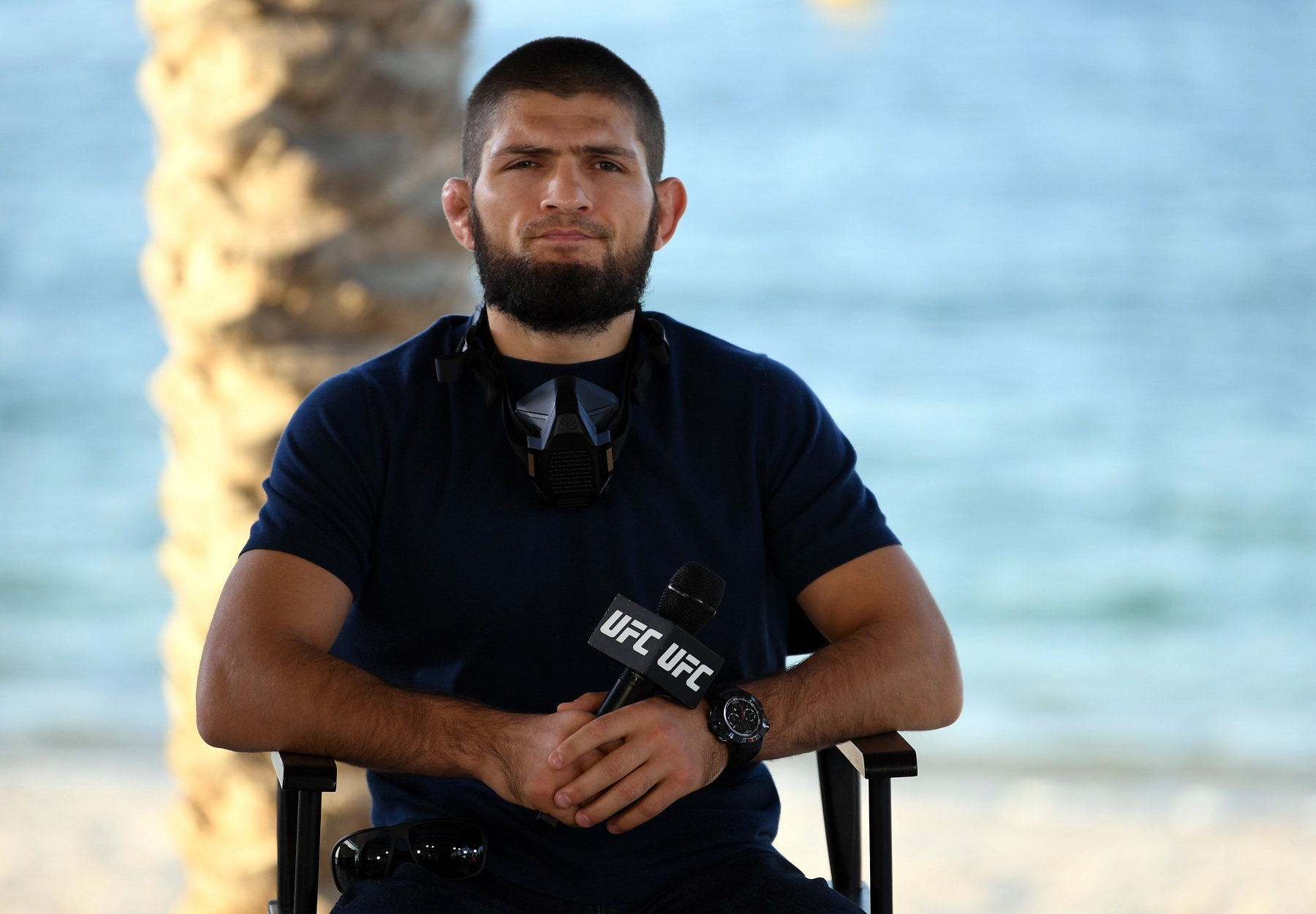 Why Is UFC 254 on Fight Island Starting So Early?
Khabib Nurmagomedov's international appeal is part of the reason that the UFC 254 card from Fight Island in Abu Dhabi is starting earlier than usual.
Mixed martial arts fans have waited a long time for Justin Gaethje and Khabib Nurmagomedov to step into the octagon together – only to realize that they're heading to work sooner than expected. UFC 254 is starting earlier in the day than fight fans have become accustomed to, but there's a reason behind it.
Khabib Nurmagomedov has been sidelined for 13 months
Unbeaten champion Khabib Nurmagomedov is seeking to unify the UFC lightweight championship when he faces interim titleholder Justin Gaethje in the main event on Oct. 24. Nurmagomedov already unified the title in September 2019 when he won by submission over Dustin Poirier in the third round in Abu Dhabi.
Nurmagomedov 's next fight was supposed to be against Tony Ferguson last May. However, as had happened five times previously, the fight had to be scrapped. Injuries had been the culprit in each previous instance, but the latest cancellation came because travel restrictions during the COVID-19 pandemic made it impossible for Nurmagomedov to appear.
With Nurmagomedov unavailable, Gaethje took the fight against Ferguson at UFC 249 and won by TKO late in the fifth round to improve to 22-2 for his career and earn the designation as interim champion.
So, while Nurmagomedov vs. Ferguson is a fight that fans still want to see, Nurmagomedov taking on Gaethje is an equally attractive matchup.
The UFC is back at Fight Island
The COVID-19 pandemic presented a huge challenge for UFC President Dana White. The organization owes some of its popularity to its ability to stage cards at venues around the country and the world. The early months of the pandemic saw virtually every possible location for upcoming cards shut down. Even as restrictions eased, varying local rules made it too difficult to stick with the intended schedule.
White arranged a deal to take fighters to Yas Island in Abu Dhabi for cards over the summer, creating a "Fight Island" brand for the UFC. White brought some cards back to Las Vegas in the summer and early fall, but he liked the idea of returning to the man-made island eight time zones ahead of the U.S East Coast.
UFC 254 completes a wave of five cards during the second stint in the United Arab Emirates.
UFC 254 is starting earlier than usual
Fans wanting to watch the UFC 254 card from Fight Island featuring Khabib Nurmagomedov and Justin Gaethje need to rearrange their usual schedule.
The prelims from Abu Dhabi start at 10:30 a.m. ET on Oct. 24, and the main event will likely be over by 5:30 p.m. The local time for the start of the card is 6:30 p.m.
The UFC timed previous main cards from Fight Island to begin at 8 p.m. ET to maximize the pay-per-view audience in North America.
Part of the reason for the change this time is that the UFC anticipated being able to allow a limited crowd in the venue, a plan that was scrapped. The more important reason for the time change is that the UFC is mindful of its fans around the globe. Starting at 8 p.m. ET has meant that spectators in Europe and Asia had no choice but to watch at odd times of the day.
Nurmagomedov (28-0), born in the former Soviet Republic of Dagestan, has appeal in Asia and Europe, and he was the UFC's first Muslim champion, another geographic consideration. He garnered huge attention with wins over Conor McGregor and Dustin Poirier.
"This year has been unique because of COVID; we've done all these events since March all in primetime in the U.S.," UFC chief operating officer Lawrence Epstein told Sportico.com.  "But as we talk to our partners, and we care about those partners around the world, we wanted to deliver to them some great content, in their markets, in their primetime."
Like Sportscasting on Facebook. Follow us on Twitter @sportscasting19.