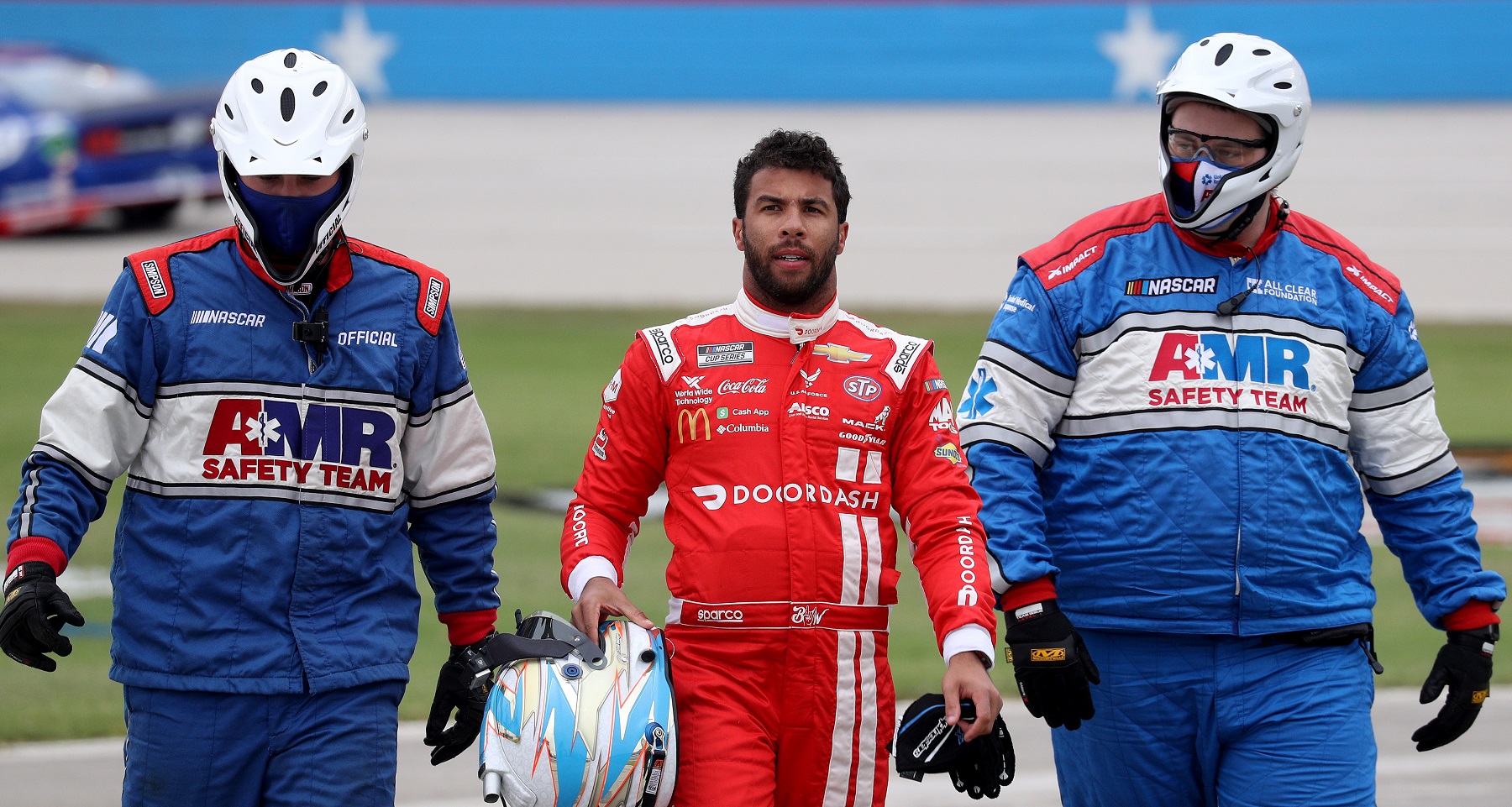 Bubba Wallace Is Winning the NASCAR Cup Series Sponsorship Race
Driver Bubba Wallace has a full set of sponsors lined up for his first season with 23XI Racing in the NASCAR Cup Series.
Even if Bubba Wallace doesn't take a single checkered flag in the upcoming NASCAR Cup Series season, he has already scored a huge win in his first year of racing for the new team owned by Michael Jordan and Denny Hamlin.
The 23XI Racing team announced that it has lined up a full set of sponsors for the 2021 season that begins at Daytona in February. It doesn't guarantee success, but it does change the dynamics of the upcoming season. Wallace should be able to compete in a sport dominated by the multi-car teams.
How do NASCAR team sponsorships work?
NASCAR outfits like Bubba Wallace's 23XI team race for prize money each week, but sponsorships are their lifeblood. Without corporate marketing money locked up well before the annual start of the season at Daytona, team owners can't commit to developing the best engines and aerodynamic packages or hiring top drivers and pit crews.
Estimates of the cost to run a competitive team for the entire NASCAR season exceed $25 million, although the price per car comes down for outfits racing more than one car. Major sponsors like beverage companies and big-box retailers commit to top teams for an entire season. Lesser teams have to scrape together smaller deals, often selling individual race sponsorships to regional companies.
The primary sponsor for each race chooses the paint scheme and the best advertising position – the hood — on the car. The sponsor also uses the team name and driver's likeness in their advertising, which can be a big deal following victories.
Secondary sponsors pay considerably less for ad positions on side panels. Finally, some of the smallest stickers that fans see on cars are trade-offs. Those sponsors get the spot in exchange for tools or other products that the teams use.
Bubba Wallace has Michael Jordan behind him
Upon learning that they had lost the primary sponsor this fall, Germain Racing's ownership sold their charter – that's NASCAR-speak for "franchise" – to NBA legend Michael Jordan, who brought in driver Denny Hamlin as a minority owner.
Hamlin will continue to drive for Joe Gibbs Racing. If that sounds like a potential conflict of interest, it is. If it gets down to the final few dates of the season to determine who makes the 10-race playoff, NASCAR President Steve Phelps has to be hoping that Hamlin and Bubba Wallace aren't battling for the same spot.
That's because the 23XI Racing team is running a single car in 2021, and Jordan and Hamlin signed Bubba Wallace as the driver. Wallace made 112 starts for Richard Petty Motorsports over four seasons. He announced in September that he was leaving at the end of the season.
Bubba Wallace became one of the major figures off the track this year by keeping the issues surrounding racial injustice front-and-center. He almost single-handedly got the Confederate flag banned from NASCAR venues. As his visibility soared, so did the sponsorship money. Now, most of the companies that backed him n 2020 are following Wallace to his new team.
Bubba Wallace and Michael Jordan have locked up sponsorship money
The 23XI Racing team of Michael Jordan and Denny Hamlin released a trailer revealing that it has a full set of sponsors for Bubba Wallace's car in the upcoming season.
Columbia Sportswear, DoorDash, Dr Pepper, McDonald's, and Root Insurance are all onboard with Wallace's No. 23 Toyota Camry. Of the five, only Dr. Pepper is new. Columbia Sportswear and DoorDash signed on in mid-season in 2020 as Wallace became prominent in social justice issues. The insurance company is involved in the NASCAR Cup Series for the first time.
Bubba Wallace also landed several personal services deals with sponsors – money that goes straight to his pocket. But locking up sponsors for 23XI Racing is huge because all the funding is in place for the full 38-race season, a significant accomplishment for a first-year team.
"I wish Daytona was tomorrow. We're heading in the right direction and we'll be ready when we get to Daytona," Wallace said. "This is an opportunity of a lifetime for me and there's no more excuses. We want to go out and win and I know we'll have everything we need each week to make that happen."
Like Sportscasting on Facebook. Follow us on Twitter @sportscasting19.