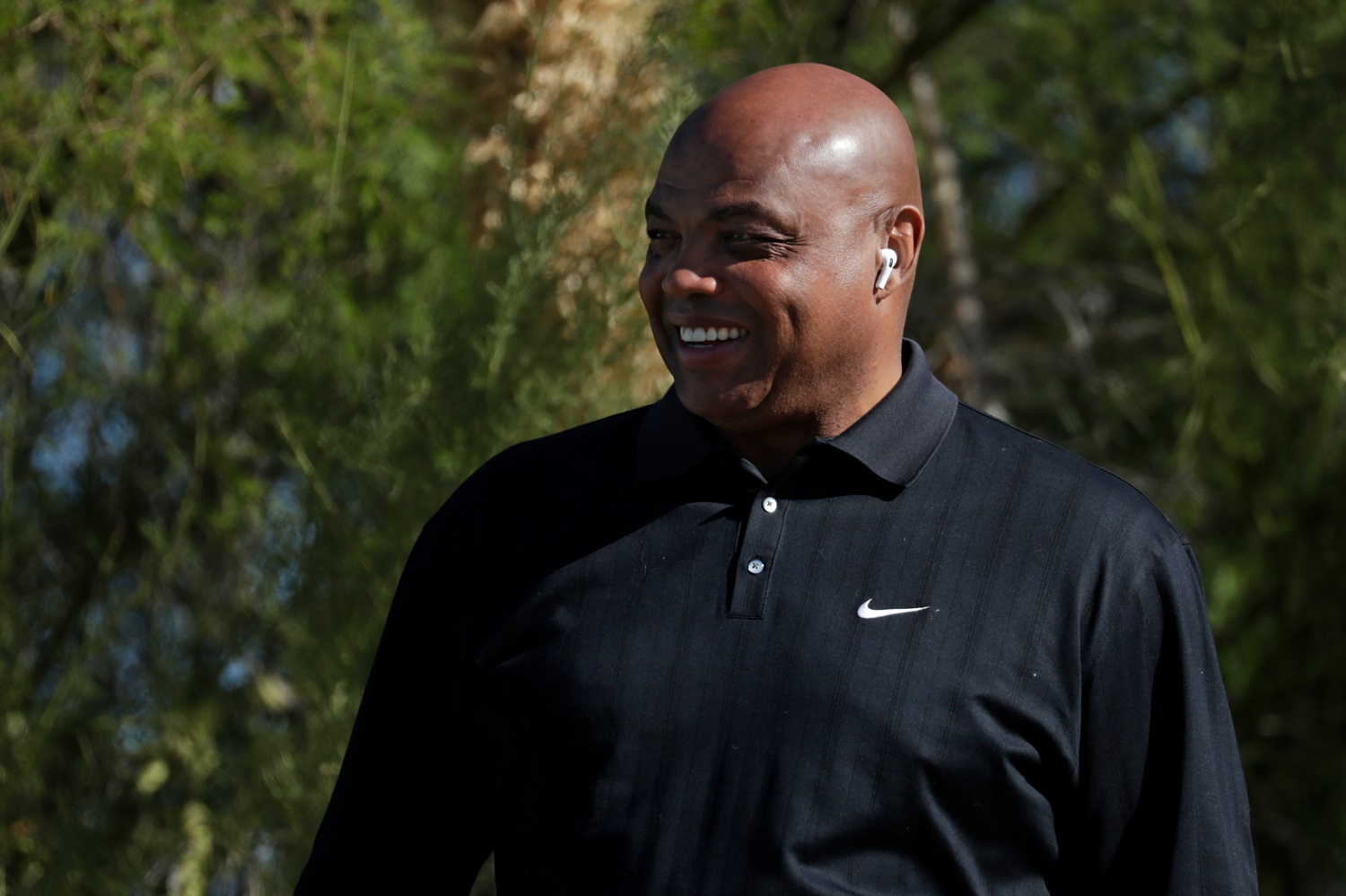 Charles Barkley's New Son-in-Law Only Knew the NBA Great From 'Space Jam'
His new son-in-law had no idea about Hall of Famer's Charles Barkley's background as an NBA star and TV analyst.
Charles Barkley has been retired as an NBA player since 2000, so it's perhaps possible that someone under the age of 30 wouldn't have known him five years ago as a basketball star. But how does anyone miss the Round Mound of Rebound in his role as one of the most outlandish voices in sports media?
It's apparently easy because at least one guy did it. It means family dinners at the Barkley residence ought to be interesting for a while because that guy is now Charles Barkley's son-in-law.
Charles Barkley missed the 2021 NBA All-Game for a wedding
Charles Barkley was an 11-time NBA All-Star in his 16-season career that concluded with enshrinement in the Naismith Memorial Basketball Hall of Fame. So, he certainly knows his way around the midseason All-Star Game. In the two decades since retiring as a player, his usual role for that contest is that of an analyst for TNT or simply as an observer.
The 2021 contest was a rare exception. Barkley sat this one out because of a scheduling conflict with the wedding of his daughter, Christiana. The March 6 ceremony took place in Scottsdale, Arizona.
"I'm so excited for her and my future son-in-law," Barkley said on Jimmy Kimmel Live  ahead of the nuptials. "I'm just excited for her because this is her special day. Hopefully, this will be the only one, too.
"I promised her this, that this has got to work because this is the only one I'm paying for."
Charles Barkley's new son-in-law only knew the NBA great from 'Space Jam'
Christiana Barkley married Ilya Hoffman, a 2009 Baruch College graduate she met as a group of former Villanova students gathered at a New York City bar in May 2016 to watch a replay of the Wildcats' recent NCAA Tournament championship game, a 77-74 thriller over North Carolina.
Hoffman would be the first to admit he wasn't quite sure why he chose to hang out with the Villanova gang that night. "I'm not a sports fan," Hoffman, now 34, told the New York Times. "I don't watch sports. I don't play sports."
So, when someone pointed to Christiana Barkley and identified her as the daughter of Charles Barkley, Hoffman's reaction was, "Oh, you mean the guy from Space Jam? That's where I knew him from. Some people might have been like, 'Oh, my god, Charles Barkley.' To me it was like, 'Look at this amazing girl.'"
For the record, Hoffman would have been 9 years old when Space Jam came out.
'He's the most generous person'
He may not have known about Charles Barkley the basketball player or Charles Barkley the TV analyst, but Ilya Hoffman came away impressed upon meeting his future father-in-law in 2017 in Arizona.
"I walked into their house and I was like, 'That is a huge guy,'" Hoffman told the newspaper. "When you go out to dinner with Charles, people can be pretty rude, like, 'Hey, Charles, can I take a picture with you?' But every single time he puts a smile on his face. He's the most generous person. He never gets annoyed."
That's perhaps news to Golden State Warriors player Draymond Green, a favorite target for Barkley in his role for TNT. Then, again, Hoffman would have no idea who that is.
Like Sportscasting on Facebook. Follow us on Twitter @sportscasting19.