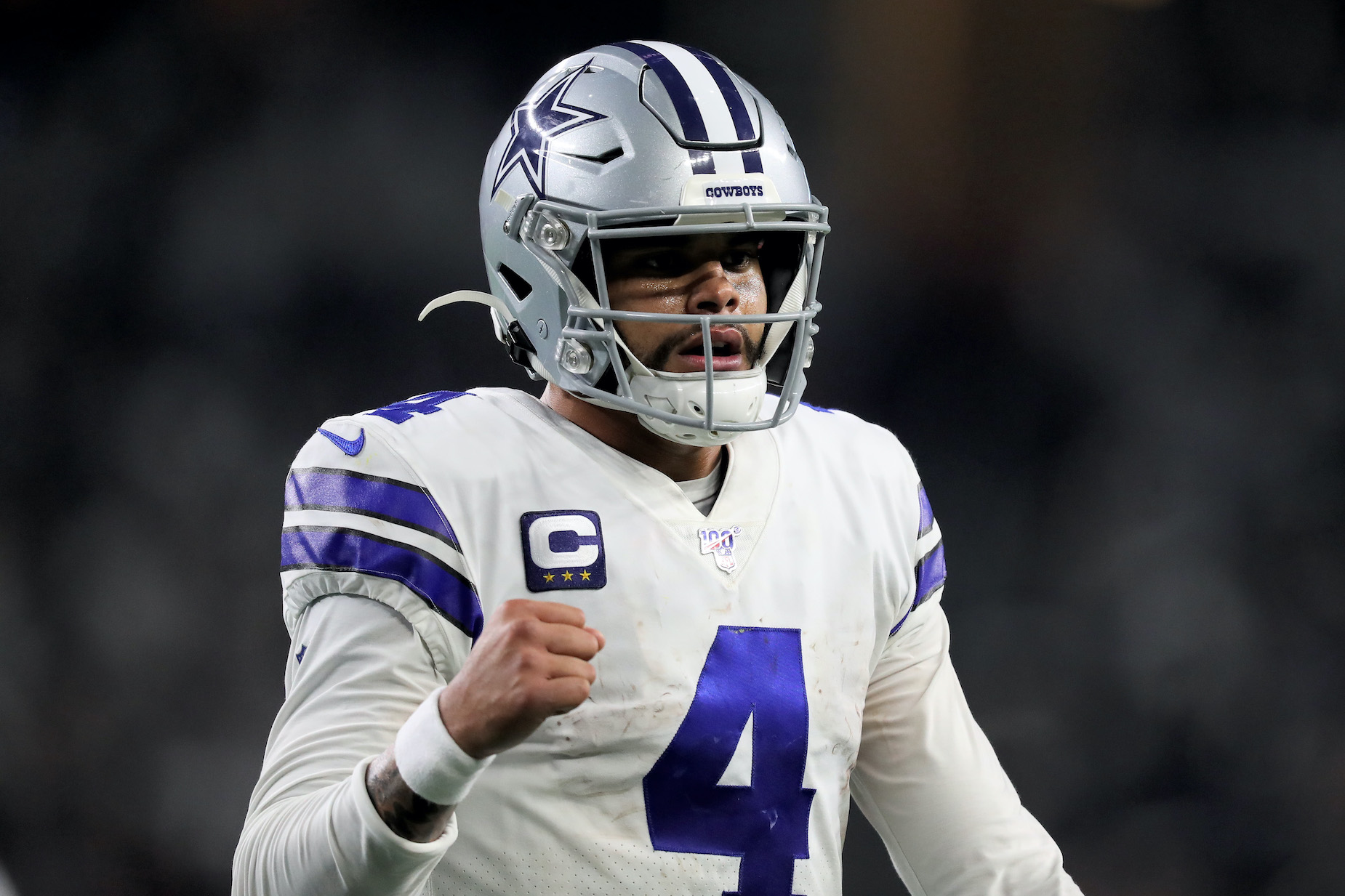 Cowboys QB Dak Prescott Could Be Leaving Dallas, but He Still Helped the City in its Hour of Need
While Dak Prescott doesn't currently have a contract with the Dallas Cowboys, he still pitched in to help Big D during the recent winter storm.
During his time with the Dallas Cowboys, Dak Prescott has become more than just the starting quarterback; he's one of the faces of the franchise. Despite that reality, though, Jerry Jones hasn't inked the signal-caller to a long-term contract. There's a legitimate possibility that, at some point in the future, Dak Prescott could leave Dallas behind.
Although the quarterback could be moving on, at least from a football perspective, he hasn't abandoned Dallas just yet. In fact, Dak Prescott recently stepped up to help the city during its hour of need.
Dak Prescott has become a star with the Dallas Cowboys
In the NFL, everything starts and ends with a quarterback. While things don't always run smoothly in Jerry World, the Dallas Cowboys do have a legitimate talent under center with Dak Prescott.
Dak played his college football at Mississippi State and, despite barely taking the field as a freshman, put together quite a career. He spent four seasons with the Bulldogs, throwing for 9,376 yards and 70 touchdowns while rushing for 2,521 yards and another 41 scores.
Despite those numbers, though, Prescott slipped into the fourth round of the 2016 NFL draft. He joined the Dallas Cowboys as the 135th-overall pick but, thanks to injuries to both Tony Romo and Kellen Moore, quickly found himself in the starting job.
Prescott, of course, played well that campaign, and the rest is history. While there have been some bumps in the road along the way—the Cowboys haven't had much playoff success, and the 2020 offseason was headlined by a contract issue—Dak has proven himself to be a talented quarterback capable of shining under Dallas' media microscope. Through five seasons in the pros, he's started 69 games, throwing for 17,634 yards and 106 touchdowns.
Dak Prescott's contract issues could end his time in Dallas, though
Even if the Cowboys haven't made it over the hump in recent years, Dak Prescott has still covered himself in glory. Despite that reality, though, the quarterback's days in Texas could be numbered.
During the 2020 NFL offseason, Prescott's contract expired. He and Jerry Jones, however, were unable to hammer out a long-term extension; the quarterback signed a one-year franchise tender and suffered a season-ending ankle injury after five games.
This year, the same issues remain. While both parties seemingly want to work out a deal, neither is willing to compromise. At this point, it seems like another franchise tag could be a legitimate possibility.
While that would keep Prescott under contract for another year, it's not a perfect solution. For the most part, players don't like being franchise-tagged; that's led to the likes of Troy Aikman and Drew Pearson warning that Jerry Jones could be burning his bridges with the franchise player. At a certain point, it's possible that Prescott will simply have had enough and decide to leave Dallas.
There have also been rumors that Jones could be trying to line up a sign-and-trade deal for a new quarterback, but we'll have to wait and see what does and does not materialize.
The quarterback is still helping his adopted home city
At this point, it's not clear how long Dak Prescott will be plying his trade in Dallas. Even if he leaves some point down the line, though, the quarterback is still doing his part to help the city through a tough start to 2021.
In February, Texas was hit by a winter storm that threw the state into chaos; freezing temperatures left many stranded in their homes without power and drinkable water.
In light of that situation, OurCalling, a faith-based organization helping those experiencing homelessness, opened an emergency shelter in the Dallas Convention Center. While getting things set up on short notice was no easy feat, they got some financial assistance from two big-time stars.
"Opening an emergency weather shelter for nearly 1,000 homeless individuals in Dallas at the Convention Center has been our most difficult task," OurCalling tweeted on February 18. "But we are thankful and encouraged that @McConaughey and @dak are sending support to purchase meals for the individuals and families."
At this point, it's not clear what Dak Prescott's future holds; if things collapse at the negotiating table, it's possible that his days in Dallas could be numbered. That reality, however, didn't stop the quarterback from stepping up when his adopted home city needed a hand.
Stats courtesy of Sports-Reference and Pro-Football-Reference