Dale Earnhardt Jr. Once Explained His Greatest Fear With a Single, Painful Word From His Childhood
Even if you're not the biggest motorsports fan, being a race car driver seems like a pretty cool gig. While plenty of work goes in behind the scenes, there are worse ways to earn a living than speeding around an oval at more than 100 miles per hour; it doesn't hurt that NASCAR stars can usually command a sizable salary, either. Fame and fortune can't make every problem go away, though. Just ask Dale Earnhardt Jr.
During the early 2000s, Pat Jordan of Men's Journal asked Dale Earnhradt Jr. about his biggest fear. His answer had nothing to do with racing; instead, it was a single word connected to his childhood.
Dale Earnhardt Jr. didn't have the happiest childhood before becoming a NASCAR star
From afar, it's easy to imagine Dale Earnhardt Jr. growing up with a silver spoon in his mouth. In reality, though, things were a bit tougher.
Shortly after Earnhardt Jr. was born, his parent divorced; he spent most of his childhood with Dale Sr. and his third wife, Teresa. That reality, though, didn't mean that father and son formed a tight bond.
"We just didn't have a relationship," Dale Jr. told Graham Bensinger. "We didn't do a lot of hanging out. We didn't communicate much unless he was telling me where to stand or where to be or what to fix or what to clean up. We didn't go hunting together, he didn't take me on trips. Like when he would go do things, I was never like an idea or a consideration."
Junior also managed to get into his fair share of trouble and even ended up attending military school. One day, however, he climbed behind the wheel of a race car, and everything changed.
Finding fame and fortune in auto racing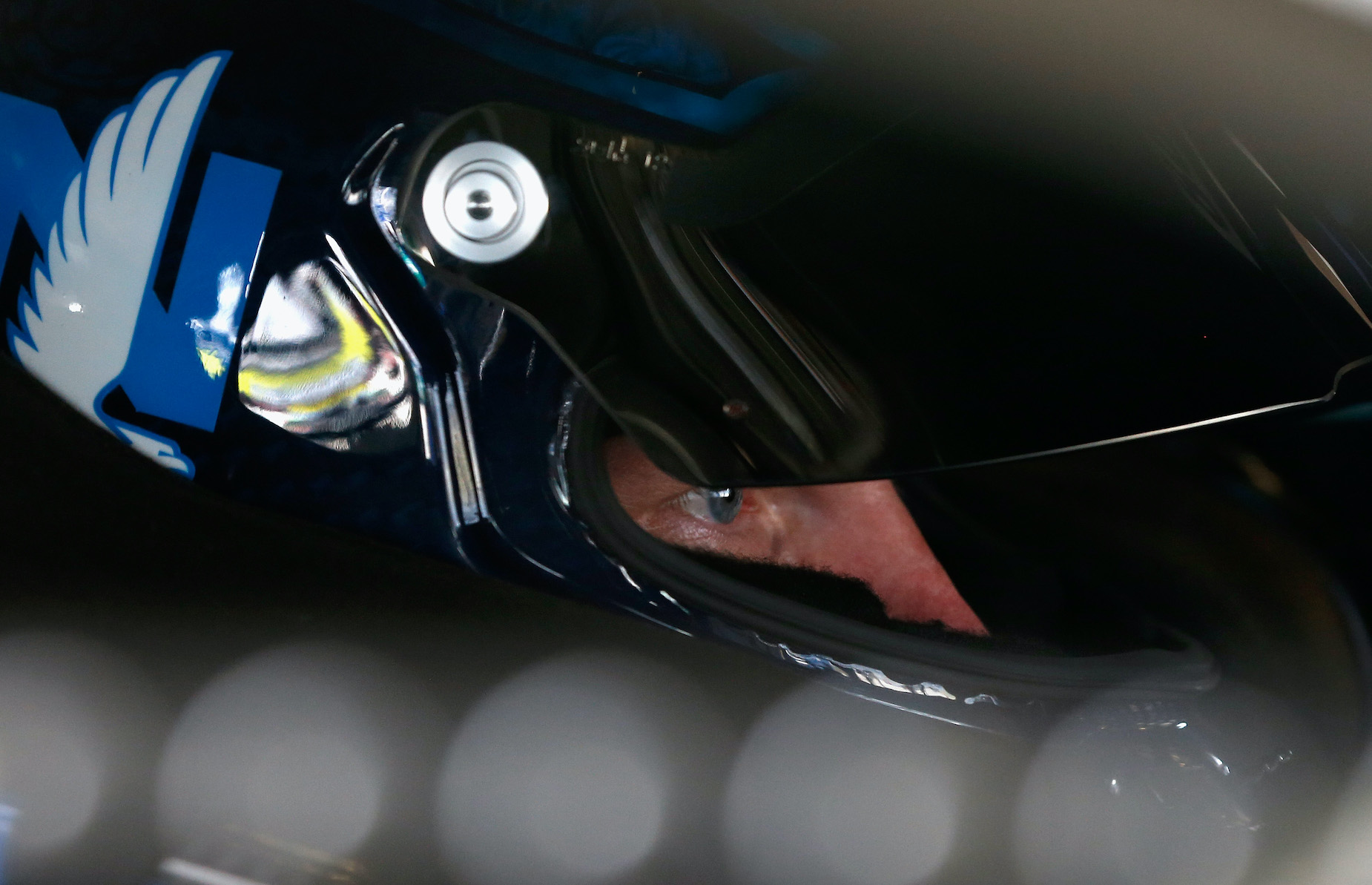 Although he only started racing to get closer to his father, that decision changed the course of Dale Earnhardt Jr.'s life. As it turned out, he was a natural behind the wheel.
After cutting his teeth in late model racing, Junior joined the Busch Series in 1996. Two years later, he made his debut on the Cup Series circuit.
While things weren't perfect—Dale Jr. never quite reached the same heights as his late father—the North Carolina native still put together a solid NASCAR career. He won 50 races across both levels of competition, claimed two Busch Series titles, and took home 15 NASCAR Most Popular Driver titles. That popularity also helped him build up a $300 million fortune, which isn't a bad consolation prize.
Dale Earnhardt Jr. summed up his biggest fear in one word: divorce
In the early 2000s—he was 28 at the time—Dale Earnhardt Jr. was the subject of a Men's Journal profile penned by Pat Jordan. While the piece shared plenty of behind-the-scenes tidbits, it also touched on something rather personal: fear.
"I asked one more question, and then I left. Driving out of Mooresville, I wondered what his answer had meant," Jordan explained in the final paragraph. "It was a simple question for a race-car driver: What did he fear the most? Failure? Dying in a crash, as his father, the man who had shaped his career and his psyche, had?"
While all of those would have been perfectly valid answers, Dale Jr. named something much more personal.
Without hesitation, Junior – the product of a broken home, the son of a man who wrecked two homes – said: "Divorce."

Pat Jordan
In fairness to Dale Earnhardt Jr., he's come a long way since the piece was written. He's suffered through some serious concussion-related issues, giving rise to a new fear. Junior has also gotten married, had children, and, thanks to the help of a therapist named Jane, seems to be well on the way to building a happy home life.