Did Le'Veon Bell and Antonio Brown Ever Win a Super Bowl With the Steelers?
Le'Veon Bell and Antonio Brown were superstars for the Pittsburgh Steelers. The two of them, along with quarterback Ben Roethlisberger, made one of the most dominant offenses in NFL history. However, both Bell and Brown had messy divorces with Pittsburgh and haven't been quite as effective since leaving. So, since both of their tenures with the Steelers are over, did Le'Veon Bell and Antonio Brown ever win a Super Bowl while in Pittsburgh?
Antonio Brown became the NFL's top receiver with the Steelers
The Pittsburgh Steelers selected Antonio Brown in the sixth round of the 2010 NFL draft, and after he only caught 16 passes for 167 yards in his rookie season, Brown became a star in 2011. Brown earned a Pro Bowl selection that season as he caught 69 passes for 1,108 yards and two touchdowns. He also returned 27 kickoffs for 737 yards.
However, after only playing in 13 games in 2012, Brown went on one of the most dominant runs in NFL history from 2013 through 2018. Brown gained over 1,280 receiving yards, caught over 100 passes, and recorded at least eight receiving touchdowns in each of those seasons. Additionally, in 2015, he recorded a career-high 1,834 receiving yards and a career-high 136 receptions. Brown also led the NFL in receiving yards in both 2014 and 2017 and caught the most TD passes in the NFL in 2018 with 15.
All in all, during that span, Brown earned six consecutive Pro Bowl selections and was a First-Team All-Pro four times.
The 2018 season was Brown's last year in Pittsburgh. He appeared in one game for the Patriots in 2019 and then played for the Tampa Bay Buccaneers in 2020. Brown caught 45 passes for 483 yards and four touchdowns in eight games in 2020.
Overall in Pittsburgh, Brown caught 837 passes for 11,207 yards and 74 touchdowns. After 2020 and the one game he played in during the 2019 season, those numbers climbed up to 886 total career receptions to go with 11,746 receiving yards and 79 touchdown catches.
Le'Veon Bell became one of the best running backs in the league
The Steelers selected Le'Veon Bell in the second round of the 2013 NFL draft out of Michigan State. He only ran for 860 yards and gained 399 receiving yards in 2013, but he was dominant in his second season. In 2014, Bell ultimately gained 2,215 yards from scrimmage and had 11 rushing/receiving touchdowns. This led to him earning Pro Bowl and First-Team All-Pro honors that year.
Bell then only played in six games in 2015 but was a Pro Bowl selection again in 2016. He gained 1,884 total yards from scrimmage that year and had nine rushing/receiving touchdowns. In 2017, though, Bell was arguably the best back in the NFL again. He ultimately led the league in combined rushing attempts and catches as he touched the football 406 times that year and gained 1,946 yards from scrimmage. He also had 11 rushing/receiving TDs. This led to him earning Pro Bowl and First-Team All-Pro honors again.
However, Bell didn't play with the Steelers in 2018 due to a contract dispute. He then went to the Jets in 2019 and only had 1,250 yards from scrimmage and only four rushing/receiving touchdowns. His numbers were even worse in 2020, though, as he gained 466 yards from scrimmage with the Jets and Kansas City Chiefs in 11 games.
Overall with the Steelers, Bell gained 7,996 yards from scrimmage and recorded 42 rushing/receiving touchdowns in five seasons. After 2020, Bell, in total, has 9,712 yards from scrimmage and 48 rushing/receiving touchdowns, which includes 6,453 rushing yards and 40 rushing touchdowns.
Did Antonio Brown and Le'Veon Bell win a Super Bowl with the Steelers?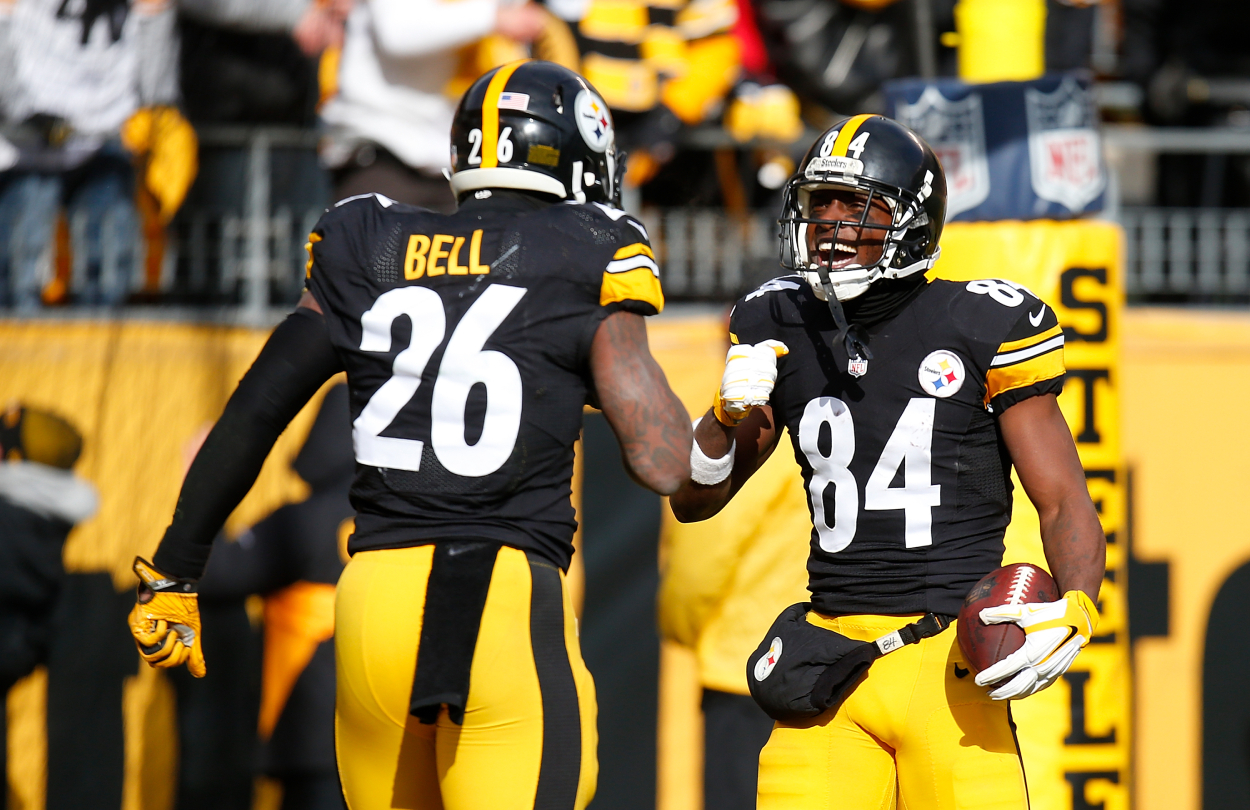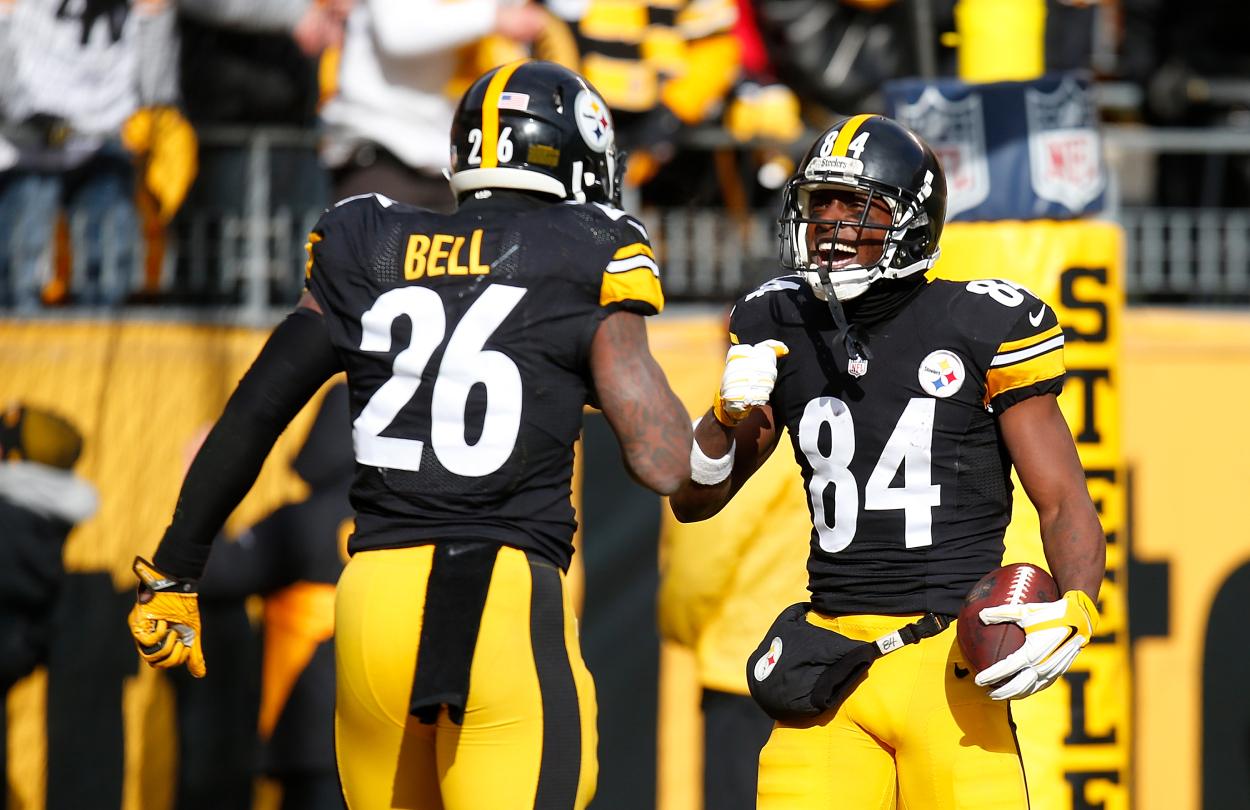 So, since Antonio Brown and Le'Veon Bell both had so much success with the Steelers, did they ever win a Super Bowl while in Pittsburgh? The answer is no.
The Steelers' last Super Bowl title came before the Bell and Brown era during the 2008 season. Brown was still playing in college at Central Michigan at that time, and Bell was still at Groveport Madison High School in Ohio. 
Brown was, however, a part of the Steelers team that played in the Super Bowl during the 2010 season, which was his rookie year. He only caught one pass for one yard, though, and the Steelers ultimately lost to the Green Bay Packers, 31-25. The furthest the Steelers made it with both Brown and Bell was the AFC Championship Game during the 2016 season.
Antonio Brown and Le'Veon Bell both had a ton of success in Pittsburgh. They, however, just couldn't quite lead the Steelers to a championship.
Stats courtesy of Pro Football Reference