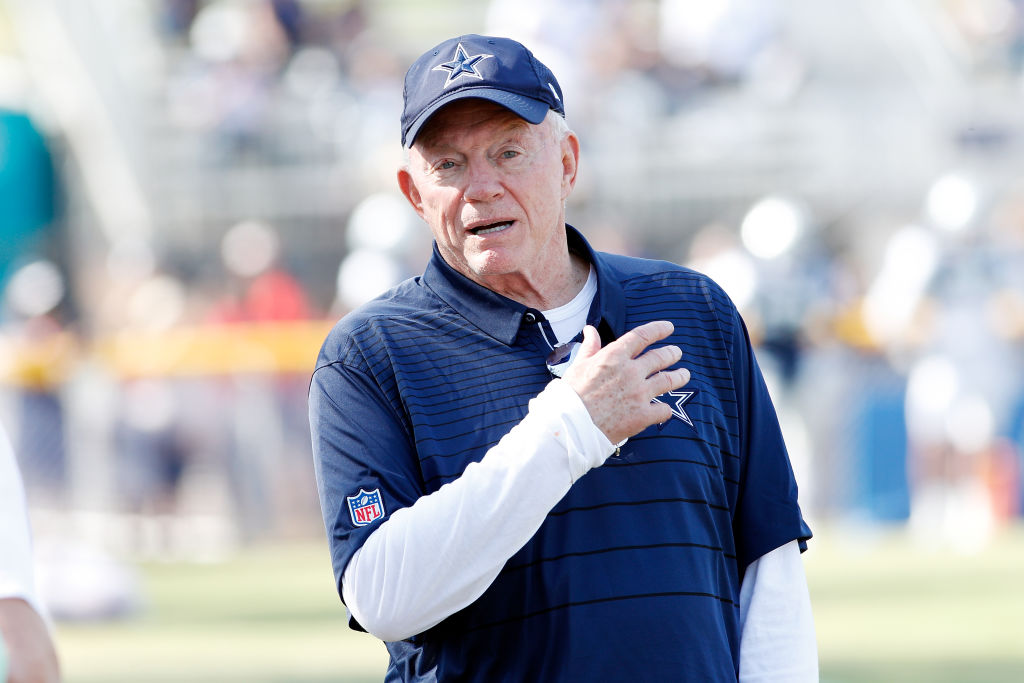 Jerry Jones Makes a Bold Prediction About the Cowboys' Postseason Chances
Dallas Cowboys owner Jerry Jones rarely lacks confidence. His latest prediction about the Cowboys' playoff chances, however, is a bit extreme.
When it comes to NFL owners, few love the spotlight like Jerry Jones. If the Cowboys are America's team, he's America's rich, eccentric uncle. Every week, he seems to find a new way to grab everyone's attention; this time, it was by making a bold prediction about his team's chances for postseason success.
While the Cowboys have been struggling, don't tell that Jerry Jones. He recently claimed that his club has a chance of making a run to the Super Bowl and taking home the title.
The Dallas Cowboys' disappointing 2019
If Jerry Jones had made this prediction at the start of the year, no one would have batted an eye. While it might have seemed a tad overconfident, the Cowboys are one of the league's more talented teams on paper. They boast a strong offensive line, a capable young quarterback, and a talented receiving corps; once Ezekiel Elliott ended his holdout, everything looked set. Unfortunately, the NFL season isn't played on paper.
While the Cowboys started their season with three straight wins, they dropped their next three games. They rebounded with a win over the Philadelphia Eagles; that momentum continued after the bye week with another divisional victory over the New York Giants. Dallas couldn't find their stride, though. Since then, the bottom has fallen out, leaving them with a 6-6 record.
Despite that mediocre record, however, the Cowboys do seem to have the makings of a quality team. They actually lead the NFL in total offense and passing offense, but can't seem to put everything together. Jason Garrett has gotten most of the blame, but his job appears to be safe until the offseason.
Jerry Jones weighs in on the Cowboy's Super Bowl aspirations
While Jerry Jones might not be the best general manager in the NFL, he certainly has strong convictions. He shared one of those earlier this week during a radio interview.
"I look at our team with our skill set and I look at other teams with theirs, and there's nothing in my mind that jumps out at me that we can't be playing well enough to take it to the house," Jones said on Dallas' 105.3 The Fan.
Jones has made some bold claims before, including insisting that Jason Garrett was in "high demand" and arguing that legalized sports betting would help attract new NFL fans. But could he possibly be right this time?
Is Jerry Jones really right about his Dallas Cowboys playoff chances?
There's one part of Jones' statement that is accurate: the Dallas Cowboys are undeniably a talented team. The rest of his prediction, however, is far from likely.
While the Cowboys are sitting atop the NFC East right now, they still have a chance of missing the playoffs. Dallas will have to hold off Philadelphia down the stretch, despite having a tougher schedule; if they lose in the remaining head-to-head match-up this season, Philadelphia could steal the top spot. Even if the Cowboys do make the playoffs, they'll probably have to go through the 49ers, then either the Saints or the Seahawks. That's not exactly a cakewalk to the Super Bowl.
Once you're playing single-elimination games, anything can happen; for all we know, the Dallas Cowboys could qualify for the playoffs, then go on an improbable run. Unless a miracle happens, however, Jerry Jones probably won't be lifting the Lombardi Trophy this season.