Johnny Manziel Puts Another Failed Chapter of His Life Behind Him
The list of Johnny Manziel's mistakes is longer than a Patrick Mahomes throw with the wind at his back. The former first-round draft pick of the Cleveland Browns washed out of the NFL in near-record time, a victim of his own immaturity and bad decisions, and made a mess of his personal life, too.
Now, a substantial failed episode in Manziel's life is almost behind him.
Johnny Manziel and Bre Tiesi married in 2018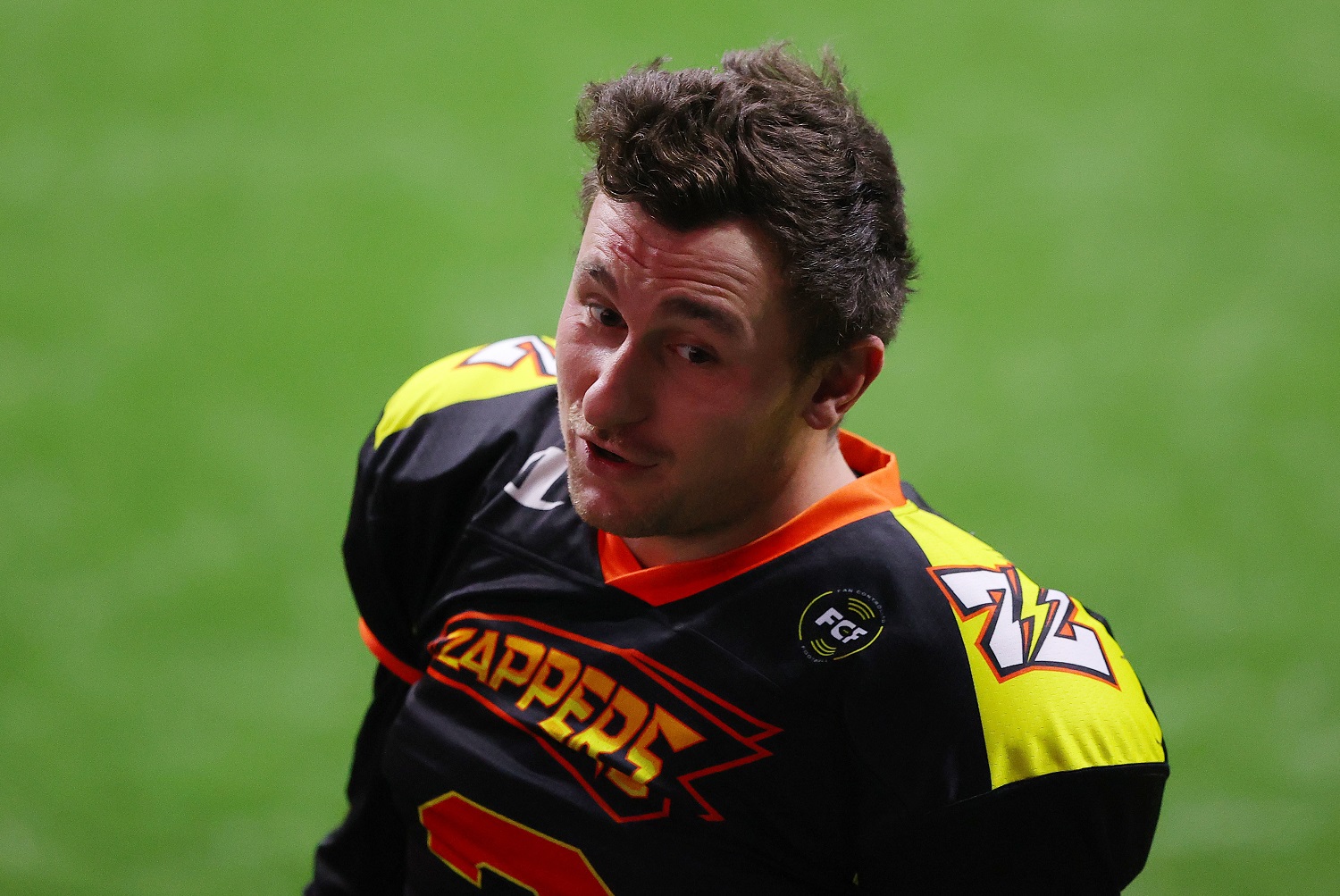 Johnny Manziel and girlfriend Bre Tiesi began dating in 2016 and got engaged the following year in Paris, by which time he had already flunked his NFL audition with the Cleveland Browns. They married in a California courthouse in early 2018 during a ceremony that they kept secret from all but their families and closest friends.
"She's good for him and balances him, and he's crazy about her," an unidentified source told People at the time after Manziel and Tiesi were seen sporting wedding bands on their hands.
Aside from his football-related problems – poor performances on the field and questions about his dedication after being drafted in 2014 – Manziel went through an at-times stormy relationship with a former girlfriend.
On Feb. 5, 2016, Dallas police revealed a criminal investigation following allegations by that woman that she was the victim of domestic. That contributed to the decision by the Browns to release Manziel, and he was later indicted on misdemeanor assault charges.
By year's end, representatives for Manziel had negotiated a plea agreement in which Manziel agreed to undergo counseling. That and his relationship with Tiesi were seen as signs that Manziel was potentially turning a corner in his life.
It wasn't nearly close to the truth.
Johnny Manziel is a step closer to a divorce
No NFL team will ever go near Johnny Manziel again after his two-season farce with the Cleveland Browns. On the other hand, any woman who wants to strike up a serious relationship with him is about to be free to do so.
The 2012 Heisman Trophy winner and estranged wife Bre Tiesi are waiting for a California judge to sign off on the divorce settlement they submitted on April 1, according to The Blast. The website said it was unclear whether Tiesi will receive spousal support or how their property will be divided.
Tiesi had filed for the divorce in December 2019, nine months after they separated, citing irreconcilable differences, and reverted to her maiden name.
Manziel recently launched a new podcast, during which he has discussed past issues like his 2012 arrest for disorderly conduct following a brawl in College Station, Texas. If he has any sense, talking about the divorce will be off-limits.
USA Today is far too kind to the Cleveland Browns
As part of its preparation for this year's event, USA Today has compiled its list of the 101 worst draft busts in NFL history. Naturally, the San Diego Chargers' decision to take Ryan Leaf at No. 2 in 1998, after the Indianapolis Colts selected Peyton Manning, tops the list. Aside from the fact that Leaf was a complete washout, the Chargers overspent in a trade with the Cardinals to move up one spot.
The list is chock full of other quarterback mistakes, too, including JaMarcus Russell and Jeff George in the top five because they were No. 1 overall picks.
The Cleveland Browns' decisions to select Brandon Weeden in 2012, Johnny Manziel in 2014, and Brady Quinn in 2007, were rated as mistakes Nos. 31, 31(a), and 32, respectively.
As a body of work, however, those three decisions could easily have been lumped into one and ranked 22nd overall since that is the position at which Cleveland drafted each quarterback in the first round. Producing that many bad misses in such a short period of time is an achievement deserving greater recognition than the Browns got.
Like Sportscasting on Facebook. Follow us on Twitter @sportscasting19.