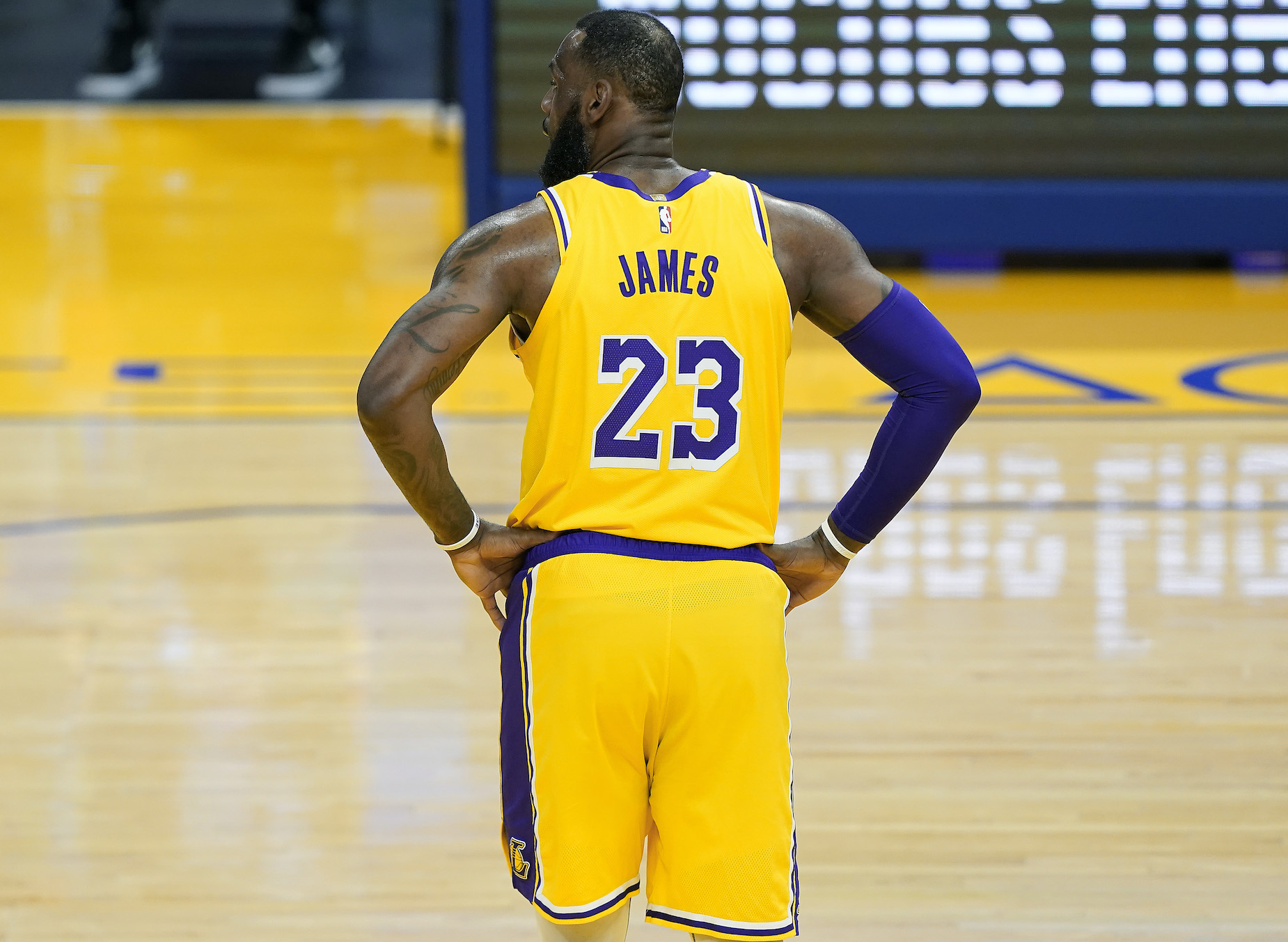 LeBron James Is Adding a New Product to His World-Class Business Portfolio, Which Has Nothing to Do With Pro Sports
While LeBron James' basketball career can't last forever, his buisness portfolio continues to expand.
In modern sports, few stars are bigger than LeBron James. Whether you think he's surpassed Michael Jordan as the GOAT or not, he's proven to be quite the talent; that star status has helped the LA Lakers star make plenty of money and, in turn, develop an impeccable business portfolio.
While LeBron James' recent move to become a part-owner of the Boston Red Sox has made plenty of headlines, that's not his only business move. In fact, King James is adding another brand to his portfolio; this one, however, has nothing to do with professional sports.
LeBron James continues to be one of the NBA's biggest talents
If you're a longtime basketball fan, it may seem like yesterday when LeBron James burst onto the NBA scene. In reality, though, King James has spent 17 full seasons in the pros. Along the way, he's proven to be quite the talent.
LeBron, of course, burst onto the scene at St. Vincent-St. Mary High School; he was quickly tapped as the next big star and, before long, his games were appointment viewing on ESPN. Unsurprisingly, he skipped college and entered directly into the 2003 NBA draft.
King James then joined the Cleveland Cavaliers as the first-overall pick; after seven years in his home state, however, he infamously took his talents to South Beach. LeBron then won two titles with the Miami Heat before returning to Ohio and helping the Cavs lift the Larry O'Brien Trophy in 2016.
In July 2018, James left Cleveland again, this time to join the LA Lakers. Despite a disappointing first season in Hollywood, that move has since paid off with another championship.
While LeBron is no longer a young man—he turned 36 at the tail end of 2020—he's still an incredibly effective NBA player. Through the first 39 games of the 2020-21 campaign, he's averaging 25.5 points, 8.1 rebounds, and eight assists per outing.
An ever-expanding business portfolio
As a global superstar, LeBron James has plenty of disposable income. He hasn't wasted it all on fancy toys or left it to mature in a bank vault, though. King James has also proven to be quite the investor.
LeBron, for example, struck gold by investing in Blaze Pizza; he's also teamed up with Dr. Dre, has his own production company, and broke into the pro sports space as a part-owner of Liverpool FC. He's also poised to become a minority owner of the Boston Red Sox, assuming nothing falls through as all parties dot their I's and cross their T's.
In total, LeBron James' net worth is estimated at roughly $500 million. While that could already be considered a king's ransom, that number is only likely to increase with each passing year.
LeBron James adds a new Pepsi product to his portfolio
If you watch basketball around the holidays, you've probably seen LeBron James advertising cranberry Sprite more times than you'd like to admit. The Lakers star, however, is now the face of a different soft drink.
Earlier in 2021, James and Coca-Cola couldn't hammer out a new deal; that allowed LeBron to switch teams and join up with Pepsi. On March 17, the company a new line of beverages, planning to make King James the face of the product.
As laid out by CNBC, the product is Mtn Dew Rise Energy, which has the caffeine equivalent to two cups of coffee, vitamins A and C and zinc, and  citicoline; that final ingredient is "often used in supplements that claim to boost memory."
According to Pepsi, James will also endorse other products under their umbrella. He'll be the main man, however, when it comes to the new energy drink.
"It's not about creating another extension under Mountain Dew, it's about creating another brand under the Mountain Dew family," Fabiola Torres, chief marketing officer of PepsiCo Energy, explained.
Stats courtesy of Basketball-Reference