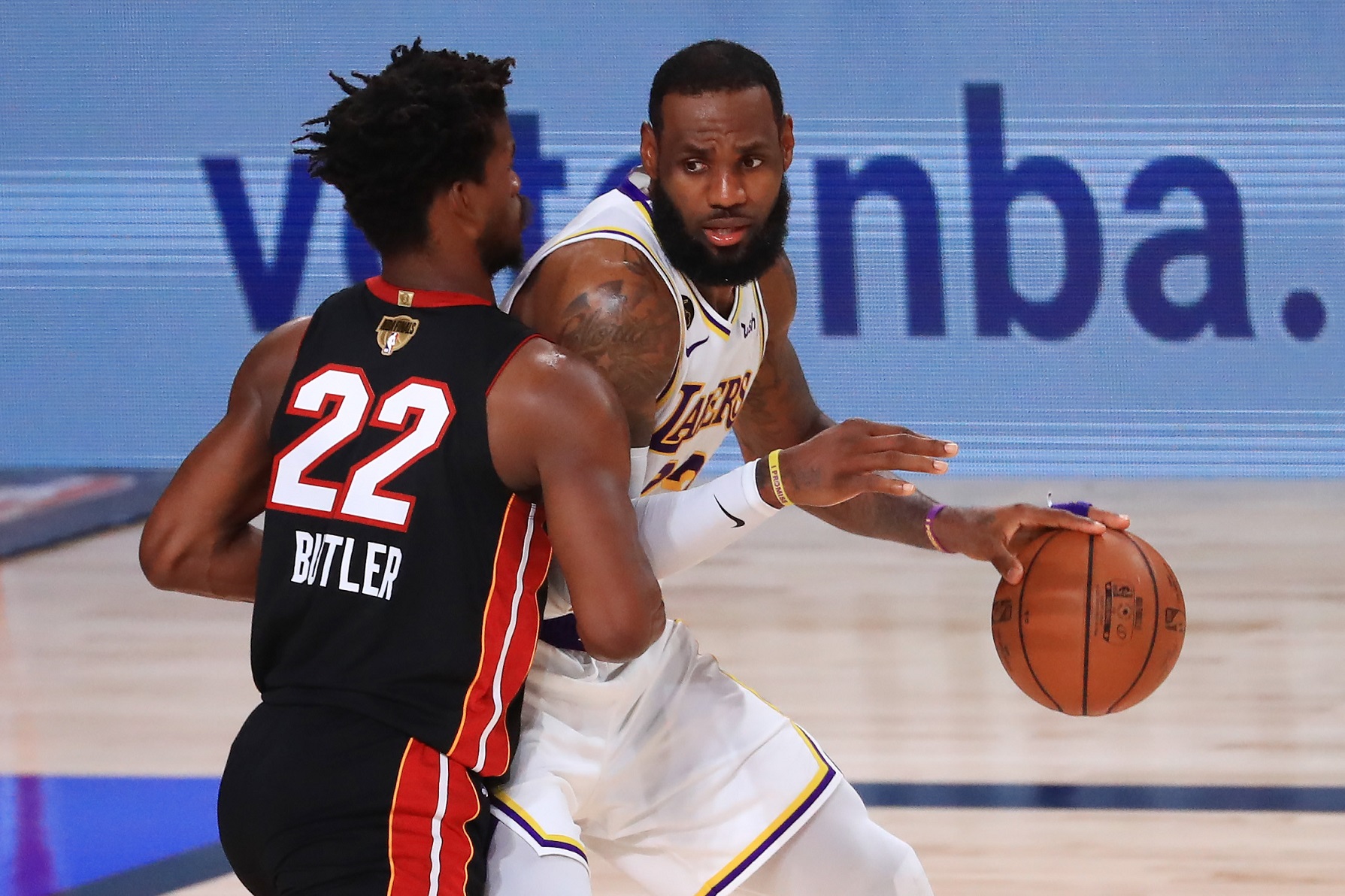 Lebron James Expects Slumping Popcorn Sales When the Lakers Play the Mavericks
LeBron James says Dallas Mavericks guard Luka Doncic is the type of player who keeps fans glued to their seats.
"I just love what he stands for. I love everything about him on and off the court," Los Angeles Lakers star LeBron James gushed recently about Dallas Mavericks guard Luka Doncic.
The fact that James singles Doncic out for praise is an indication of just how good the native of Slovakia is. After all, James has seen plenty of gifted players in his 17 seasons with the Cleveland Cavaliers, Miami Heat, and the Lakers. What he sees in Doncic is a player than fans should stay in their seats to watch no matter how tempted they are to visit the concession stand.
Luka Doncic is off to a flying start in the NBA
NBA teams that go all-in on European prospects tend to attract skeptical reactions from fans who've seen too many sure bets who failed to pan out. There aren't any Dallas Mavericks fans with reservations about Luka Doncic, who landed with the team in a draft-day swap with the Atlanta Hawks for Trae Young in 2018.
Doncic, born in Slovenia, was a precocious talent for Real Madrid, making his debut on the club's senior team as a 16-year-old. He recorded numerous team and individual honors before applying for the draft at age 19.
The 6-foot-7 guard was the near-unanimous Rookie of the Year in 2019 after averaging 21.2 points and 6.0 assists. He boosted the figures to 28.8 and 8.8, respectively, this past season. Fans unfamiliar with Doncic were treated to an amazing introduction in the first round of the NBA playoffs as he averaged 31.0 points on 50.0% shooting and added 8.7 assists and 9.8 rebounds before Dallas was eliminated by the Los Angeles Clippers.
LeBron James recognizes the young star's selflessness
Luka Doncic was only 20 years old when the 2019-20 NBA season began. Basketball-Reference.com ran a query on Doncic vs. all 20-year-olds in league history, and the data explains why LeBron James is so impressed.
Doncic's 28.8 points a game for his 20-year-old season is the best on record, with James second at 27.2 and Kevin Durant next at 25.3. What's more, Doncic did it in fewer minutes per game. At 8.8 assists per game, he edges Stephon Marbury (8.6) and John Wall (8.3). For good measure, Doncic comes in second in field-goal percentage from inside the arc (57.4%) and sixth in rebounds at 9.4. The only negative is a high number of turnovers, a stat that figures to improve with experience.
In a recent interview conducted by former teammate Richard Jefferson, James said he sees familiar qualities in Doncic that extend beyond the stat line.
"Luka is one of my favorite players in the NBA today. For the simple fact of the way I play the game is exactly how I love the way he plays the game — team first, gets his guys involved. If you challenge me to score, I'm gonna score. And at the same time, I'm gonna keep my guys involved. But I play for the team and I'm  gonna play with a sense of joy."

LeBron James
Luka Doncic reminds LeBron James of another great
Dallas Mavericks owner Mark Cuban drew parallels between Luka Doncic and Los Angeles Lakers Hall of Fame guard Magic Johnson while appearing recently on quarterback Russell Wilson's podcast.
The Lakers' LeBron James says that's understandable.
"He controls every facet of the game, from scoring to rebounding to passing," James said. "His approach when he gets the ball, even when a team scores and his teammate outlets the ball to bring the ball up, you can tell when he's bringing the ball you have that Magic Johnson/Luka Doncic (attitude). I don't like speaking about myself, but we have that certain macho, that certain demeanor.
"When we're coming up the floor, we have that something special, where if you get up and decide to go to concessions and get your popcorn, you're gonna miss something."
Like Sportscasting on Facebook. Follow us on Twitter @sportscasting19