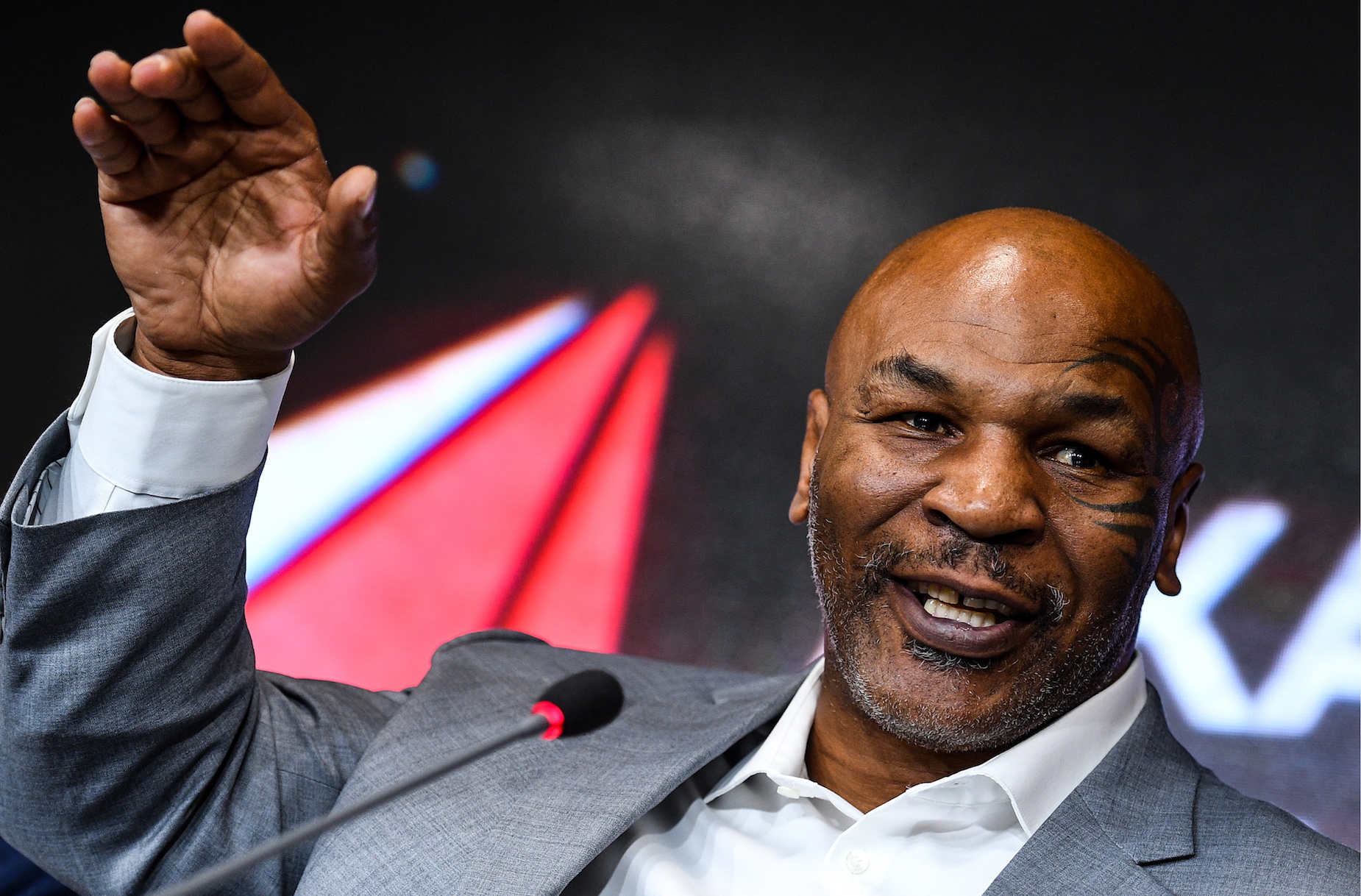 Mike Tyson Doesn't Care About the $10 Million He'll Earn From Fighting Roy Jones Jr.: 'I Want to Die With a Good Conscience'
Mike Tyson will reportedly earn $10 million from his comeback fight against Roy Jones Jr., but he isn't interested in the cash.
While he didn't always make the smartest decisions with his money, Mike Tyson was no stranger to cold hard cash. During his reign as boxing's biggest star, Iron Mike splurged on everything from tigers to a $2 million bathtub. In 2020, though, things are a bit different.
As part of his comeback exhibition fight against Roy Jones Jr., Mike Tyson will reportedly take home a guaranteed $10 million. Despite that payday, the former heavyweight champ isn't concerned about the purse. Instead, he's concerned with doing things right and making the world a better place.
Mike Tyson is no stranger to making (and losing) money
In the world of modern professional sports, big money is simply part of the deal. Mike Tyson certainly experienced that reality firsthand during his time as a professional boxer.
Thanks to his phenomenal talent and rapid rise to stardom—he turned pro at age 18 and was boxing's youngest heavyweight champ at 20—Tyson earned almost $700 million during his fighting career; after Don King, Uncle Sam, and everyone else got their cut, his net worth peaked at roughly $300 million. His fortune, however, wouldn't last.
Eventually, Tyson's spending outpaced his earning power; he splashed out cash on everything from tigers to jewelry, got married three times, and owed millions to lawyers, producers, and agents. Eventually, the former champ filed for bankruptcy.
Iron Mike, however, managed to rebound quite well. In addition to being happier without his fortune, Tyson has found a home in the media, appearing in movies and hosting a podcast; he also owns a marijuana ranch and sells the accompanying products.
How much money will Mike Tyson make fighting Roy Jones Jr.?
These days, Mike Tyson earns money from his name and likeness, not his physical talents. That, however, will change when he steps into the ring on November 28 for an exhibition bout against Roy Jones Jr.
Exhibition is the keyword when it comes to the fight; anyone who misses that important adjective will be disappointed. Tyson and Jones will step into the ring for eight two-minute rounds; they're under instruction not to go for a knockout, and the fight will be stopped if either man suffers a bad cut.
Despite those rules, there's still a decent amount of money tied up in the event. According to Yahoo Sports' Kevin Iole, Mike Tyson will make $10 million from the fight. That number was also mentioned during an appearance on Jimmy Kimmel Live!, which we'll get to momentarily.
Iron Mike isn't worried about the money
For anyone, let alone someone who declared bankruptcy in the past, $10 million for a glorified sparring session is nothing to sneeze at. Mike Tyson, however, isn't worried about getting his hands on the $10 million check.
During a recent appearance on Jimmy Kimmel Live!, the host made reference to Tyson's guaranteed $10 million payday. The boxer, however, interrupted before Kimmel could even finish his question.
"Hey, I don't know nothing about money," Tyson said. "You've got to talk to my wife. I don't want no money. Take that money, that belongs to them. You know, listen, this is not my life no more. I'm here to try to make things happen, make this a better place. I want to die with a good conscience, man."
Tyson did say, however, that he was potentially interested in buying a dog and some horses. At least he seems to have learned his lesson from owning tigers.