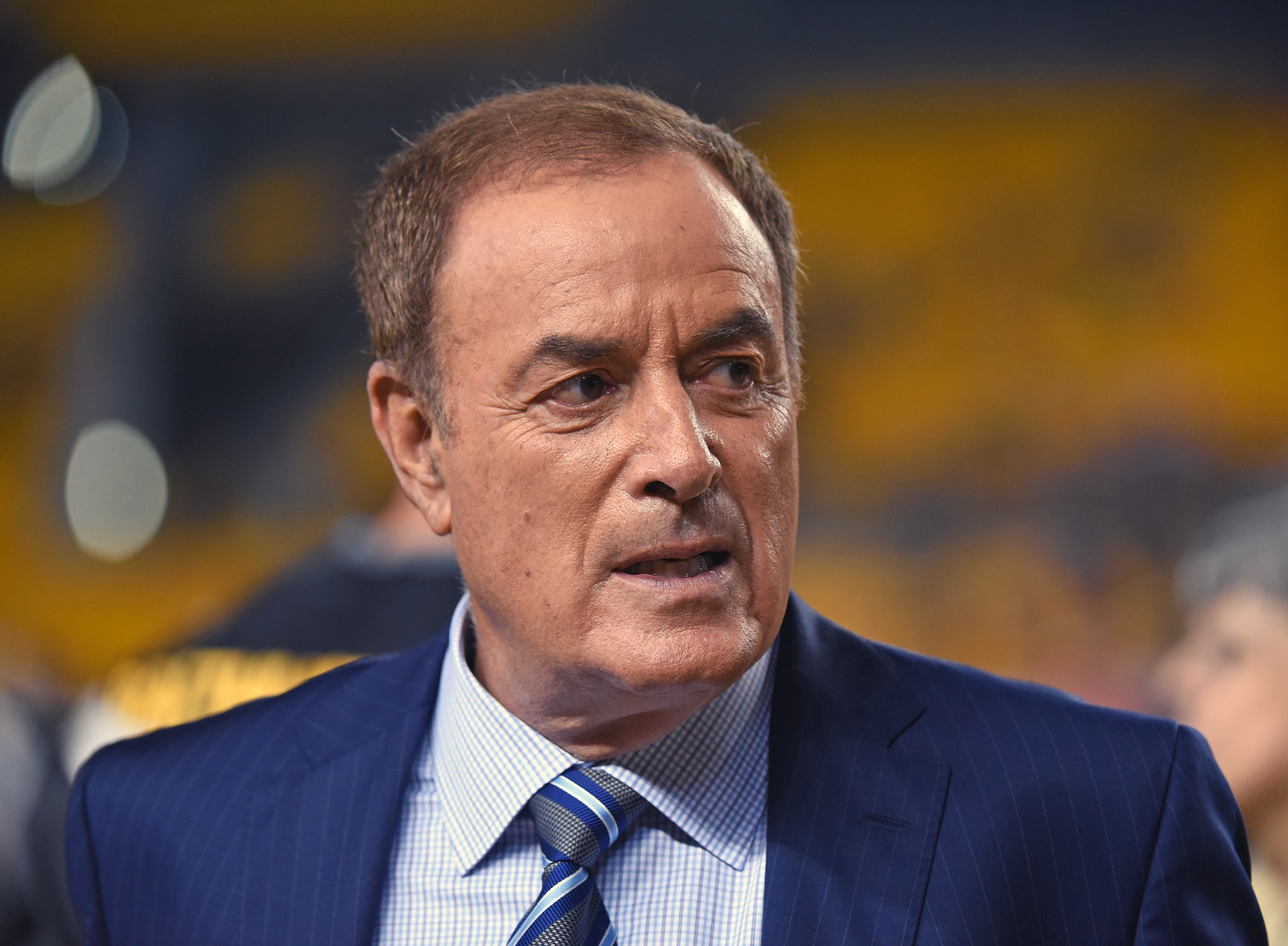 NBC's Al Michaels Once Made a Regrettable Harvey Weinstein Joke During Sunday Night Football
While NBC's Al Michaels is a respected media veteran, he once cracked a regrettable Harvey Weinstein joke during Sunday Night Football.
While they might seem like bit-part players, broadcasters are a major part of every sports fan's viewing experience. If you watch pro football, for example, Al Michaels and Cris Collinsworth are a regular part of the week; hearing those two men means that a Sunday of NFL action is coming to a close after one final game.
Although Al Michaels is an elder statesman in the world of sports media, his resume isn't completely free of blemishes. In fact, he once cracked a regrettable Harvey Weinstein joke during a Sunday Night Football broadcast.
Al Michaels is one of sports broadcasting's biggest names
In sports, just about every team has a grizzled veteran on the roster who can show the young players the ropes. In the broadcast booth, though, few people have seen and done more than Al Michaels.
Michaels made his media debut at Arizona State, where he worked for the student newspaper and called games on the campus radio station; after graduation, he landed a job with the LA Lakers. The young broadcaster needed to leave Hollywood for his big break, though.
Following a move to Hawaii, Michaels found a home at a local TV station, broadcasting minor league baseball, plus high school and college sports. With that experience under his belt, the announcer returned to the mainland and began calling Cincinnati Reds games; before long, he was covering the NFL, too.
In 1977, Michaels joined ABC; during his time with the network, he lent his voice to everything from Olympic hockey to horse racing. He switched teams in 2006, however, joining NBC and slotting into their Sunday Night Football coverage.
A comforting presence on Sunday Night Football
Al Michaels is more than an industry veteran, though. Over the years, he's become an inescapable presence on the sports scene; it's almost impossible to imagine watching a game without hearing his voice.
"Al Michaels IS comfort food," Drew Magary explained in a Defector profile of the play-by-play man. "No other human being has been on national primetime TV as long or as often as this man. His signature call—"Do you believe in miracles? YES!!!!!"—came when I was three years old, in a sport that Al had barely ever called at the time and has rarely called since. My entire life as a sports fan has been scored to the voice of Al Michaels, and I am hardly alone."
If you're a long-time sports fan, you've probably seen your fair share of iconic moments. Michaels, however, has almost everyone else beat.
"He is one degree from the Miracle on Ice, from Scott Norwood's miss, from the 1989 World Series earthquake, from O.J. Simpson, from John Madden, from Philly Special, from Blair Walsh, from Dick Button, from the Odell catch, from Malcolm Butler picking off Russell Wilson, and probably from your wedding," Magary continued. "The man is an institution and a long-enduring one."
Al Michaels once cracked a Harvey Weinstein joke on Sunday Night Football
Over the years, Al Michaels has become a comforting and well-established part of the North American professional sports scene. Despite that status, though, he once made a regrettable joke during a Sunday Night Football broadcast.
As documented by the Washington Post, Michaels and Cris Collinsworth were tasked with calling the Giants-Broncos game in the fall of 2017. Given that New York was experiencing a tough stretch—Odell Beckham Jr., Brandon Marshall, and Sterling Sheppard had all gone down injured—the play-by-play man quipped that "the Giants [were] coming off a worse week than Harvey Weinstein."
Given that Weinstein had recently been accused of sexual assault and harassment, Michaels' remarks weren't exactly a hit with the audience. Before the night was out, he issued an on-air apology.
"Sorry I made a reference earlier, I was trying to be a little flip about somebody obviously very much in the news all over the country, and it was not meant in that manner," Michaels said. "So, my apologies, and, um, we'll just leave it at that."
In the world of sports media, few broadcasters are as respected as Al Michaels. In 2017, though, he made quite an error of judgment in the booth.