Paige Bueckers May Not Be a Pro Player Yet, but She's Already on the Same Team as Zion Williamson
Article Highlights:
Paige Bueckers swept virtually every major award in women's college basketball as a freshman
The UConn guard is already benefitting from the significant change to NIL rules
Bueckers has signed an endorsement deal with Gatorade, the best-known name in sports drinks
When Gatorade went searching for its first endorser from the college ranks this summer, the sports drink behemoth didn't go after Drew Timme at Gonzaga or Kofi Cockburn at Illinois, both presumably heading to the NBA as first-rounders next summer. Instead, the player the company added to a roster of big-name pros including, Zion Williamson, Lionel Messi, and Serena Williams is an NCAA women's college basketball star.
University of Connecticut sophomore guard Paige Bueckers is a bona fide star. Huskies fans are holding their breath over Bueckers' knee injury on Sunday vs. Notre Dame, but she is undoubtedly on schedule to do big things in the WNBA and international basketball, so scoring a first with Gatorade is unlikely to be the first time she makes history.
Paige Bueckers is the centerpiece of the powerful UConn Huskies program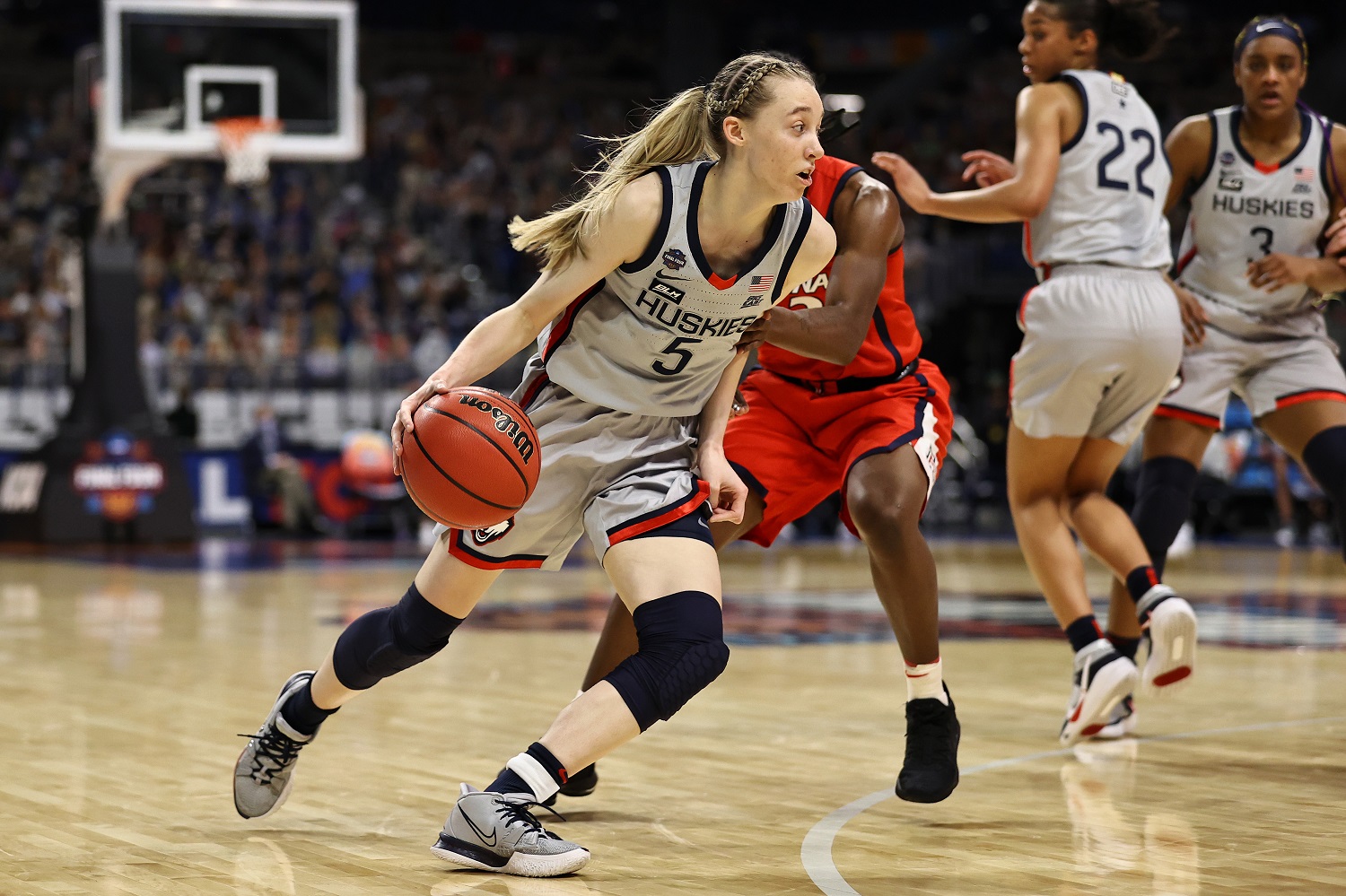 Paige Bueckers' list of accolades from her freshman season is longer than the last two minutes of a close NBA game. Though last season ended with a loss to Arizona in the NCAA Tournament semifinals, she scored a nearly clean sweep of the sport's biggest honors, including the Wooden Award, the Naismith Trophy, and player of the year recognition from The Associated Press and the U.S. Basketball Writers Association.
All of that was on top of the various Big East Conference awards and assorted recognitions as the nation's top freshman performer.
Bueckers finished the season with averages of 20.0 points, 4.9 rebounds, and 5.8 assists. She shot 52.4% from the field, including an eye-popping 46.4% on 3-pointers. On top of everything else, she led the Huskies in steals.
The new NIL rules have changed life for college athletes
Under pressure from numerous states and with federal officials also pressing, the NCAA relented this year and agreed to let athletes profit from the use of their name, image, and likeness (NIL). The effect was immediate.
With all of 13 passing attempts to his name at that point, Alabama quarterback Bryce Young signed this summer with CAA, the high-powered agency that represents hundreds of athletes, coaches, and A-list Hollywood celebrities. Multiple reports value the sum of Young's various deals at close to $1 million.
Some businesses took the approach of enlisting entire teams. America's Top Team, a chain of MMA training gyms, offered $6,000 a year to every University of Miami football player.
Still, the rule of thumb in athlete endorsements is that the real money flows from food, beverages, cars, and shoe/apparel deals. College athletes, even the stars, are too young to score with auto manufacturers, but Gatorade eagerly signed UConn's Paige Bueckers.
Front Office Sports reported last month's deal was only the second that she accepted (the first was with an e-commerce company), but it wasn't for a lack of opportunities.
Paige Bueckers will pick her NIL spots carefully
UConn women's basketball coach Geno Auriemma says star guard Paige Bueckers is playing it wisely when it comes to accepting NIL deals. She recognizes that a few major deals can outweigh 50 smaller ones.
"If Paige plays it right, there will only be two, three, or four," Auriemma said this fall. "But they won't be (for) getting free haircuts. They'll be really big."
Gatorade fits the description. Long the nation's leader in sports drinks, the company teamed with Michael Jordan for years and continues to work with numerous big-name athletes, including Zion Williamson and Serena Williams. Bueckers doesn't measure up with just one college season on her resume, but she has an undeniably bright future.
"She just truly encapsulates everything we look for in an athlete partner," said Jeff Kearney, Gatorade's global head of sports marketing. "She's an amazing competitor on the court and has quickly become one of the most elite college athletes playing today."
For her part, Bueckers seems to have her priorities straight. Having NIL deals in her pocket is nice, but she recognizes that the first deal of significant value she signed was the scholarship offer from UConn.
"Once the basketball season starts, that's my main and only focus," Bueckers said at Big East Media Day. "My agent knows that, and everybody that works with me knows that."
Like Sportscasting on Facebook. Follow us on Twitter @sportscasting19.