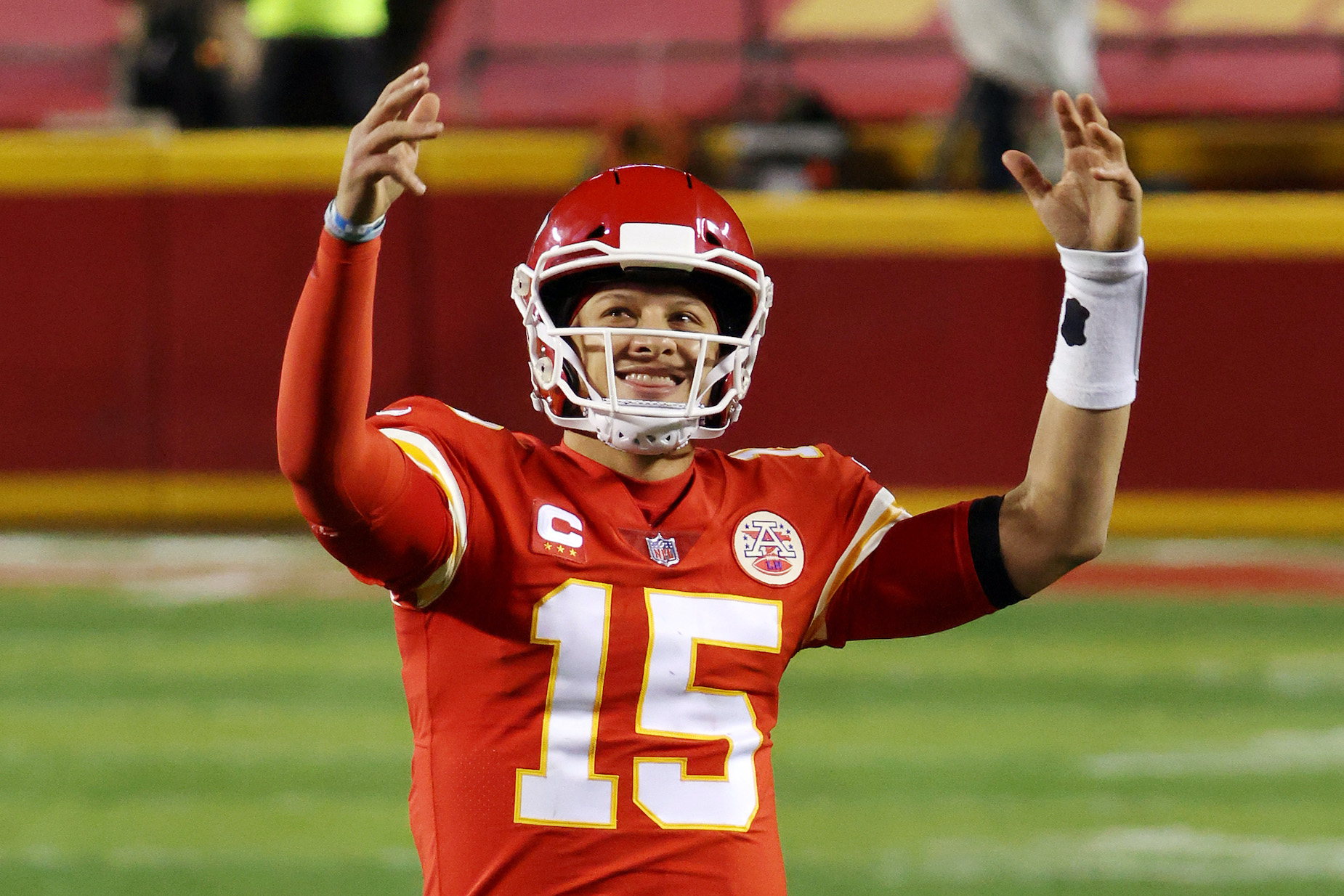 Patrick Mahomes Dodged a Major Bullet That Could Have Ruined His Super Bowl Thanks to the Kansas City Chiefs' Quick Thinking
If not for some quick thinking by the Kansas City Chiefs, Patrick Mahomes could have been ruled out of action for Sunday's Super Bowl.
With all due respect to the rest of the team, Patrick Mahomes is the key to everything that the Kansas City Chiefs do. When the starting quarterback is under center, no game is ever out of reach; without him, though, the offense is missing a major spark.
After some injury scares during the NFL playoffs, Patrick Mahomes looks like he should be close to his best for the Super Bowl. If not for some quick thinking by the Kansas City Chiefs, though, things could have been much different come Sunday evening.
The Kansas City Chiefs experienced a pre-Super Bowl COVID scare
At this point in the NFL season, everyone is pretty familiar with the proper COVID-19 protocols. The Kansas City Chiefs, however, have run into a potential issue ahead of the Super Bowl.
On Monday, the team placed two players—receiver Demarcus Robinson and center Daniel Kilgore—on the Reserve/COVID list. Both men were close contacts of someone who tested positive, meaning that they're still eligible to join the squad ahead of the Super Bowl, provided that they remain in good health.
As explained by Tom Pelissero on NFL.com, that close contact was a barber who the Chiefs brought in to their facility to provide haircuts. He had returned negative test five days before linking up with the Chiefs but, on the day in question, failed a rapid test. Kilgore, who was in the barber's chair at the time, and Robinson, who got his hair cut the day before, were therefore deemed to be close contacts.
The Kansas City Chiefs' quick reaction kept Patrick Mahomes safe
Even if Demarcus Robinson and Daniel Kilgore are able to play on Sunday, their current situation is less than ideal; they're not able to practice and won't know their fate until the weekend. The Kansas City Chiefs, however, could have found themselves in an even worse situation.
As ESPN's Adam Schefter reported on Wednesday, there were more than 20 members of the Chiefs organization waiting to get their hair cut on that fateful day. Among those in line? None other than Patrick Mahomes.
The Chiefs, however, were apparently on the ball and pulled the barber mid-cut. Therefore, he never came in close contact with Mahomes. Again, we don't know if that would have ruled the quarterback out of the Super Bowl, but preparing for the big game with your star player in isolation is hardly a recipe for success.
Patrick Mahomes will be ready to go on Super Bowl Sunday
Thanks to the Kansas City Chiefs' quick thinking, Patrick Mahomes will be good to go on Super Bowl Sunday. While winning a championship game is never easy, they'll feel much better about their chances with number 15 under center.
As Tom Brady has proven again and again throughout his career, he's almost unstoppable with the ball in a late-game situation; how often have we seen him get possession with a few minutes left, march down the field, and take the lead as time expires? The best way to avoid that problem is by putting points on the board and keeping the game out of reach. That's where Patrick Mahomes comes in.
While the Chiefs' defense has improved from their days as one of the league's worst units, this is still Patrick Mahomes' team. The Buccaneers will have learned their lesson from their regular-season meeting with the Chiefs; now, it's up to Mahomes, Andy Reid, and the rest of the offense to respond. If they can keep the game out of reach, no amount of Tom Brady heroics can make a difference.
When you have a talent like Patrick Mahomes on your team, you always have a chance to win. Thankfully, the Kansas City Chiefs reacted quickly enough after their barber tested positive for COVID-19 to keep the quarterback eligible.