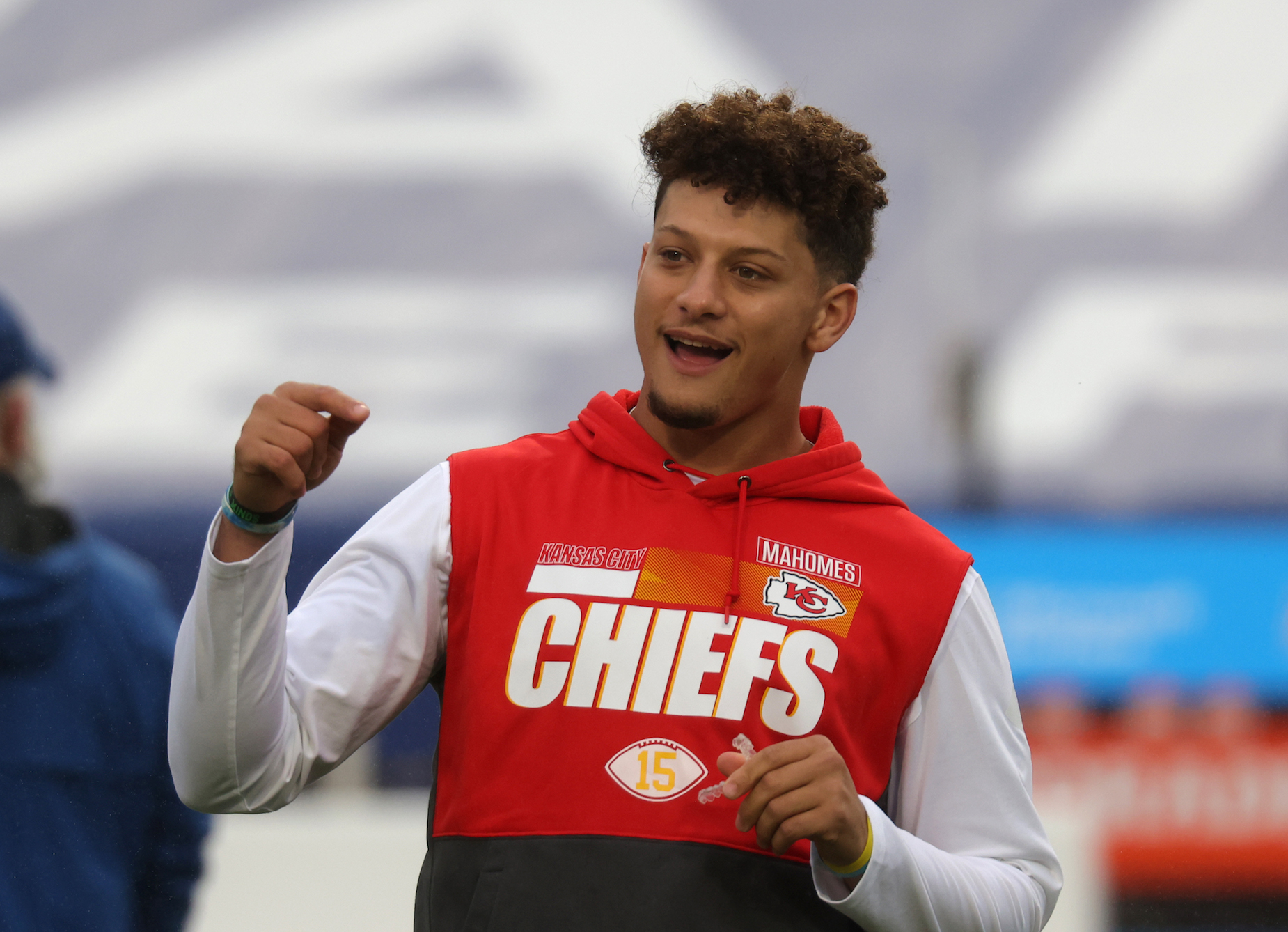 Patrick Mahomes Has the Perfect Response to Comments About His 'Froggish' Voice
Patrick Mahomes is a one of a kind quarterback capable of winning any football game; he also has a unique voice that sounds a bit like Kermit the Frog.
When it comes to football, Patrick Mahomes can do no wrong. In two full seasons as the Kansas City Chiefs' starting quarterback, he's already become a franchise hero; an NFL MVP title and a Super Bowl championship will enhance anyone's reputation. All the success in the world, however, can't stop opposing fans and Chiefs teammates alike from poking fun at Mahomes' distinctive, "froggish" voice.
If you've ever watched Patrick Mahomes dance around defenders to extend an offensive play, tough, you know that the quarterback can take just about anything in stride. That's equally true for comments about his voice; the signal-caller has the perfect response to any teasing that comes his way.
Patrick Mahomes is pretty close to a perfect football player
It goes without saying that no one can be 100% perfect all of the time. From a football perspective, though, Patrick Mahomes gets pretty close.
While some scouts initially had concerns about Mahomes' fundamentals and ability to thrive at the professional level, the Kansas City Chiefs weren't too worried. When the 2017 draft rolled around, the club traded up to snag their quarterback of the future. That move has already paid dividends and changed the course of franchise history.
After spending a season behind Alex Smith, Mahomes took over the starting job. He promptly threw for more than 50 touchdowns and more than 5,000 yards, claiming NFL MVP honors; he followed that up with a Super Bowl title in February 2020.
Even beyond those accomplishments, Patrick Mahomes seems like a pretty perfect quarterback. He rarely turns the ball over; while he's not a Lamar Jackson-level runner, he's capable of escaping the pocket to keep plays alive. He's also shown a knack for leading his team to victory in big spots, even if they're trailing, which is a key component of any signal-caller's legacy.
A distinctive, 'froggish' voice
Even if you're a diehard Oakland/Las Vegas Raiders fan, it's hard to criticize Patrick Mahomes' on-field abilities; through two and a half seasons under center, he's barely missed a beat. If the quarterback has one Achillies Heel, at least from a social media perspective, however, it's his voice.
While Mahomes' voice isn't a problem per se—you can hear him calling audibles out with ease during every Chiefs game—it certainly is distinctive. A quick scroll through Twitter will produce plenty of fans thinking that it sounds a bit funny or bears an uncanny resemblance to Kermit the Frog.
Although some have contended that Mahomes sounds a bit different—Vahe Gregorian of the Kansas City Star described the quarterback's speech as "a gravelly fusion of Muppet and Texas twang," while Andrew Joseph of For The Win hears "Seth Rogen along with Kermit … plus some dude from Texas"—everyone has noticed his voice.
In 2018, Andy Reid described Mahomes' voice as "froggish"; the coach also claimed that he could do a perfect imitation of his star player, although the public hasn't heard it yet. The quarterback also told reporters that his teammates have been known to poke fun at his voice on occasion.
Patrick Mahomes has the perfect response to comments about his voice
Even if you're a Super Bowl winner and a multimillionaire, it can still be tough to deal with personal comments poking fun at a particular aspect of your life. Patrick Mahomes, however, has learned to accept his voice as a part of what makes him unique.
"I've heard it since I was in like seventh grade," Mahomes explained. "It's something that I've kind of embraced." According to Gregorian, the quarterback also said that the key was "just being comfortable with yourself. I mean, it's me, it's who I am. So I'm never going to be insecure about it; I just kind of embrace it and keep going."
While most of us can't throw a 70-yard spiral like Patrick Mahomes, that's the perfect message for everyone to remember. Even if you're not a Super Bowl champion, we can all learn a valuable lesson from him about self-acceptance.