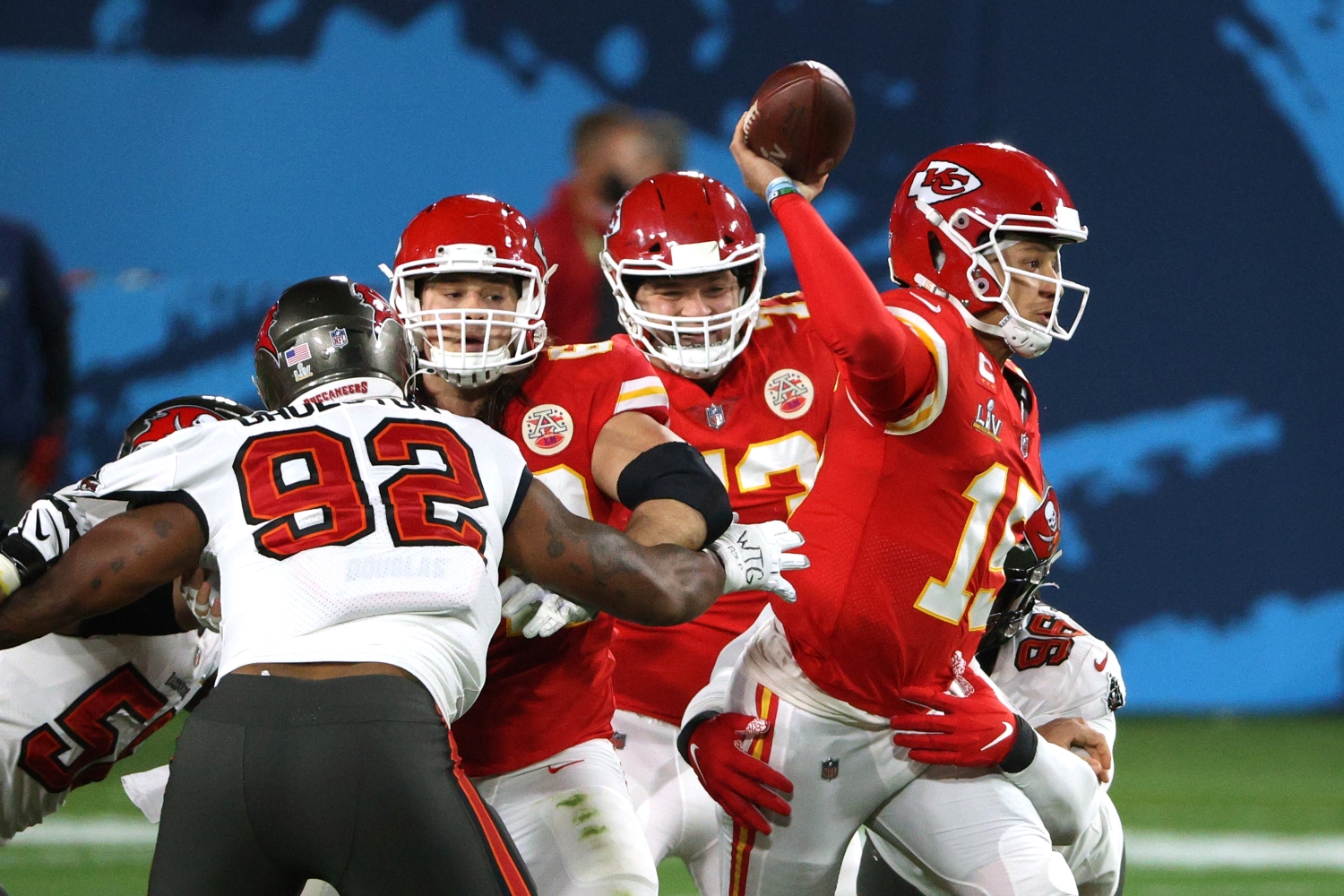 Patrick Mahomes' Painfully Unpleasant Offseason Just Got a Whole Lot Worse
Patrick Mahomes has already undergone surgery, and now he must deal with losing three key teammates as the Kansas City Chiefs head into an important offseason.
Patrick Mahomes recently became a father. And while that certainly gave the Kansas City Chiefs star a reason to celebrate, he hasn't exactly enjoyed a happy last few weeks from a football perspective.
Unfortunately for the 25-year-old quarterback, his painfully unpleasant offseason just got a whole lot worse. And if his team doesn't take care of business this spring, Mahomes won't have to worry about suffering a second Super Bowl loss in a row.
Because given the current state of their offensive line, the Chiefs desperately need reinforcements to give their franchise signal-caller a chance at succeeding on his surgically-repaired foot when the 2021 season begins.
Patrick Mahomes went under the knife right after the Super Bowl
Patrick Mahomes suffered a turf toe injury (along with a concussion) during the Chiefs' playoff matchup against the Cleveland Browns. While he battled back to return for the AFC championship game against the Buffalo Bills, he still faced lingering concerns about his ailing foot heading into Super Bowl 55.
Although he tried to extend plays with his legs, Mahomes couldn't overcome a glaring lack of pass protection. With Eric Fisher and Mitchell Schwartz unavailable, Kansas City's injury-ravaged offensive line got completely overwhelmed by an onslaught of Tampa Bay Buccaneers defenders.
Mahomes ultimately spent most of his night trying to escape the clutches of Shaquil Barrett, Jason Pierre-Paul, Ndamukong Suh, and whoever else broke through.
Todd Bowles' unit recorded three sacks and two interceptions in a lopsided 31-9 victory. Mahomes not only failed to throw a touchdown pass but he also suffered physical damage during his frustrating night in Tampa.
Despite saying his turf toe injury did not bother him in the AFC championship or the Super Bowl, he underwent surgery on Feb. 10. Mahomes' rehab will reportedly take several months, but he's expected to make a full recovery.
The NFL's biggest star won't have his two longtime tackles protecting him anymore
If Super Bowl 55 proved anything, it's that a bad offensive line can make even the most talented quarterback in NFL history look ordinary.
And after missing the biggest game of the season due to injuries, neither Eric Fisher nor Mitchell Schwartz will play another down for the reigning AFC champions. In a cruel twist of fate, Kansas City will move on from the two players Patrick sorely missed down in Tampa.
On Thursday, the Chiefs released both of their longtime tackles.
Fisher started 117 games and earned two Pro Bowl selections in eight seasons with the team. However, after tearing his Achilles in the AFC title game, the 30-year-old faces a long recovery to get back to full strength. Kansas City saved nearly $12 million by moving on from the former No. 1 pick.
Meanwhile, Schwartz has quietly ranked as one of the best linemen in the NFL over the years. In five seasons with the Chiefs, the towering right tackle earned three second-team All-Pro honors and one first-team All-Pro selection.
But after a back injury sidelined him for all but six games in 2020, Schwartz also has to find a new NFL home. The Chiefs may have trimmed $6.1 million off their books, but they will have a tough time replacing one of the league's most underrated tackles.
Unfortunately for Patrick Mahomes, the loss of his two most decorated offensive linemen was just the beginning of more bad news.
Mahomes' painfully unpleasant offseason just got a whole lot worse
For Patrick Mahomes, his nightmare offseason got a whole lot worse on Thursday afternoon.
According to the NFL Network's Tom Pelissero, the Chiefs will also move on from yet another member of Mahomes' protection squad. Kansas City will reportedly let Austin Reiter hit the free-agent market. Pelissero's source said the 29-year-old center "is expected to land elsewhere."
The 6-foot-3, 305-pound lineman started 32 games since the Chiefs acquired him off waivers back in 2018. Reiter didn't miss a single snap during the team's magical 2019 title run. He started 12-of-15 games last season but played 100% of the offensive snaps in the playoffs.
With three trusted teammates set to play elsewhere in 2021, Mahomes will have to rely on unfamiliar faces to keep him safe.
Didn't we see how that experiment worked out in Super Bowl 55?
And for those saying the Chiefs' offensive line can only improve from that dismal performance, the team doesn't exactly have the financial flexibility to sign starting-caliber replacements in free agency.
Perhaps general manager Brett Veach can pull off some magic in the ensuing months and rebuild a unit that has three huge holes to fill. If he fails, Mahomes will have an impossible time making his dynasty dream come true.
All statistics courtesy of Pro Football Reference.