Phil Mickelson Gave Eli and Peyton Manning a Hilarious Reason for Skipping the PGA Tour's RSM Classic This Week
Article Highlights:
Eli and Peyton Manning continue to amuse and entertain with their 'Monday Night Football' telecasts
The Manning Curse has been a fun football topic this fall
Golf great Phil Mickelson got off the funniest line of all the Week 10 guests
Who would have thought it? Phil Mickelson won The Masters Tournament three times and earned more than $94 million on the PGA Tour since 1992. Still, he missed his true calling. Sitting in with Eli and Peyton Manning for the Week 10 Monday Night Football game, Mickelson showed that he belonged in the broadcast booth all this time.
Mickelson displayed his sense of humor on ESPN's ManningCast and even showed some football knowledge during his guest spot with the retired NFL stars. Once he finally leaves the PGA Tour, a TV career most definitely awaits.
Phil Mickelson was considerably better than the 'MNF' game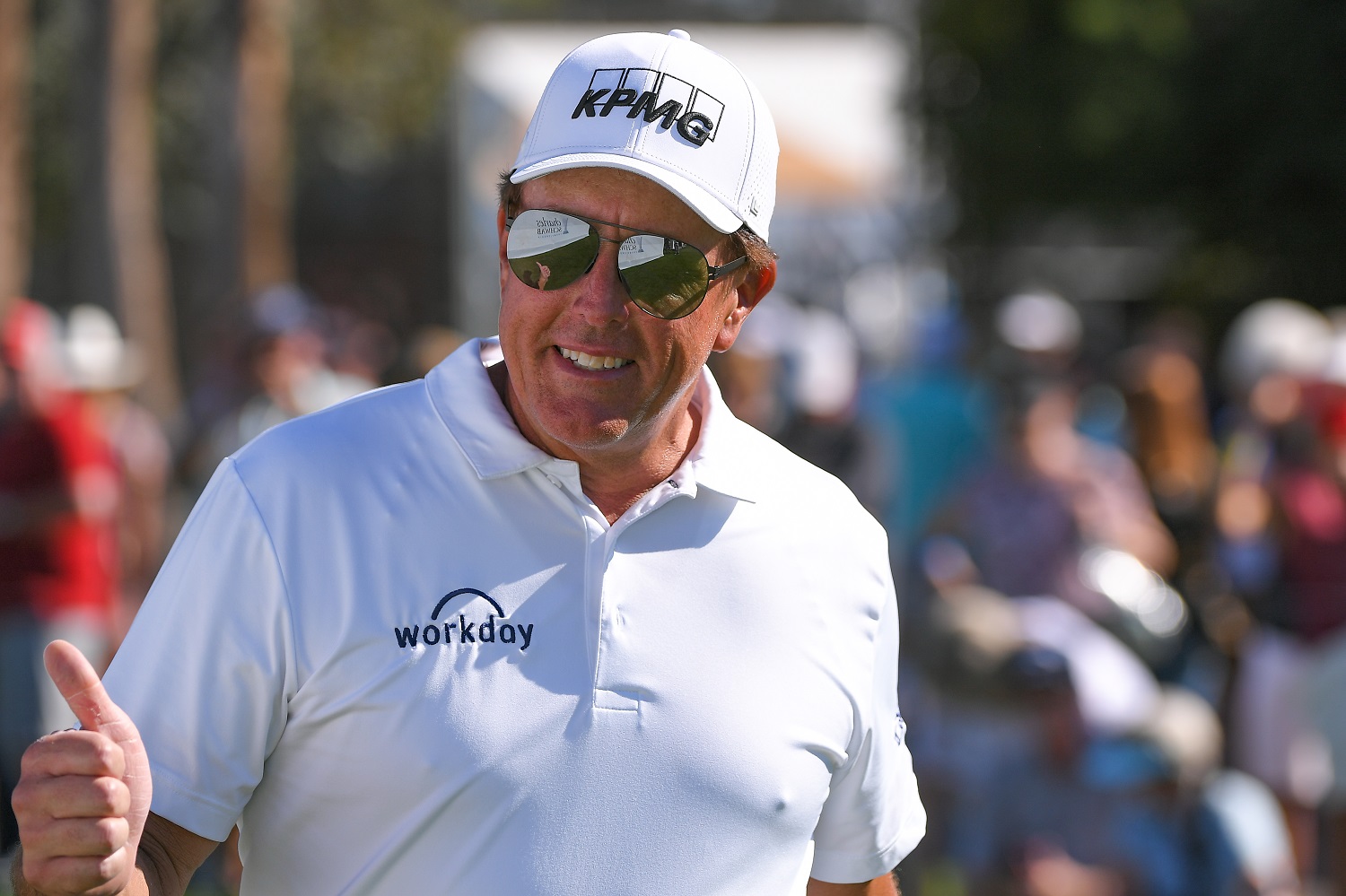 The San Francisco 49ers scored two first-quarter touchdowns and cruised to a 31-10 rout of the Los Angeles Rams on Monday Night Football. Jimmy Garoppolo completed 15 of 19 throws for 182 yards and two touchdowns to give the traditional broadcast crew on ESPN something to talk about even as the outcome appeared inevitable.
Meanwhile, the better conversations were taking place on ESPN2 as Eli and Peyton Manning welcomed golfer Phil Mickelson, NBC announcer Al Michaels, Golden State Warriors forward Draymond Green, and recently retired quarterback Philip Rivers.
Green fired off a great zinger by telling Peyton, "As great as you're supposed to be, the Colts cut you."
While the others certainly also had their moments, Mickelson fit in remarkably well in the stream-of-unconsciousness format with the two former quarterbacks. He took a shot at predicting plays (successfully, we might add) while Eli Manning worked on his golf swing.
Goaded into evaluating his form, Mickelson offered the Eli possesses "a cute little swing."
Phil Mickelson offered a hilarious reason for skipping a PGA Tour tournament
One of the more amusing topics this season has been the so-called Manning Curse, which has seen NFL guests on their ESPN2 Monday Night Football shows lose games the following weekend.
Eli Manning raised the topic during the segment with Phil Mickelson and played right into the PGA Tour great's hand by asking him to tell the TV audience that the curse isn't real. Mickelson had a decidedly different take.
"No, I believe that it is a thing, and that's why I'm not playing next week," Mickelson deadpanned as both hosts broke into laughter. "I didn't know if it would carry over into golf or not. I think it's real."
For the record, this week's PGA Tour stop in the RSM Classic at Sea Island, Georgia. And, no, Mickelson is not playing. However, Mickelson hasn't played on the big tour since the BMW Championship at the end of August and has appeared in just two PGA Champions Tour events since. He will resume PGA Tour tournament action early next year.
The list of jinxed guests is long and distinguished
This supposed Manning Curse for Monday Night Football guests began right out of the gate as Travis Kelce of the Kansas City Chiefs and Russell Wilson of the Seattle Seahawks appeared in Week 1 and lost to the Baltimore Colts and Tennessee Titans, respectively, in Week 2.
Rob Gronkowski joined Eli and Peyton Manning in Week 2, and the Tampa Bay Buccaneers promptly lost to the Los Angeles Rams. New Rams quarterback Matthew Stafford showed up on ESPN in Week 3 and lost to the Arizona Cardinals in Week 4.
There was more trouble ahead in Weeks 7 and 8. Tom Brady and the Buccaneers lost to the New Orleans Saints, and then Josh Allen and the Buffalo Bills fell to the Jacksonville Jaguars.
To be fair, most of the losses came to quality opponents. Nevertheless, going without an active NFL player as a guest this week was probably the prudent move. Who can blame Phil Mickelson for playing in safe, too?
Like Sportscasting on Facebook. Follow us on Twitter @sportscasting19.