Shaquille O'Neal Takes to Instagram to Remind Everyone That Joel Embiid and James Harden Can't Touch Him and Kobe Bryant
Shaquille O'Neal hasn't forgotten about people comparing James Harden and Joel Embiid to him and Kobe Bryant.
Whether you love him or hate him, Shaquille O'Neal isn't shy about speaking his mind. Between Inside the NBA, his own podcast, and conventional interviews, the Big Aristotle has no problem pontificating about life, basketball, and anything in between. If there's something he has to say, it's going to get out there. Just consider a recent Instagram post.
Earlier this year, some in the basketball world compared the pairing of Joel Embiid and James Harden to Shaq and Kobe Bryant. O'Neal addressed it at the time, and he's apparently still holding that grudge. On May 15, the legendary big man took to Instagram and made it absolutely clear that, in his mind, no one could touch him and Bryant.
Shaquille O'Neal doubles down on the fact that he and Kobe Bryant are better than James Harden and Joel Embiid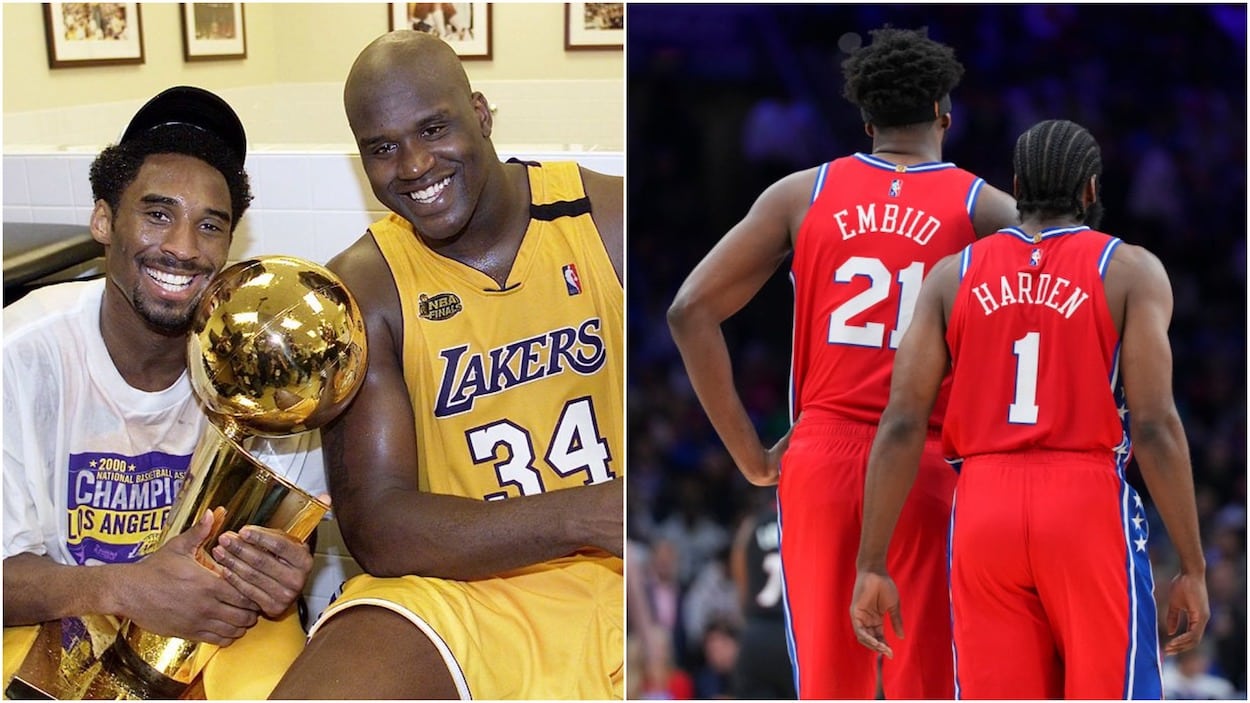 As mentioned above, Shaquille O'Neal already addressed potential comparisons between him and Kobe Bryant and the 76ers' duo of James Harden and Joel Embiid. That, however, doesn't mean the Diesel is done with the debate.
On May 15, Shaq circled back to deliver the coup de grace. On Instagram, he posted a side-by-side picture, juxtaposing Harden and Embiid against him and Kobe posing with the Larry O'Brien Trophy and the old NBA Finals MVP trophy. If the message wasn't clear enough, the picture also included the text, "Remember when everyone was saying that Harden and Embiid was Kobe and Shaq? Don't y'all ever say that again."
To take things even further, O'Neal also added his own caption to the post. "Only one superduo ever created , yea i said it, ONLY ONE. Miss u kobe," the legendary Laker wrote.
It's not clear why the center shared that post on Sunday. Had he gotten it ready for the 76ers' elimination and forgotten about it for a few days? Did he see it elsewhere in his feed and feel it was too good to pass up? While we may never know the answer to that, his message remains loud and clear: Don't compare Joel Embiid and James Harden to Shaq and Kobe.
At the risk of ruining the fun, Shaq's assertions have been proven right
For the record, I'm usually not one to shut down a sports debate. While I think some topics, like arguing over who's the GOAT, can cause fans to miss the greatness that's currently happening out of nostalgia, I also recognize that those verbal sparring sessions are part of the fan experience.
With that being said, though, Shaquille O'Neal is right on this one. The 76ers' meek playoff campaign should end any talk of Embiid and Harden being an all-time NBA duo.
Setting aside the logistical concerns — even if Harden stays in Philadelphia, how long will he and Embiid spend playing together? — the 2022 NBA Playoffs seem like a hammer blow. When we're talking about intangible things like overall greatness, memories and narratives matter. From that perspective, the two Sixers stars fell flat on their face.
When Harden arrived in Pennsylvania, the prevailing logic was that he'd be the perfect compliment to Embiid. The center owns the low block and displays a surprisingly deft shooting touch; the bearded guard can hold it down on the perimeter, beating defenders and forcing defenses to choose between rotating over or leaving someone else wide open. In practice, however, that didn't happen.
While Embiid largely covered himself in glory by playing through multiple injuries, Harden's stock fell. Game 6 was especially damning, as the guard failed to show up in a must-win contest. He seemed slow and either unwilling or unable to make an impact as the 76ers fell on their home floor. It was the sort of performance that immediately changed the narrative. Now, the guard looks like more of a dead weight than the missing piece of a championship puzzle. When you're talking about historical greatness, moments like that shape the conversation.
In many ways, that might have already ended Harden's chances at reaching the exclusive pantheon of NBA greats. While it's tough to argue with his stats, the Beard has given his critics plenty of attitude-based ammunition. If you combine that with a poor postseason record — even if he wins a ring at this point, it probably won't be with him as 'the guy' — and you've got the perfect recipe for a diminished historical standing.
When you hear Shaq ripping current players and see him posting about the superiority of his era, it's easy to write him off as a former star waxing poetic about things "back in his day." In this case, though, he's right on the money.
James Harden and Joel Embiid might be stars, but they're barely a dynamic duo, let alone an all-time great one.
Like Sportscasting on Facebook. Follow us on Twitter @sportscasting19 and subscribe to our YouTube channel.