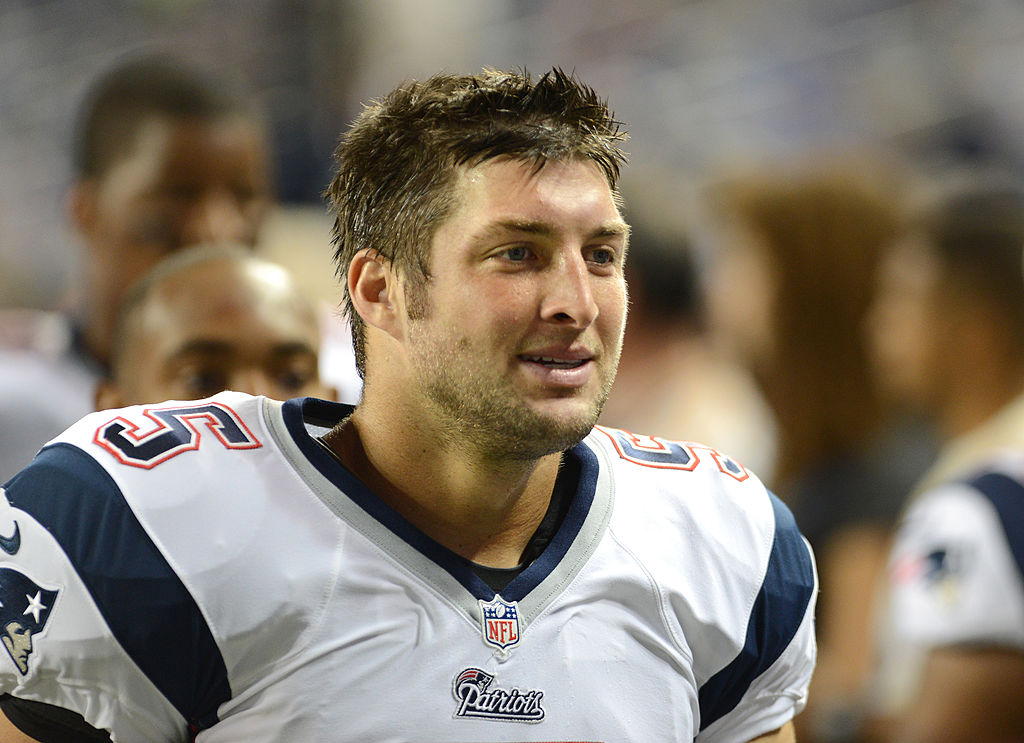 Tim Tebow Lost $1 Million Keeping Bill Belichick Happy
Tim Tebow turned down a $1 million opportunity at the request of New England Patriots coach Bill Belichick..
For a guy whose pro career consisted of 35 regular-season games and one memorable postseason completion, Tim Tebow certainly attracted a lot of attention as an NFL quarterback.
Stories about him – good (as a person) and bad (as a quarterback) – are a dime a dozen, but a lot of football fans probably missed the one about Tebow's costly stint with the New England Patriots before the 2013 season.
Tim Tebow wasn't cut out for the NFL
After a stellar career at the University of Florida, it became apparent fairly quickly that Tim Tebow wasn't NFL material as a quarterback. Appearing in 23 games with the Denver Broncos in 2010 and '11, Tebow completed just 47.3% of his throws and finished with a 75.3 passer rating.
That body of work outweighed any of his positives on the field, including the 80-yard touchdown pass to Demaryius Thomas on the first play of overtime to beat the Pittsburgh Steelers in overtime. The Broncos traded Tebow to the New York Jets, who took a look at him as a wildcat quarterback and tight end before giving up and releasing Tebow in April 2013.
The New England Patriots caused some raised eyebrows by signing Tebow and bringing him to training camp that summer. It led to a conversation with coach Bill Belichick that would end up costing the quarterback a million dollars for no good reason.
Tim Tebow's longshot bid to play for the New England Patriots
Tim Tebow wrote a book after his final crack at playing in the NFL with the Philadelphia Eagles in 2015 failed. "Shaken: Discovering Your True Identity in the Midst of Life's Storms" contained some anecdotes from his football-playing days, and one story doesn't portray New England Patriots coach Bill Belichick in an especially flattering manner. He talked a guy out of the last good paycheck he would earn while in the NFL.
The Patriots brought Tebow to camp in 2013, but he was a longshot to make the team. Tom Brady wasn't going to be displaced as the starter, and Ryan Mallett was entering his third year with the organization.
Still, Tebow lasted through the fourth preseason game before being released after not showing much ability on the field. One interaction during their relationship goes a long way toward understanding why some observers have a low opinion of Belichick.
Bill Belichick asked the QB to turn down a $1 million opportunity
Tim Tebow recalled being grateful when New England Patriots coach Bill Belichick signed him in June 2013. He wanted to prove he would be a good fit for the team, which was coming off a 12-4 season and a trip to the AFC Championship Game.
"When I came on the team, Coach and I had a long and deep talk," Tebow wrote in his book. "'I want to make you one of the guys,' he told me. 'This is not going to be a media circus. I'll control it if you do your part. You're part of a team, Timmy. We're in this together.'"
Not long after that, Tebow received an offer to do a one-day appearance for a product endorsement that would pay him $1 million. The quarterback wanted to do it, but Tebow felt he should discuss the opportunity with Belichick.
"Timmy, I would really appreciate it if you didn't," Tebow recalls Belichick saying.
Tebow said he abided by the request because he respected the coach so much.
"I didn't even think twice about it. I wanted the chance to impress Coach Belichick more than I wanted the money. I'll say that if I were on any other team, I would have probably said yes to the offer. But the thoughts he offered in our initial conversation mattered to me — even more than a million dollars."

Tim Tebow
Two months later, Tebow was an ex-NFL player as the Patriots kept Ryan Mallet instead as their backup quarterback.