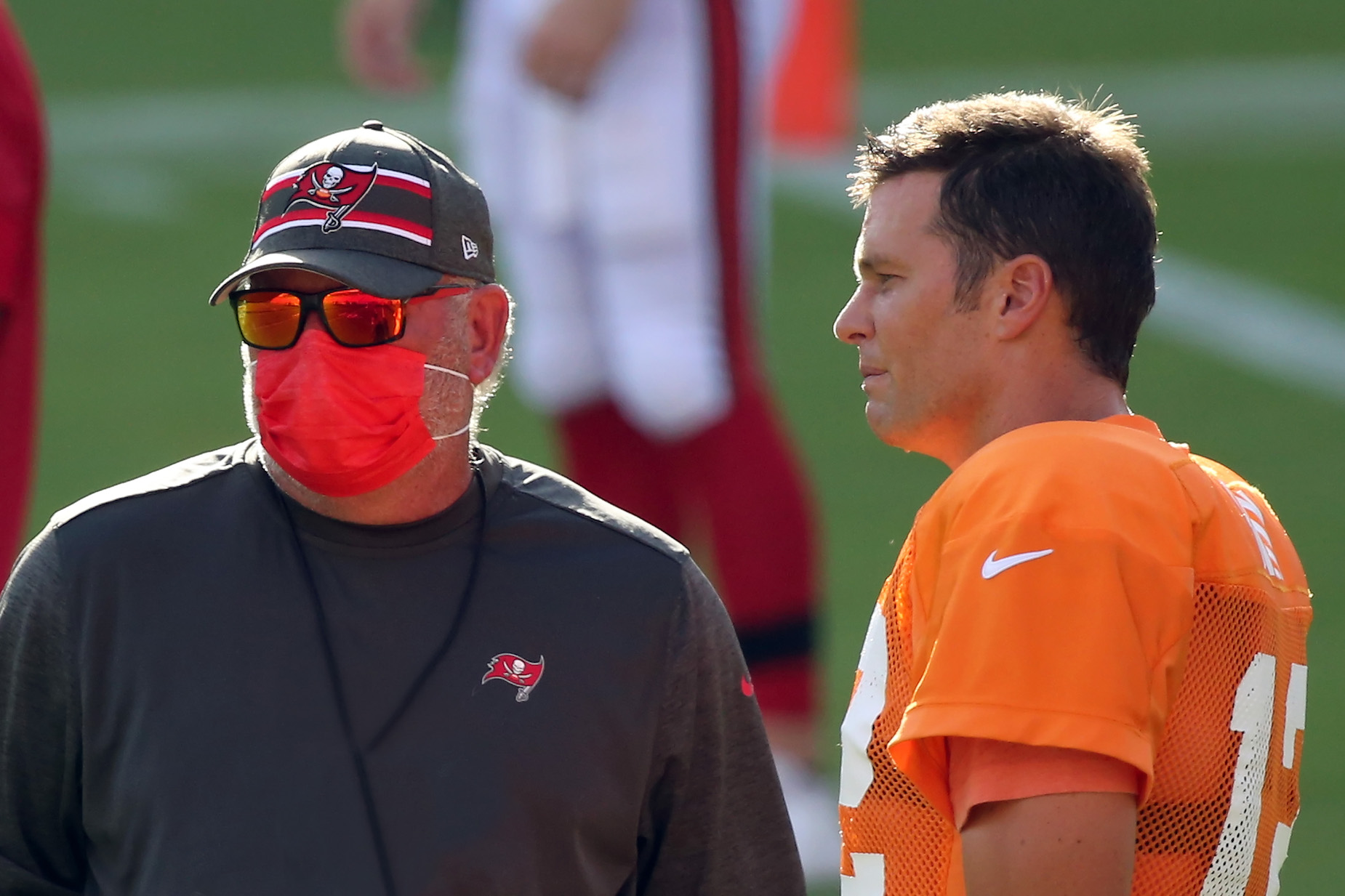 Tom Brady and the Buccaneers' Super Bowl Dreams Could Be Crushed By Their Own Head Coach
During his time with the Tampa Bay Buccaneers, Tom Brady hasn't exactly hit his stride. His own head coach, Bruce Arians, may be to plan.
During his 20 years in New England, Tom Brady has had a pretty perfect career. He joined the Patriots as an unheralded sixth-round draft pick; by the time he left town, he won six Super Bowl titles and established himself as a living legend. Life as a Tampa Bay Buccaneer, however, has been a bit different.
Although the Buccaneers are 6-3, the team hasn't looked like world-beaters; even Tom Brady himself has struggled. According to an unnamed offensive coordinator, though, the issues could boil down to Brady's relationship with Bruce Arians.
Tom Brady and the Tampa Bay Buccaneers haven't been perfect
When the Tampa Bay Buccaneers landed Tom Brady during the offseason, they were instantly tapped to take a major leap forward. While the team has improved, there have still been some issues along the way.
In a somewhat surprising turn of events, Brady has been pretty inconsistent in Tampa Bay. Some weeks, he's capable of throwing five touchdowns, as he did against the Chargers; other times, however, he's much worse. In Week 9, for example, the quarterback played one of the worst games of his entire career, throwing for 209 yards and three interceptions.
Unfortunately for head coach Bruce Arians, that inconsistency seems to run through the entire Buccaneers squad. One week, the team looks like the class of the NFC; the next, they're getting laughed out of their own building.
Heading into Week 10, the Buccaneers sit at 6-3. While that's better than the New England Patriots and has them on track to make the playoffs, Tampa Bay doesn't exactly look like a Super Bowl contender. Given their offensive acquisitions, it's clear that winning now is the ultimate goal.
Could Bruce Arians and his offense be the issue?
If we accept that Tom Brady hasn't exactly hit his stride in Tampa Bay, then the next step is to look for possible root causes of that issue. The most obvious one, it seems, is working with Bruce Arians rather than Bill Belichick.
While Belichick's personnel skills may be a bit lacking, the Patriots coach knows Tom Brady inside and out; it's safe to assume that the quarterback and Arians just don't have the same sort of relationship. According to one unnamed NFL coordinator, the two men just haven't clicked yet.
"Tom didn't look very good [against the Giants in Week 8]," that coordinator told Mike Sando of The Athletic. "He looks frustrated. I think they are having a tough time meshing what Brady wants to do and what Bruce [Arians] has always done. Brady doesn't always have good outlets, and Bruce might not be giving him good outlets because he wants to throw it up the field. It will be interesting how that plays out."
Sando also explained that, in New England, Brady found great success looking to his running backs and tight ends for big plays. In Tampa Bay, however, he hasn't found the same success on those looks; that's presumably a systemic change, tied to how Arians likes to use players.
It's up to Bruce Arians to get the most out of Tom Brady
In any relationship, it's up to both parties to work together and get the job done. For the Tampa Bay Buccaneers, however, Bruce Arians hold more of the responsibility than Tom Brady.
Arians, who has built a reputation as a quarterback whisperer, was outwardly unhappy with Jameis Winston last season; that led him to go after Tom Brady in free agency. It seems that the coach, however, didn't pay much attention to the veteran's strengths.
While it would be a disservice to Brady to call him a game-manager, the quarterback was never the most athletic man in the NFL. His greatest strength is making the right decision at the right time; as referenced above, few men are better at spotting an open tight end down the seam or tossing the ball to an unnoticed running back than Brady.
Arians, however, has never been that sort of coach. As Jenna Laine once explained for ESPN, his vocabulary is filled with phrases like "no risk it, no biscuit," and "Be fearless, and let it fly." While Brady can throw the deep ball and 'let it fly' 40 times per game, it's not the ideal way to optimize his strengths.
At the end of the day, that's a coach's job: getting the best out of his players. Bruce Arians wanted to bring Tom Brady to the Tampa Bay Buccaneers; now, he has to use him properly if they're serious about winning a Super Bowl.