Tom Brady Is Already 'Fired Up' About His Newest Weapon on the Tampa Bay Buccaneers Roster
While Tom Brady obviously possesses plenty of talent, no player can find professional success single-handedly. Thankfully for TB12, the Tampa Bay Buccaneers roster is stocked with offensive talent. During the 2021 NFL draft, the club also added receiver Jaelon Darden to the mix.
Although Darden might not be a household name just yet, Brady is apparently "fired up" that the Buccaneers selected him. Upon closer inspection, it's easy to see why the veteran quarterback is so excited.
Tom Brady has plenty of weapons with the Tampa Bay Buccaneers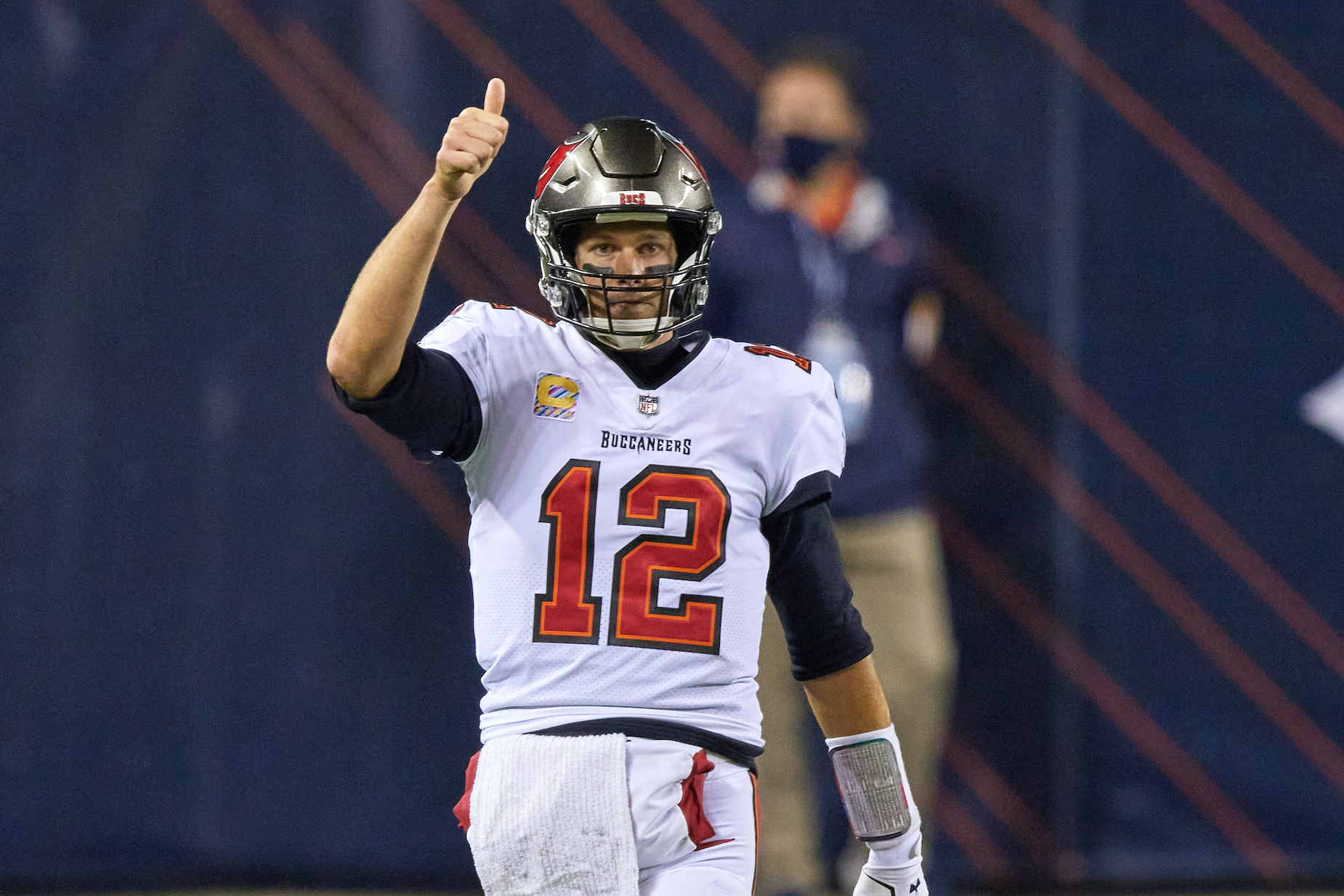 During the tail end of his time in New England, Brady had the unenviable task of making lemonade out of metaphorical lemons. The Patriots, for better or worse, failed to replace their departing offensive talent, leaving the quarterback frustrated and without much support.
In Tampa Bay, however, TB12 doesn't have that same problem.
Even before Brady came to town, the Buccaneers possessed a deadly one-two punch in Mike Evans and Chris Godwin. During 2020, additional reinforcements joined the mix with Rob Gronkowski and Antonio Brown both heading to Tampa Bay to reunite with their former quarterback.
Talent also existed outside of the passing game, though. Ronald Jones II has improved every season, and Leonard Fournette signed with the Bucs as a free agent prior to the 2020 campaign.
Unsurprisingly, that wealth of offensive weapons paid off. While they experienced some growing pains, Brady and his unit eventually clicked; the campaign, of course, ended with a Super Bowl championship.
TB12 is 'fired up' about the Buccaneers drafting Jaelon Darden
As the defending Super Bowl champions, the Tampa Bay Buccaneers had limited resources heading into the 2021 NFL draft. The team, however, still managed to get its star quarterback excited.
The Bucs had seven picks across three days and ended up selecting three linebackers, one quarterback, one receiver, one offensive lineman, and one defensive back. Unsurprisingly, the receiver, Darden, is the one who caught Brady's eye.
According to Peter Schrager, Tampa Bay head coach Bruce Arians kept in contact with his starting quarterback throughout the draft. TB12 was apparently "fired up about the drafting of Jaelon Darden."
With all respect to the newest member of the Buccaneers, though, he isn't exactly a household name. So why is Brady so excited to have him on the roster?
Jaelon Darden could be a perfect match for Tom Brady
As mentioned above, it's safe to assume that most football fans didn't see a great deal of Darden during his time at North Texas. The receiver, however, could be a perfect match for Brady.
While TB12 has completed countless passes to plenty of receivers, he's had great success throwing to smaller guys in the slot; think about the likes of Wes Welker and Julian Edelman. Where does Darden line up? You guessed it: as a slot receiver.
Beyond that positional plus, Darden also seems to have the sort of personality that TB12 will appreciate. As laid out by Bailey Adams of Bucs Nation, the receiver has a strong work ethic and, after his father died, described his focus on football as "Kobe mode."
Once they hit the field, Brady will also have to appreciate Darden's raw speed. The young receiver ran a 4.46-second 40-yard dash ahead of the draft.
While the Buccaneers have plenty of talented players on their roster, Brady has been known to identify certain players as his go-to guy independently of their star status. Without putting the cart before the horse, it's worth keeping an eye on Darden. When TB12 clicks with an undersized slot receiver, it can be the start of a beautiful relationship.