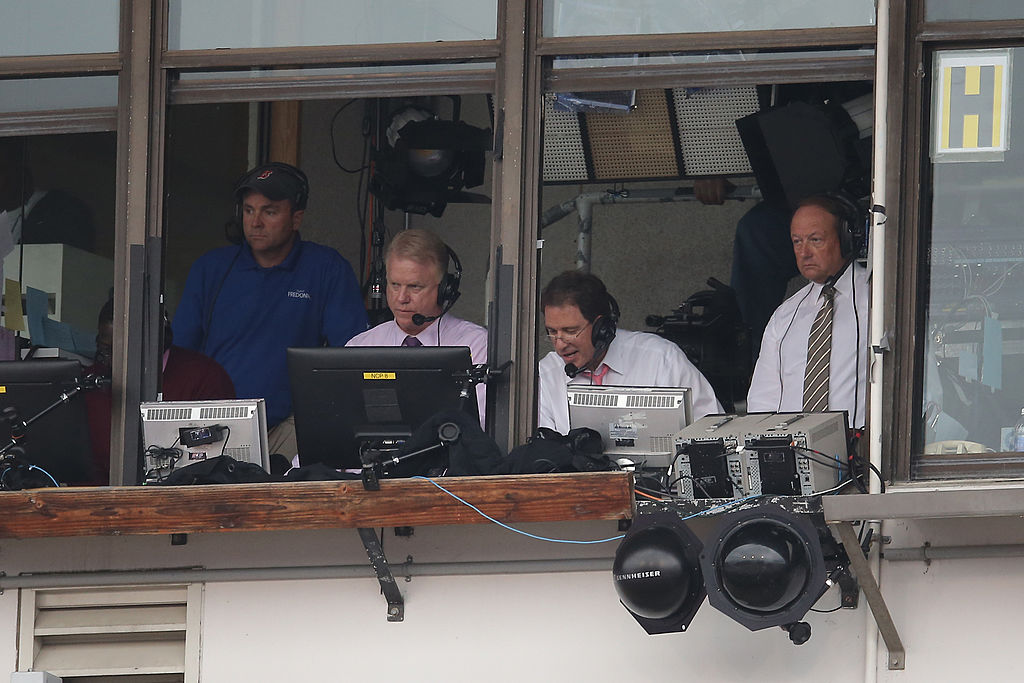 Why NBC Once Covered an NFL Game With an Empty TV Booth
NBC took a chance on one NFL game by relying on nothing but the PA announcer and fan reactions for the audio.
Until the NBA's decision on Wednesday to suspend its season, the biggest disruption of American sports triggered by the coronavirus outbreak had been the announcement that the NCAA Tournament would be played in empty arenas, turning March Madness into March Sadness.
Games in a variety of sports have been played without the presence of fans, most often in international soccer as punishment for the home team being unable to properly police a rowdy crowd in previous contests.
Forty years ago, however, an NFL game was played in a stadium with 40,000 spectators but without one of the other elements that the sport's fans take for granted.
NBC televised a football game without any announcers
It had become apparent late in the 1980 NFL season that neither the Miami Dolphins nor New York Jets were going anywhere, prompting NBC executives to look for a gimmick that might attract fans to watch the season-ending game.
Network executive Don Ohlmeyer, the first producer of "Monday Night Football" and a winner of 16 Emmy Awards, came up with the idea of broadcasting without any announcers in the booth for the Dec. 20 contest. Ohlmeyer's idea was to compensate by delivering more information than usual via graphics and let the sounds from inside the stadium carry the audio portion of the telecast.
NBC's experiment with no announcers was deemed a failure
The NBC plan for showing an NFL game without announcers included having the stadium's public address announcer disperse more than the usual information about who the ballcarrier or receiver was to give viewers more context. The rest of the audio after Bryant Gumbel's pregame introduction would consist of fan reaction picked up by microphones around Miami's Orange Bowl.
Unfortunately for NBC, the audio was often muddied and drowned out the sound of the quarterbacks' snap counts, an element that fans take for granted now. In addition, NBC didn't keep the score and game clock on the screen – another staple of modern game coverage – throughout the Jets' 24-17 victory.
The gimmick had the desired effect of improving the viewer ratings for a game that otherwise would have been of minimal interest to most NFL fans. And although there was some criticism in the media, reactions logged by the NBC switchboard in New York showed more than 60% of callers approved of the game with no announcers.
Why some NBC employees didn't want the telecast to succeed
Announcers are as big a part of sports telecasts as ever. Former Dallas Cowboys star Tony Romo just agreed to a contract extension that will pay him a better salary than what some leading current NFL stars receive.
Vin Scully, Keith Jackson, and Dick Enberg became larger-than-life figures to sports fans because of the way they called games on TV or radio. John Madden was a near-cult figure for his fresh approach to the role of color commentator.
Enberg would later admit to feeling insecure when he heard Don Ohlmeyer was planning to broadcast a game without announcers. He was one of television's most respected play-by-play men and wondered about his job security.
"My first reaction was of incredible nerve, nervousness. We're paid to talk, so all of us want to fill the air with lots of exciting words. We all gathered together, hoping that Ohlmeyer was dead wrong. I mean, he was flirting with the rest of our lives. What if this crazy idea really worked?"

Dick Enberg
One lesser motivation for Ohlmeyer in presenting a game without announcers was to send a message that he thought announcers talked too much during telecasts, sometimes speaking less to inform than to fill space with the obvious. He felt that intruded on compelling action.
Enberg would concede in a 2010 interview that the experiment with no announcers may have served a valuable purpose.
"It improved me. Consciously, to this day, there are moments in every sport that I do when I kind of throw up my hands as if to say to myself and to my partner, 'Let's not talk. This moment is special, we don't need to talk. Let's let it play.'"

Dick Enberg