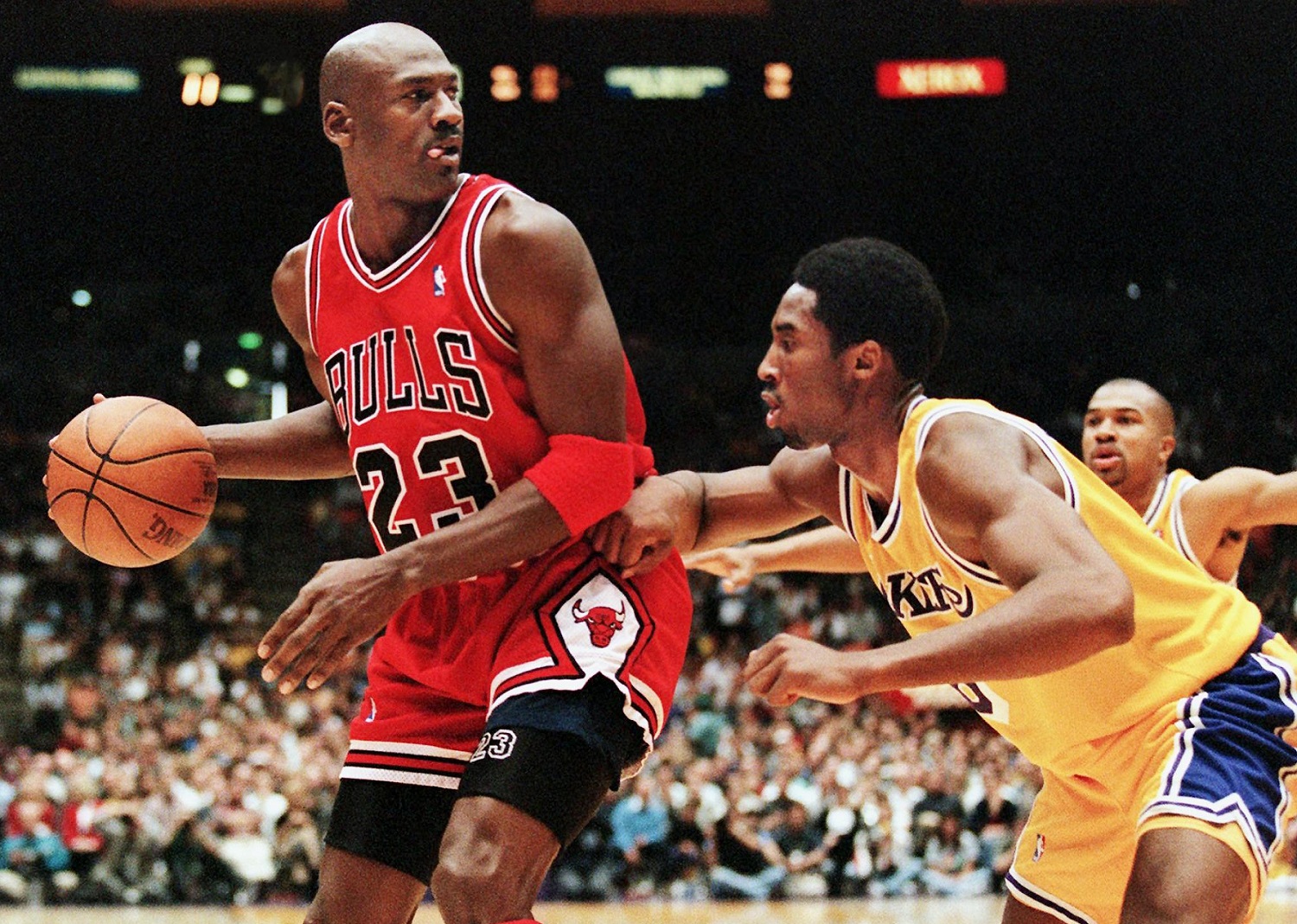 A Young Kobe Bryant Felt Insulted by Michael Jordan's Advice
Kobe Bryant initially misunderstood Michael Jordan's advice about staying aggressive when the Los Angeles Lakers star was just 19 years old.
They were peers in the NBA while their careers overlapped for seven years, but it's easy to forget that Michael Jordan is about old enough for Kobe Bryant to have been his son. In fact, Jordan was 33 years old and Bryant a mere 18 when they went head-to-head for the first time on Dec. 17, 1996.
That rookie season threw a big learning curve at Bryant, but he logged enough minutes and showed enough game in Year 2 to make the cut for the NBA All-Star Game. It was there that His Airness gave the Black Mamba advice that Bryant didn't come to appreciate until later that season.
Kobe Bryant saw Michael Jordan as a mentor
Kobe Bryant spent a portion of his childhood in Italy, where his father played most of his pro basketball career after eight NBA seasons. The younger Bryant saw his share of European ball in person and was able to keep track of some NBA action via TV and videos. When he returned to the United States, Bryant focused on one player: Michael Jordan.
"And then when I came to the league and (was) matching up against him, what I found is that he was extremely open to having a mentor relationship and giving me a great amount of advice and an amazing amount of detail, strategies, workout regimen, and things like that," Bryant said in a 2016 interview, according to ESPN.
If Jordan was willing to share advice, Bryant proved to be reluctant to accept it at first. At 19 years old, Bryant was the youngest All-Star in NBA history when he took the floor against Jordan, 35, at Madison Square Garden. Jordan (23 points) and Bryant (18) were their respective sides' leading scorers that night.
Los Angeles Times reporter J.A. Adande appeared on a recent podcast in which he recalled Bryant recounting a conversation from that weekend in which Jordan told the emerging star to "don't forget to stay aggressive."
Kobe Bryant felt insulted by Michael Jordan's advice
Reporter J.A. Adande said young Los Angeles Lakers standout Kobe Bryant was taken aback by Michael Jordan's advice.
"Kobe said, initially he was like, 'What do you mean stay aggressive? Of course I'm going to stay aggressive.' Kobe was almost insulted that Michael felt the need to tell him that," Adande said.
Bryant may have interpreted what Jordan had said as advice about in-game intensity. However, that wasn't the case. Bryant said he realized later that season that Jordan was talking about maintaining a consistent level throughout the grind of the schedule.
Bryant's rookie year, while exciting as he made his first trek through the league and its 82-game season, wasn't exceedingly demanding because he was only averaging 15 ½ minutes of court time a night. In that second season, however, Bryant was coming off the bench for 26 minutes per game.
"You know, it's your third game in five days in three cities and all of that stuff that comes with the NBA and you're just dragging yourself to the arena," Adande said. "And Kobe realized this is what he's talking about. That you have to find a way even in these situations to stay aggressive. He was like, 'Now I get it.'"
Two brilliant careers
That little bit of advice from the 1998 All-Star Game and whatever else Michael Jordan might have passed along certainly worked for Kobe Bryant. He finished with 33,643 regular-season points in 20 years in the NBA and another 5,640 in 220 playoff contests.
He was a four-time All-Star Game MVP, the MVP of three NBA Finals, and appeared regularly on the All-Defensive Team. His five championship rings came up one short of Jordan, himself the recipient of three All-Star Game MVPs and six more in the finals.
Like Sportscasting on Facebook. Follow us on Twitter @sportscasting19.