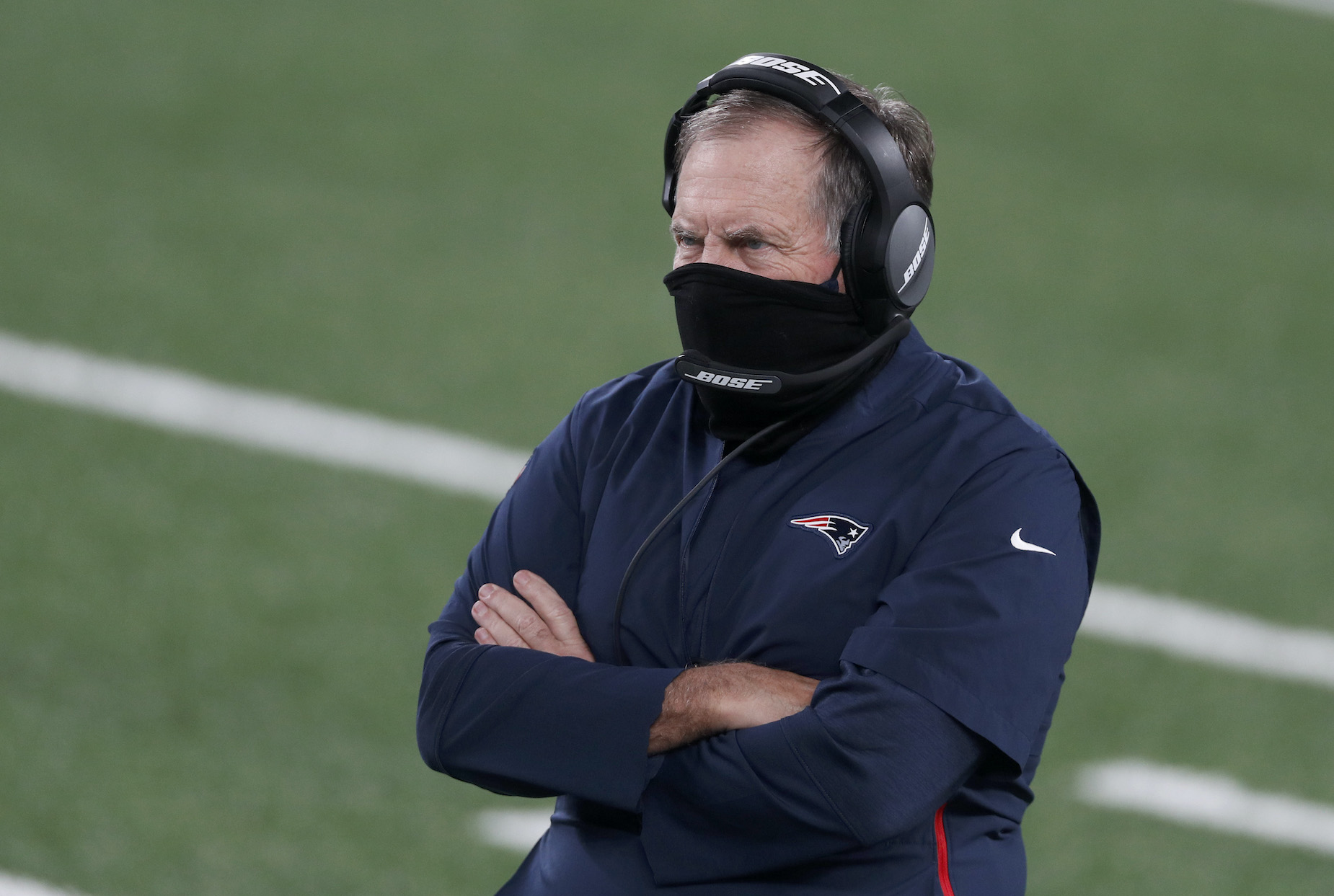 Bill Belichick Just Got Some Extra Bulletin Board Material Ahead of the 2021 Patriots' Campaign
After a disappointing 2020 NFL campaign, Patriots head coach Bill Belichick has some extra motivation to turn things around.
Without knowing Bill Belichick's media-consumption habits, it's safe to assume that he doesn't put much stock in external power rankings. During his time in New England, the Patriots coach has put together one of the best resumes in the history of professional football. If anyone is entitled to be confident in his own opinions, it's him.
With that being said, though, Belichick recently received some major bulletin board material from Pro Football Focus. Even if he doesn't put much stock in their power ranking or even know it exists, he'll be motived to prove the publication wrong in 2021.
Bill Belichick and his New England Patriots suffered through a tough 2020 campaign
Whenever Tom Brady left New England, whether it was to join another team or retire, the Patriots were bound to hit a bump in the road. Unfortunately for everyone in Foxborough, that transition proved rather painful.
Without relitigating the entire 2020 campaign, Belichick opted to replace TB12 with Cam Newton. While that choice seemed intriguing on paper — for all of Brady's strengths, mobility isn't one of them, and Cam would add a new element to the Patriots' offense — things didn't work out.
While there's a bit of "the chicken or the egg" at play, the offense simply failed to get off the ground. Newton missed some time with COVID-19 and failed to pass the ball with any real efficiency. The unit's overall lack of talent didn't help matters, either. Once Julian Edleman went down injured, the Patriots didn't have any reliable offensive weapons.
As the man who handles personnel decisions, those offensive failings fell at Belichick's feet. The Patriot finished the season with the sixth-worst points-per-game average in the entire NFL (20.4) and missed the playoffs for the first time since 2008. For all of his success, the veteran head coach suddenly looked like the emperor wearing a non-existent set of new clothes.
Falling to sixth place in Pro Football Focus' head coach rankings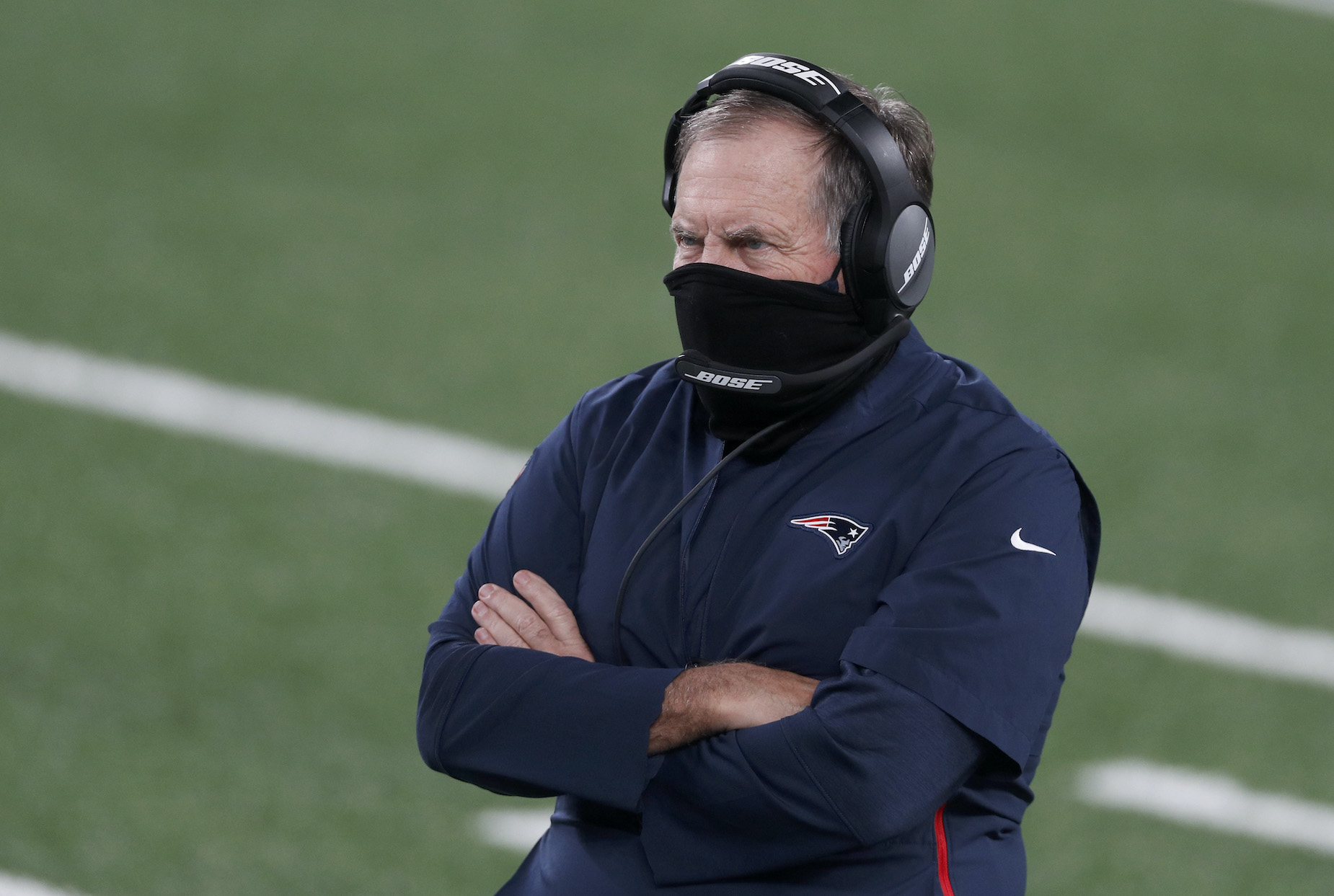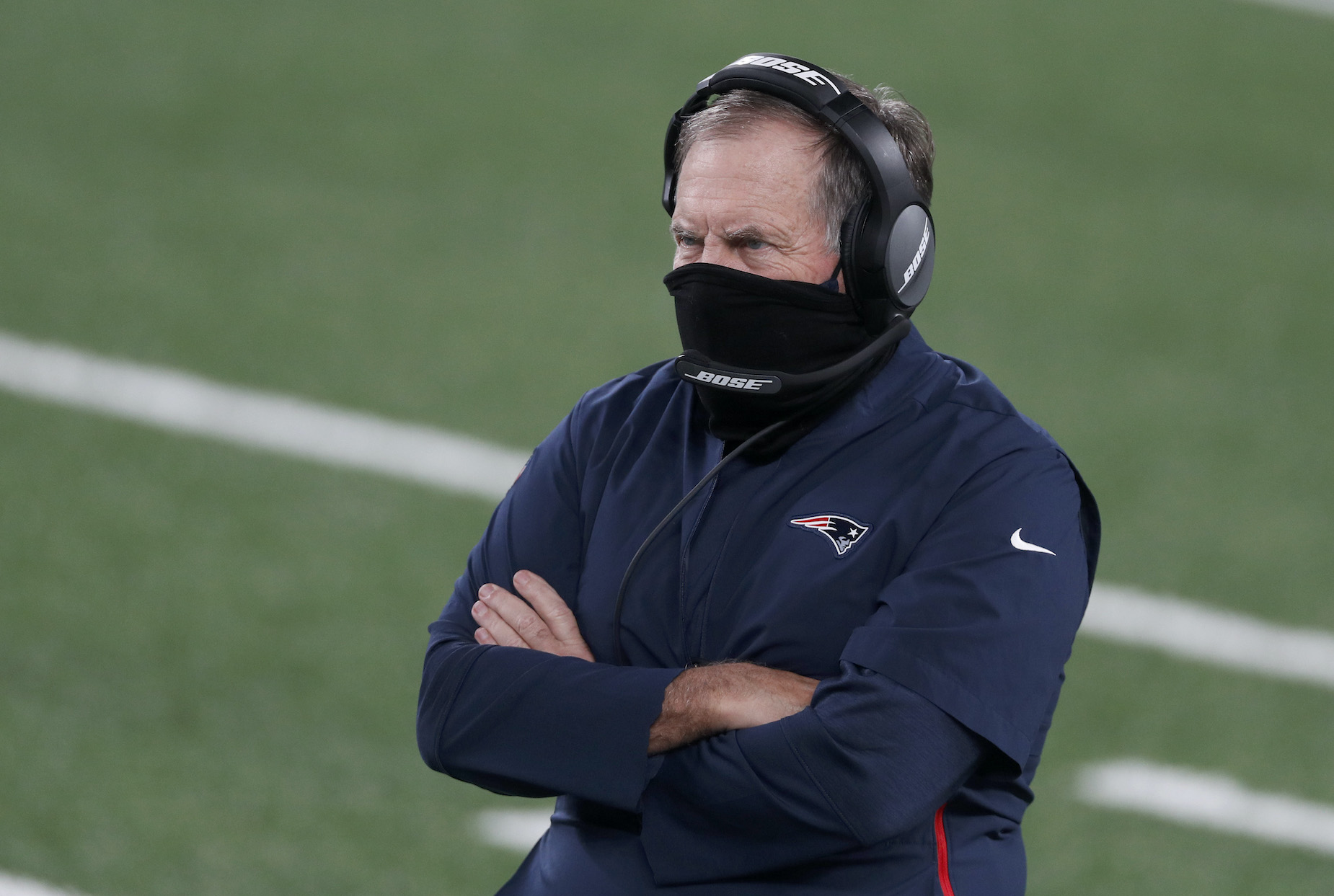 While things don't always pan out that way, sports are, at least in theory, a meritocracy. You're judged on what you do on the field, court, or pitch, and things move on from there. That "what have you done for me lately" reality, though, recently affected Belichick.
Ahead of the 2021 NFL season, Pro Football Focus has published a series of pieces ranking various positions across the league. Travis Kelce, for example, earned the top spot among tight ends. On June 8, Eric Eagar's head coach list went live, and, to the surprise of some, Belichick had slipped out of the upper echelon.
When the dust settled, the Patriots coach finished sixth in the power rankings, behind Andy Reid, John Harbaugh, Matt LaFleur, Sean McDermott, and Sean Payton.
"I'll admit that there is some legacy built in here, as Belichick has lagged behind for the past decade in terms of making correct decisions on fourth downs, with the 2020 Patriots going for it on just 39% of admissible situations. That ranked 24th in football, and the team surrendered 0.5 expected points in the process," Eager explained. "That said, last year's team earned just the 21st-most wins above replacement in the NFL but still managed to win seven games in a division where the Bills and the Dolphins reached double-digit victories."
Bill Belichick seems motivated to make a statement in 2021
As noted above, Belichick probably doesn't care too much about one person's opinion, especially if they don't work for the Patriots organization. With that being said, the head coach's pride and professionalism will already be pushing him to improve in 2021.
While it's not exactly fair, 2020 was partially framed as a referendum on Brady and Belichick's relationship. Since the quarterback won another Super Bowl title and the Patriots struggled, some suggested that the quarterback covered for the coach's potential deficiencies.
Although that narrative may be a bit simplistic, Belichick clearly learned his lesson during 2020. The coach usually plays things close to the vest during free agency, preferring to pick up veterans and under-the-radar projects, but this year, he broke the bank. When free agency opened, New England shelled out $146 million in a matter of hours, adding Jonnu Smith, Davon Godchaux, Matthew Judon, and Jalen Mills. The club also picked up Hunter Henry, hoping that he and Smith can combine to fill the void left by Rob Gronkowski.
Belichick also snagged Mac Jones during the 2021 draft. While it's unclear if he'll take the reins this season, the former Alabama quarterback represents a clear succession plan that should keep the Patriots from scrambling to find replacement signal-callers as they did when Brady skipped town.
At this point, it's not clear if those moves will pay off or turn into an assortment of mismatched pieces added in panic. If any man can pull the Patriots back together, though, it's a motivated Bill Belichick. As we've seen for the past 20 years (barring 2020), you can bet against the Hoodie at your own risk.