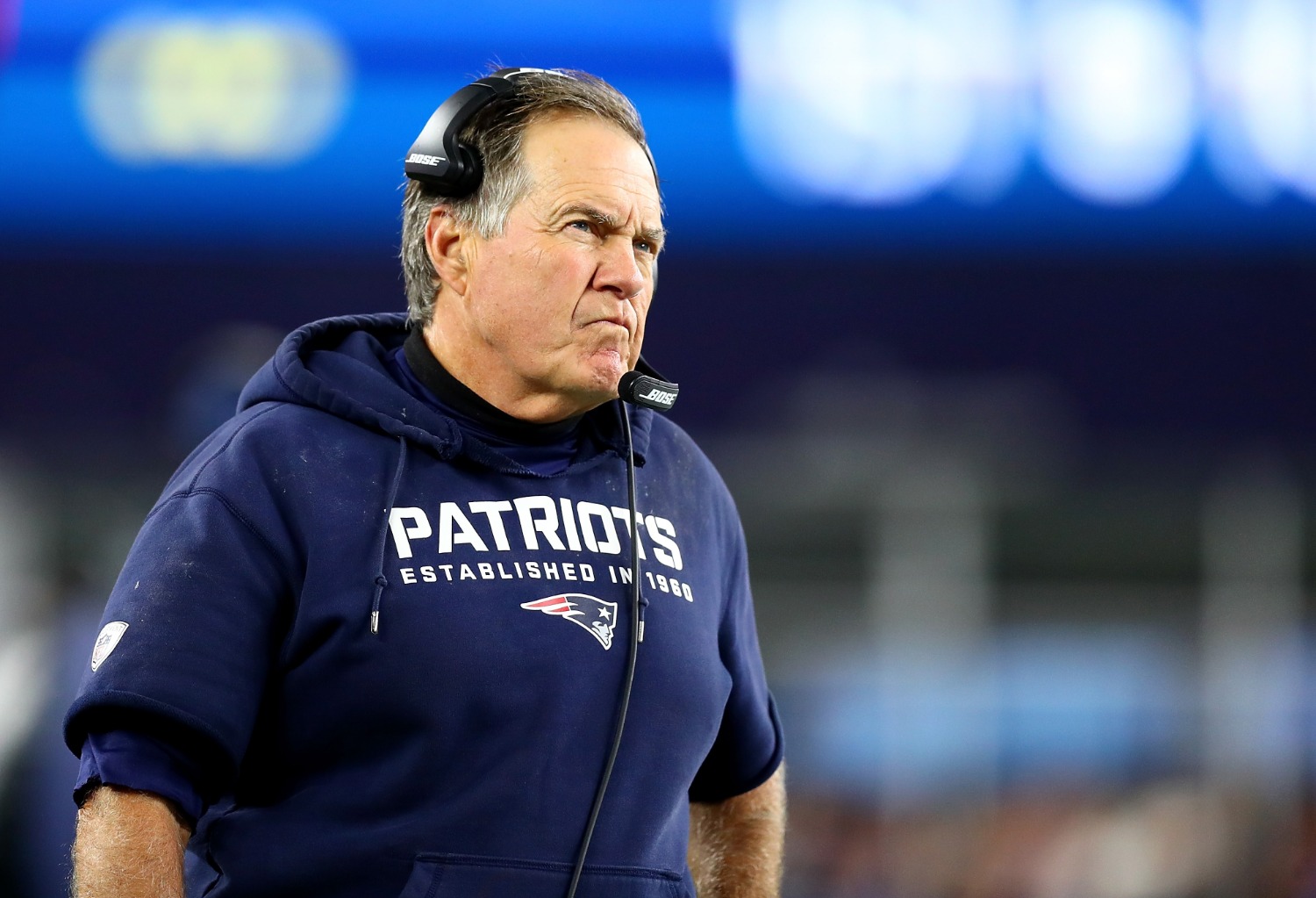 Bill Belichick Just Revealed His First Impression of Cam Newton
Bill Belichick made a bold move to bring in Cam Newton. The Patriots head coach just revealed his first impression of his new quarterback.
When Bill Belichick saved Cam Newton from free-agent purgatory, it immediately sparked questions about the fit between the surly head coach and the outspoken quarterback. After all, the pair could not be more different from a personality perspective. On Friday, the New England Patriots head coach revealed his first impression of Newton.
And based on Belichick's comments, it sure sounds like the former Carolina Panthers star stands a great chance at resurrecting his career.
Cam Newton and Bill Belichick are starting new chapters of their careers
For two decades, Bill Belichick knew exactly what to expect from his starting quarterback. Tom Brady provided stability at the most important position in sports while leading the Patriots to six Super Bowl titles. While Belichick routinely churned over New England's roster, Brady remained the one constant.
That continuity at the quarterback spot allowed Belichick to take risks on other players without compromising his team's ability to compete for Super Bowls on an annual basis. Of course, that all ended this offseason when Brady left the Patriots.
As Belichick tries to win a title without the greatest quarterback of all time, Cam Newton will also turn the page to a new chapter of his career. Five years ago, the former Heisman Trophy winner won the NFL MVP Award. But after struggling to stay healthy in recent years, Newton found himself looking for a new job after the Panthers released him in March.
After Newton failed to find a new NFL team for months, Belichick swooped in and stole the three-time Pro Bowler for pennies on the dollar. Now, the two prominent NFL figures will try to lead a new era of Patriots football.
Belichick reveals his first impression of his new quarterback
Cam Newton's fall from league MVP to settling for a league-minimum contract shows just how quickly things can change in the NFL. Even a year ago it would have seemed insane to imagine Newton playing for the Patriots. However, the Patriots smartly took a flyer on the talented dual-threat quarterback.
Since putting pen to paper, Newton has said and done the right things to endear himself to his new coach and Patriots fans. Several videos have emerged on social media of the 30-year-old signal-caller working with N'Keal Harry, Julian Edelman, and Mohamed Sanu. Plus, he delivered a message Belichick would love after landing in Boston.
On Friday, Bill Belichick spoke about a number of topics to the media, including his first impression of his new quarterback (H/T ESPN).
"Cam's a hardworking kid. He really is," Belichick said.
In addition, the 68-year-old head coach offered some thoughts on Newton's fit within New England's quarterback group, which includes a promising prospect in Jarrett Stidham.
"He's worked very hard, I'd say, as all of our players have," Belichick said. "I'd say that certainly for all the quarterbacks, at that position, those guys have been locked in, focused and confident in what they're able to do and the information they have to give to the team — playcalling, adjustments, audibles, protection adjustments, things like that. That's all going pretty well."
Newton can parlay comeback campaign into monster payday
Bill Belichick has made it clear that nobody has sewn up the starting quarterback job. In reality, barring an injury, Newton should open the season as QB1. Stidham certainly has plenty of intriguing tools, but he still needs some seasoning.
If Newton succeeds in winning the job, that will put him one step closer to breaking the bank in 2021. He settled for a one-year, incentive-laden deal that carries a maximum value of just $7.5 million. That short-term financial paycut won't feel so bad if Newton plays up to his potential with the Patriots.
Newton's arrival also opens up new opportunities. Josh McDaniels already tried to implement a mobile quarterback-based system in Denver. While Tim Tebow did not deliver on his first-round billing, Newton possesses far more physical tools and plenty of experience to succeed in a similar role.
If that happens, expect Cam Newton to score a monster payday next offseason. He certainly won't get Patrick Mahomes money, but a multi-year deal averaging $20-25 million per year seems realistic. Perhaps Belichick would consider bringing Newton back should he prove worthy of a significant financial investment.
And based on Bill Belichick's first impression of his new quarterback, Cam Newton may have a real shot at sticking around as Tom Brady's long-term replacement.
Like Sportscasting on Facebook. Follow us on Twitter @sportscasting19.