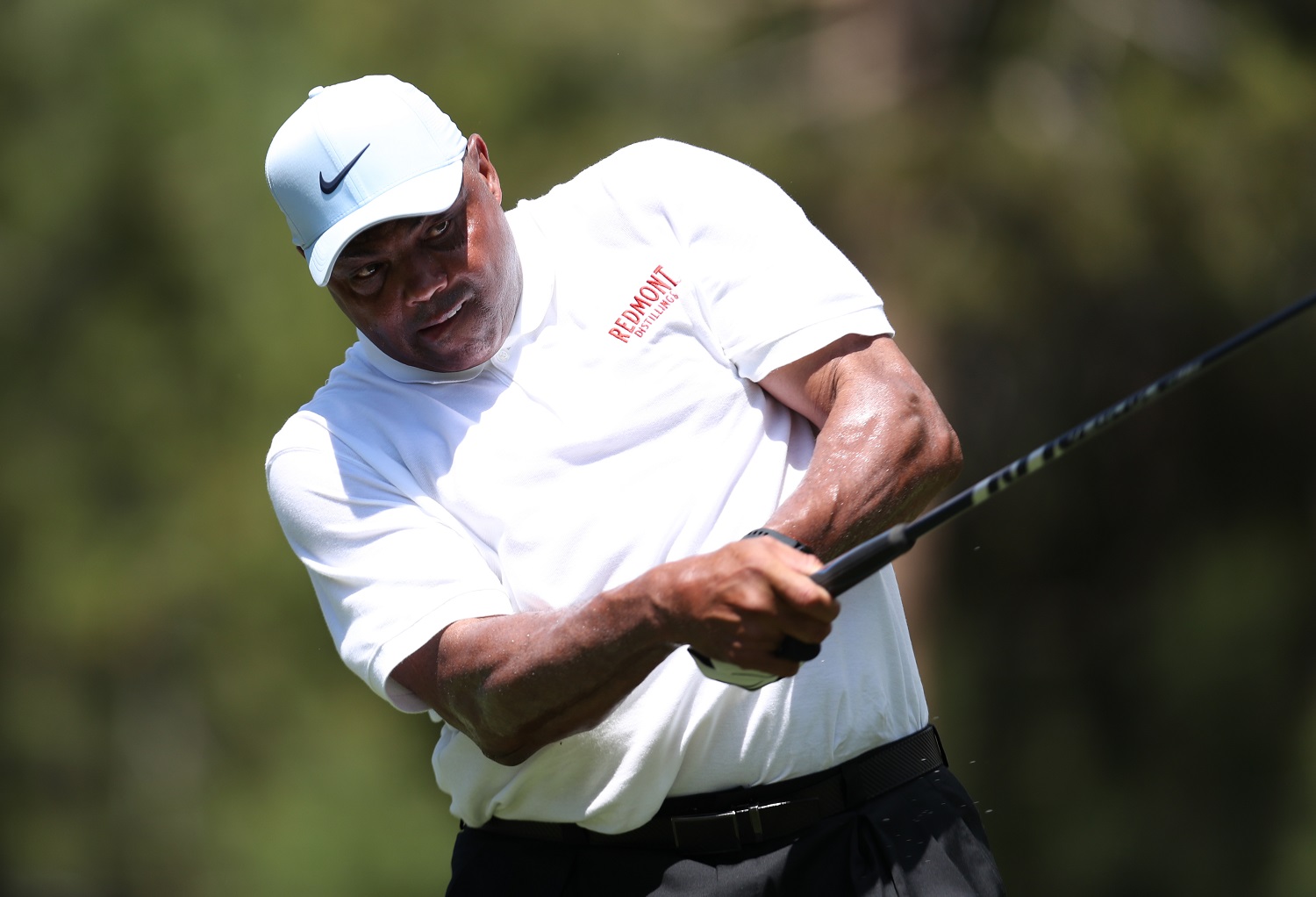 Charles Barkley Wasted $100,000 This Weekend on His Dumbest Bet Yet
Charles Barkley didn't have to do much in order to cash in on a $100,000 bet on himself at the American Century Challenge, but the former NBA great still failed to meet the challenge.
Someone should introduce Charles Barkley to Floyd Mayweather Jr. – and do so quickly.
Mayweather has lost some big-money bets in the past. However, he he had the good sense to get $50,000 down on Dustin Poirier against Conor McGregor at UFC 264 and turned a profit of $35,714.30.
Barkley bet on himself in a different event this weekend. That was a bad idea.
Charles Barkley and gambling are a bad combination
Barkley played basketball as well as nearly anyone in his era, deservedly landing in the Naismith Memorial Basketball Hall of Fame after his retirement from the NBA in 2000.
As good as he was in basketball – and averaging a double-double for a career spanning 1,012 regular-season games certainly qualifies as good – Sir Charles has always been a pretty bad gambler.
"Gambling is my vice," he told Sports Illustrated in 2002, "and I'll have to address it sometime in the future." Four years later, Barkley estimated to ESPN that he had lost $10 million while gambling. Much of the losing came at the tables in casinos, and Barkley conceded his gambling problem while also pointing out that the millions he made as a player and steady income since from broadcasting allowed him to take risks, however foolish.
Stories of bad losses have slowed in recent years, but Barkley did admit losing $100,000 on the Atlanta Falcons in Super Bowl 51.
He could blame some lousy second-half coaching for the Super Bowl debacle, but Barkley can only fault himself for blowing another $100,000 over the weekend.
Charles Barkley wasted $100,000 this weekend on his dumbest bet
If there's anything that Barkley does worse than wagering on blackjack or sporting events, then it's playing golf. He has shown that time and time again, displaying god-awful form from the tee box and showing no touch whatsoever on the putting green.
That doesn't stop Barkley from picking up the clubs and playing whenever and wherever he can. This weekend, that meant making an appearance in the American Century Championship in Lake Tahoe.
Unlike most PGA Tour tournaments, there was no cut in the annual celebrity event, so Barkley couldn't quit while he was behind. Nor could he perform well enough to save his $100,000 bet.
The background:
When Barkley played in the American Century Championship a year ago, he finished next-to-last among 70 participants. This past weekend's field featured 88 participants and, as is the case with just about any sporting event, there were legal betting options. One of the prop bets at some sportsbooks offered 5-to-1 odds on whether Barkley could finish in the top 70.
Naturally, Barkley put down $100,000 on himself.
Sir Charles could have used a mulligan on this wager
The American Century Championship uses a modified Stableford scoring system that rewards golfers with positive points for pars, birdies, and eagles. There are no points for a bogey and two-point deductions for anything worse on a hole.
Retired basketball player and coach Vinny Del Negro won the tournament with a 54-hole score of 69 points. Former Atlanta Braves pitcher John Smoltz was second after losing a playoff with De Negro, followed closely by former Dallas Cowboys quarterback Tony Romo and all-time LPGA great Annika Sorenstam.
And then there was Barkley. The NBA analyst for TNT posted scores of minus-16, minus-5, and minus-7 for his three rounds. The total score of minus-28 placed Barkley ahead of the likes of Doug Flutie, Demarcus Ware, and Al Michaels, but he finished tied for 76th place, several birdies short of cashing a winning ticket.
How to get help: In the U.S., contact the National Council on Problem Gambling helpline at 1-800-522-4700.