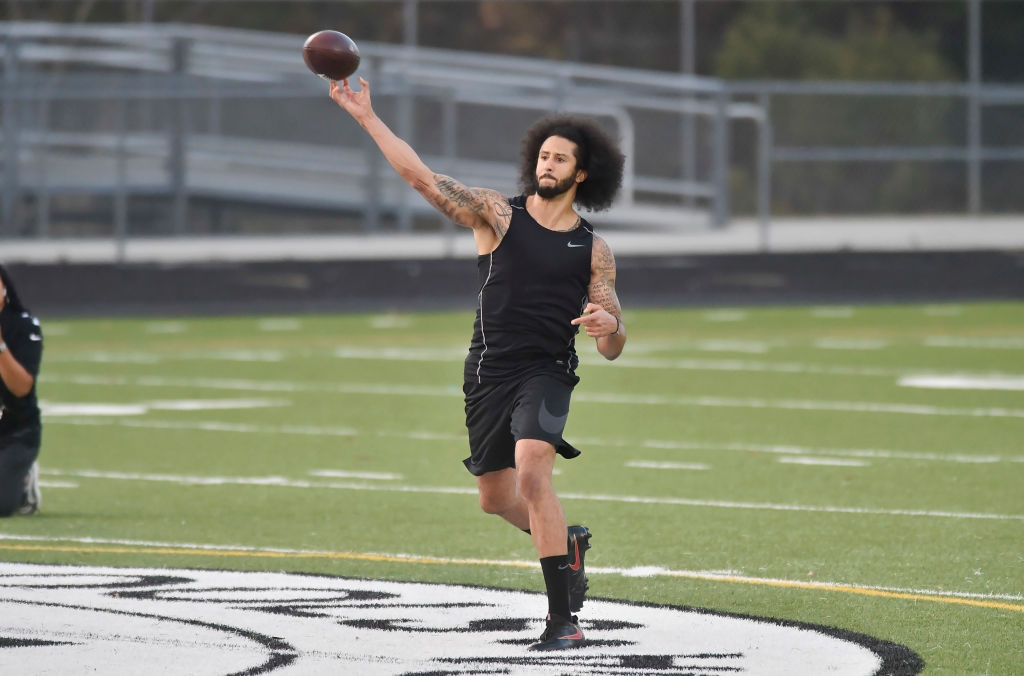 Colin Kaepernick Could Be a Perfect Fit for the Baltimore Ravens
If Colin Kaepernick does make an NFL comeback, the Baltimore Ravens could be the perfect place for the quarterback to land a job.
These days, it's easy to think of Colin Kaepernick as more of a cultural figure than a football player. The former San Francisco 49ers quarterback, however, hasn't completely given up on his professional sports career behind. He's ready to play football, and Roger Goodell has encouraged teams to offer him a job. While there's no indication of who is and isn't interested, the Baltimore Ravens could be the perfect fit.
The Baltimore Ravens, you might be thinking, already have a sure-fire starter in Lamar Jackson. They do, which is part of the reason why they could welcome Colin Kaepernick to the fold.
Looking back on Colin Kaepernick's time with the 49ers
As mentioned above, it has become impossible to separate Colin Kaepernick's football career from his famous protest. During his time with the 49ers, however, he did show plenty of promise.
After playing his college ball at the University of Nevada, Kaepernick landed with the San Francisco 49ers. While he spent his first professional season backing-up Alex Smith, he stepped into the breach in 2012 when Smith suffered a concussion. He went 5-2 down the stretch, leading the 49ers to the Super Bowl.
When the 2013 season began, Kaepernick kept hold of the starting job. He threw for 3,197 yards and 21 touchdowns while rushing for 524 yards and four additional scores; the 49ers went 12-4, making it to the NFC Championship game.
After those two seasons, however, neither Kaepernick nor the 49ers reached the same heights. While you can assign blame as you see fit—Kaepernick struggled with injuries, and the Niners didn't provide the most stable environment—the quarterback opted out of his contract in 2017. Thanks to his protests, he didn't land another job.
Colin Kaepernick could fit with the Baltimore Ravens
In recent weeks, Colin Kaepernick's narrative has taken a bit of a turn. First, a former NFL executive admitted that the league's owner viewed him as being bad for business. Players then began praising the quarterback's protests and Roger Goodell eventually encouraged any team that's interested in the quarterback to sign him.
While there's been plenty of speculation about where Kaepernick could land, the Baltimore Ravens seem like a good fit. The idea has been floated by everyone from The Sporting News to Boomer Esiason, but it still warrants a closer look.
The Ravens found incredible success last season with Lamar Jackson, a dual-threat quarterback under center. That system fits Kaepernick's skill set, but Jackson's presence means he won't have to step directly into the spotlight. Robert Griffin III currently serves as Baltimore's back-up, but he's spoken about his desire to be a starter; if the Ravens look into moving him, Kaepernick could be a natural replacement.
There are also a couple of additional connections worth highlighting, though. As noted by Jeffri Chadiha at NFL.com, Greg Roman, Baltimore's offensive coordinator, helped make Kaepernick a star in San Francisco; John Harbaugh's brother, Jim, also coached the quarterback in the Bay Area.
The Baltimore Ravens were linked to Kaepernick once before
Beyond those factors, it's also interesting to consider the Baltimore Ravens' past with Colin Kaepernick.
As documented by NFL.com, the Ravens openly stated that they had talks with the quarterback in 2017. While it's not exactly clear while the deal was never finalized, a popular theory suggests that a tweet from Nessa, Kaepernick's girlfriend, played a role.
At the time, Nessa tweeted an image of Ray Lewis hugging Ravens owner Steve Bisciotti, comparing it to a scene in Django Unchained where a slave hugs his dying master. According to an NBC Sports post from the time, that tweet ended Kaepernick's chances of joining the Ravens.
In recent weeks, however, Bisciotti joined his players in speaking out against racial injustice. "If my players, both white and black, don't speak out about this injustice to their communities, then they're considered sellouts or hypocrites," Bisciotti said, according to ESPN. "If I don't defend my players, then I'm the worst kind of hypocrite."
It would be quite a stretch to connect those dots and conclude that the Baltimore Ravens were guaranteed to sign Colin Kaepernick. Based on their offensive scheme, coaching staff, and previous history, however, it's still an interesting possibility to consider.
Stats courtesy of Pro-Football-Reference