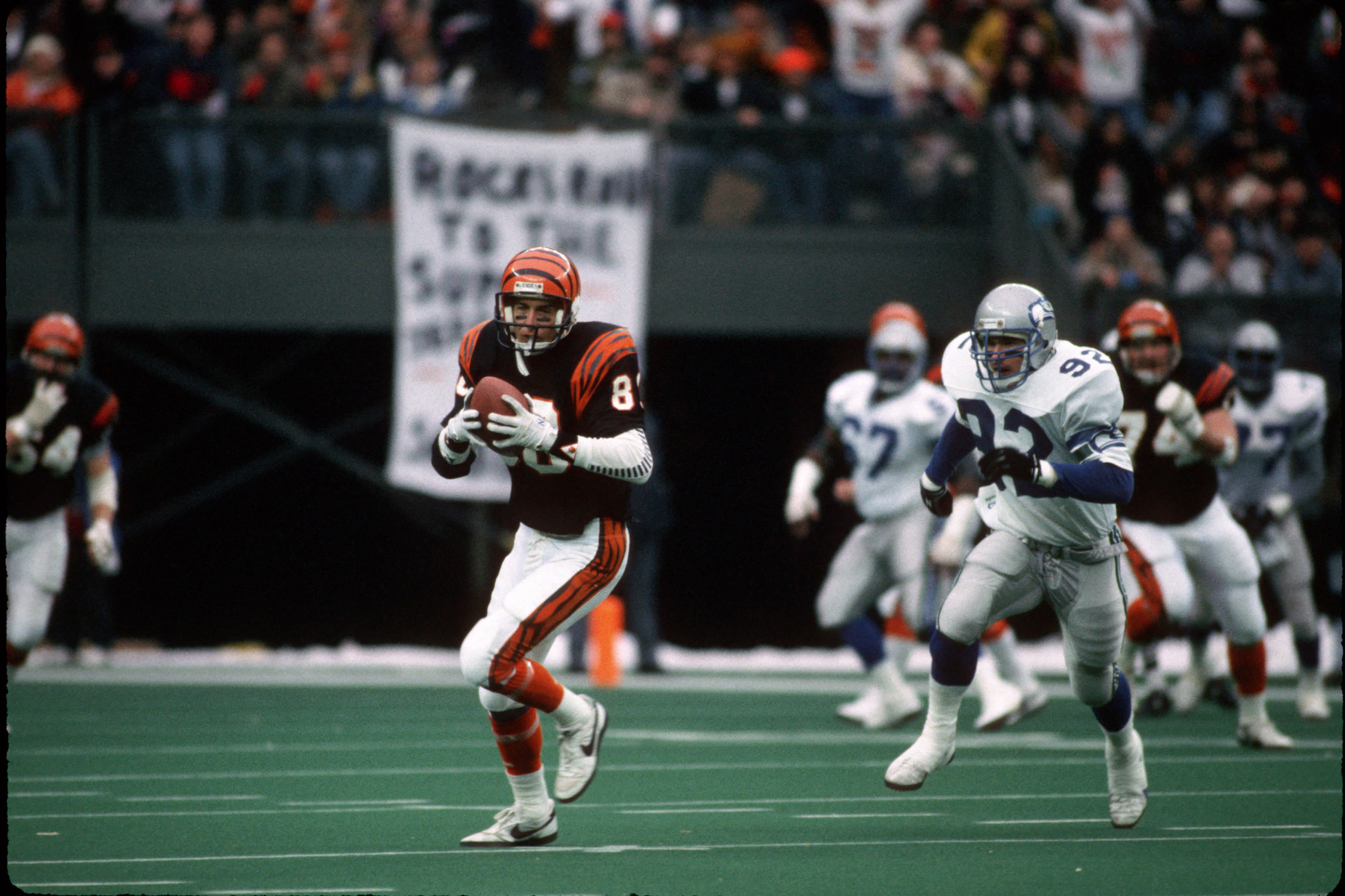 Cris Collinsworth Is About to Lose His Place In Cincinnati Bengals History
While it's been quite a while since Cris Collinsworth played for the Cincinnati Bengals, he could lose his place in franchise history in Week 17.
When you hear the name Cris Collinsworth, you probably think of the broadcaster who slides into the Sunday Night Football booth alongside Al Michaels. His success, however, isn't completely isolated to the world of sports media; during his time on the gridiron, Collinsworth was a pretty solid receiver for the Cincinnati Bengals.
While Cris Collinsworth's stats still stand tall in the record books, the former Cincinnati receiver is about to be knocked down a peg. Come Week 17, there will probably be a new name atop the Bengals rookie leaderboard.
Cris Collinsworth's road to becoming an NFL wide receiver
These days, Cris Collinsworth gets involved with football as NBC's color commentator and the owner of Pro Football Focus. There once was a time, however, when he would hit the gridiron instead of watching the action from afar.
Coming out of high school, Collinsworth wasn't a wide receiver; he was a quarterback and headed to the University of Florida to join the Gators. The team's run-first offense struggled, however, and Collinsworth barely saw the field. After an awful season, something had to change.
Florida transitioned away from their run-first system into a more balanced attack, making Collinsworth redundant; the coaching staff, however, decided they could make use of his blend of size and athleticism at wide receiver. While the Gators didn't exactly turn into a powerhouse that season, Collinsworth had a break-out campaign.
During his senior season, Collinsworth played well enough to be named a first-team All America. By the time he graduated, the receiver had pulled in 120 passes for 1,937 yards and 14 touchdowns. Even more importantly, he had shown enough to garner some NFL attention.
Playing eight solid NFL seasons with the Cincinnati Bengals
After his time at Florida came to an end, Cris Collinsworth entered into the 1981 NFL draft. While he didn't hear his name called during the first round, the Cincinnati Bengals ultimately snagged him with the 37th-overall pick.
Just like in college, Collinsworth was a matchup nightmare. He was too big for cornerbacks to defend but could outrun any linebacker who dropped into coverage. He caught 67 passes for 1,009 yards and eight touchdowns during his rookie campaign; it looked like the Bengals had found their star receiver.
While Collinsworth only managed to play eight seasons of professional football, he still posted solid numbers during that time on the gridiron. In total, the wideout pulled in 417 passes over the years, racking up 6,698 yards and 36 touchdowns.
Cris Collinsworth is about to lose his place in Bengals history to Tee Higgins
Although he retired after the 1988 campaign, Cris Collinsworth's numbers still stand tall in Cincinnati Bengals' history; he remains in the top 10 for receptions, receiving yards, and touchdowns. Come Week 17, however, he's probably going to lose one of his places in the record book.
In 1981, Collinsworth pulled in 67 catches, setting the Bengals record for most receptions by a rookie. During Week 16, Tee Higgins caught six passes in Cincinnati's victory over the Houston Texans, putting him at 67 on the year.
If Higgins can catch one pass in Week 17, he'll pass Collinsworth for the Bengals' rookie reception record. Making things even more impressive, those passes have been thrown by three different quarterbacks of varying quality over the course of the season.
Thanks to his role on Sunday Night Football, Cris Collinsworth isn't going anywhere anytime soon. Barring a shock performance in Week 17, though, Tee Higgins replace him in the Cincinnati Bengals record book.
Stats courtesy of Sport-Reference and Pro-Football-Reference