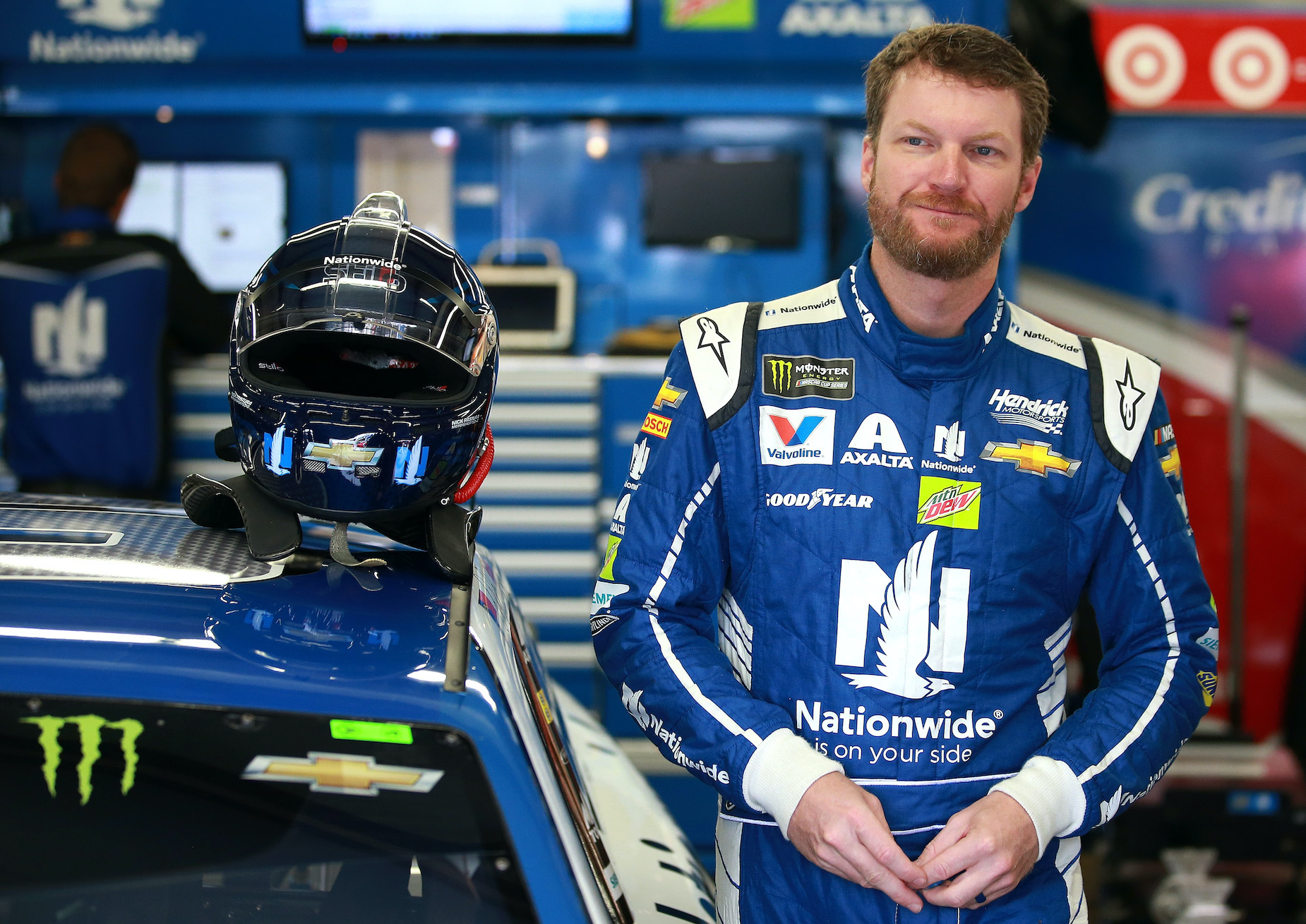 Dale Earnhardt Jr. Is a NASCAR Legend, but He'd Still Like to Spend a Day in Tom Brady's Body
While Dale Earnhardt Jr. is a living NASCAR legend, he's still like to spend a day living life in Tom Brady's body.
If you're a NASCAR fan, you know Dale Earnhardt Jr. Whether you love him or hate him, the driver found plenty of success behind the wheel, built up a massive fan base, and made plenty of money along the way. But how does his life compare to Tom Brady's?
It seems that Dale Earnhardt Jr. would gladly find out if he ever had the chance. On an episode of his podcast, the motorsports legend said that, if given the opportunity, he'd choose to spend a day in Tom Brady's body.
Dale Earnhardt Jr. is modern racing royalty
In the world of sports, there are plenty of famous father-son duos. When it comes to NASCAR, though, few can top Dale Earnhardt Jr. and his famous dad.
While Dale Earnhardt Sr. proved to be a motorsports star, Junior didn't initially plan on following in his footsteps. Instead, he earned an automotive degree and started working at his father's dealership as a mechanic. Eventually, though, Dale Jr. found his way behind the wheel instead of tinkering under the hood.
Although he started driving to build a relationship with Dale Sr., Earnhardt proved to be a natural racer. He cut his teeth on the short-track circuit, then joined the Busch Series in 1996; two years later, he burst onto the Cup Series scene.
Even though he couldn't match his father's on-track success, Dale Earnhardt Jr. still proved to be quite the NASCAR star. He won 50 races across the Cup Series and what's currently called the Xfinity Series, took home two checkered flags at the Daytona 500, and was a 15-time winner of NASCAR's Most Popular Driver title. He also built up an estimated $300 million fortune along the way, which isn't too bad either.
Tom Brady went from a no-name rookie to the NFL's GOAT
Thanks to his famous father, Dale Earnhardt Jr. was a household name from the start of his career. Tom Brady, however, arrived in the NFL as a nobody.
Although Brady played his college football at Michigan, he wasn't exactly tapped for stardom. When he joined the New England Patriots as a sixth-round pick, no one expected much; Drew Bledsoe, for example, thought the quarterback was destined for a career as a backup. Fate, however, would soon intervene.
In 2001, Bledsoe absorbed a hit from Mo Lewis and was knocked out of the action; that pushed a young Tom Brady into the spotlight. While he struggled at first, everything came together; that season ended with a Super Bowl title, and, from there, the rest is history.
Brady, of course, would go on to reach nine Super Bowls with the Patriots, winning six of them; he's now headed to a 10th title game with the Tampa Bay Buccaneers. Even if you can't stand the quarterback, it's impossible to argue with his resume.
Dale Earnhardt Jr. would spend a day as Tom Brady if he could
Based on his successful career, most NASCAR fans would probably love to spend a day living like Dale Earnhardt Jr. The motorsports star, however, would prefer to venture into the NFL; if given the choice, he'd live a day as Tom Brady.
In a Dale Jr. Download clip that was shared on Facebook in 2018, Earnhardt was asked," If you could wake up tomorrow and be in somebody else's body, who would it be and why?". While he initially said he wasn't sure who he'd pick, Junior eventually settled on the star quarterback.
"Tom freaking Brady," Earnhardt said. "Waking up, being Tom Brady for a day. Just, like, roaming around in his house, seeing what all kind of s–t he's got hanging around, what he does for fun when he's not throwing a football. You know, what are his hobbies? What kind of toys does he got in his garage?"
Dale Earnhardt Jr. didn't mention having to spend a day eating like Tom Brady, though. Hopefully, he doesn't like strawberries.