Giannis Antetokounmpo Knows Exactly What He'd Choose as His 'Rapper Name'
During his time in the NBA, Giannis Antetokounmpo has proven to be a man of many talents. While he's still yet to perfect his shooting tough, the Milwaukee Bucks star can do almost anything else on the court; once you see him in action, it's easy to understand why he's called the Greek Freak. Another nickname, however, could be on the cards.
During a 2020 Bucks video with his brother, Thanasis, Giannis revealed what his "rapper name" would be. And, believe it or not, he wouldn't simply use the Greek Freak.
Giannis Antetokounmpo has found global fame as the Greek Freak
On the whole, sports fans are pretty well acquainted with the concept of a Cinderella story. Few fairy tales, however, can compete with Antetokounmpo's rise to fame and fortune.
As his nickname would lead you to believe, Giannis grew up in Greece as the son of Nigerian immigrants. While he and his brothers didn't have an ideal childhood—they would hit the streets to sell goods in an attempt to help the family—the boys also found time to play basketball. That hobby would eventually prove to be life-changing.
Antetokounmpo joined the Filathlitikos organization and, before long, started to catch the eye of scouts. He moved to North America in 2013, joining the Milwaukee Bucks as a raw but promising prospect.
Due to his unique blend of size, athleticism, and skill—Giannis can bang bodies in the paint but run the floor like a guard—the Bucks' star earned the nickname "the Greek Freak." As Antetokounmpo has risen through the ranks, that's become a major part of his identity; as documented by DraftKings Nation, he's trademarked his iconic nickname for use in a variety of contexts.
The Greek Freak would use a different name for his rap career, though
While everyone has different tastes, the Greek Freak is generally viewed as a pretty solid nickname. As documented in an ESPN story, Antetokounmpo has even said that he personally likes the moniker. That reality, however, doesn't mean he'd use it to start a rap career.
During a 2020 Bucks Besties video, Giannis and his brother, Thanasis, were paired up and tasked with answering Newlywed Game-style questions about each other. The first card, for example, wondered what the Greek Freak's "rapper name" would be.
While Thanasis submitted "Lil' G," that wasn't what Giannis had in mind. The Bucks star said that he'd rap under the alias "Sexy Chocolate" and even drew a heart on his whiteboard.
Giannis Antetokounmpo has already made an impact on the rap scene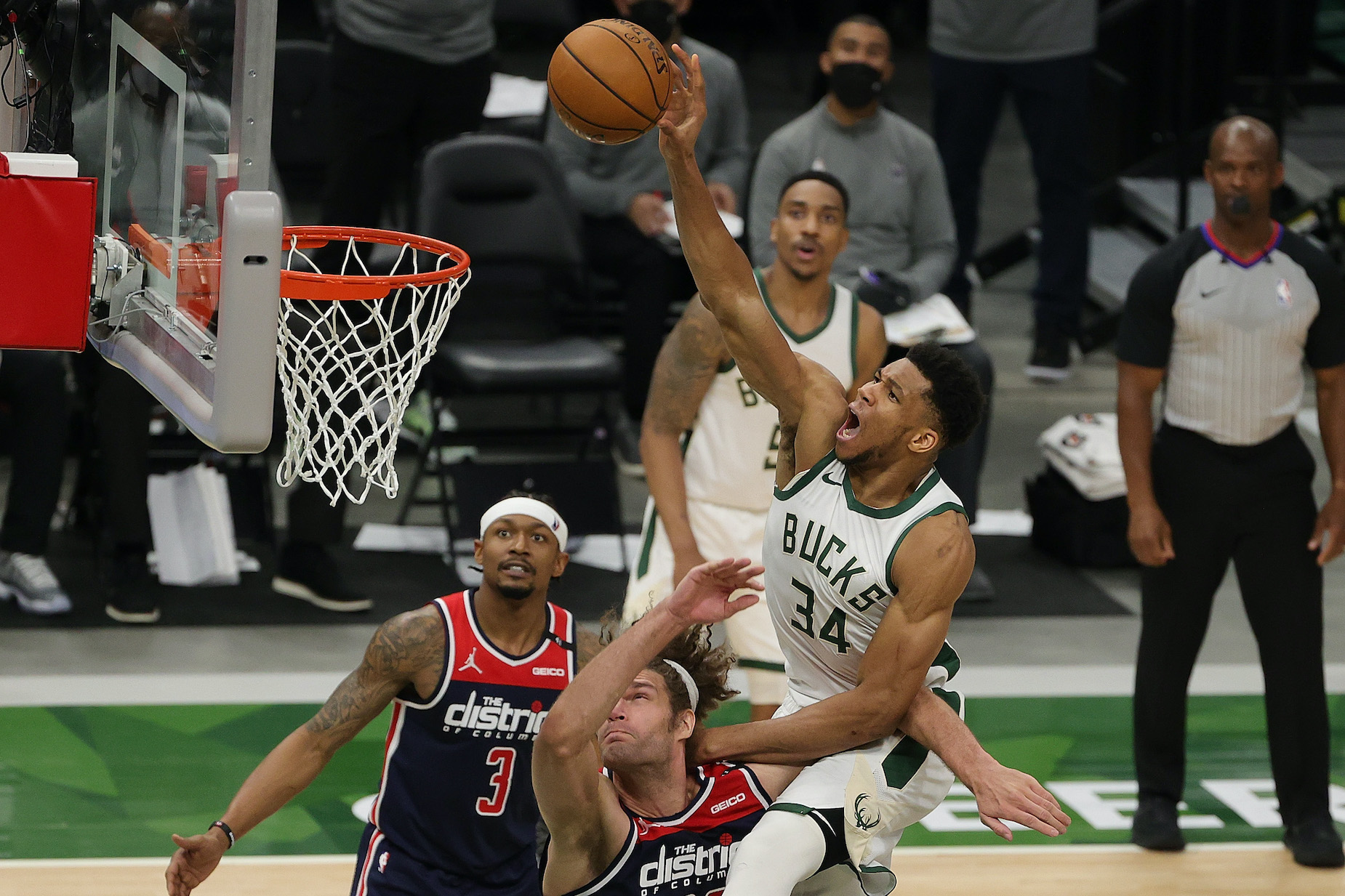 Thus far, Antetokounmpo hasn't dropped a hit single as Sexy Chocolate or any other alias; based on his guitar-playing skills, any musical success may be a long way off. That hasn't stopped Giannis from making an impact in the world of rap, though.
While "Giannis Antetokounmpo" might be tough to fit into a rhyme, plenty of rappers have still managed to make reference to the Bucks' star. According to a February 2019 post from Radio Milwaukee, Lil' Wayne, Public Enemy, and Action Bronson, among others, have name-dropped the Greek Freak. Given that he's claimed two NBA MVP titles since then, it's safe to assume that Giannis' name has been included in plenty of songs since.
During his time on the hardwood, Antetokounmpo has become a household name on the Greek Freak. That's probably a better nickname than Sexy Chocolate, anyway.