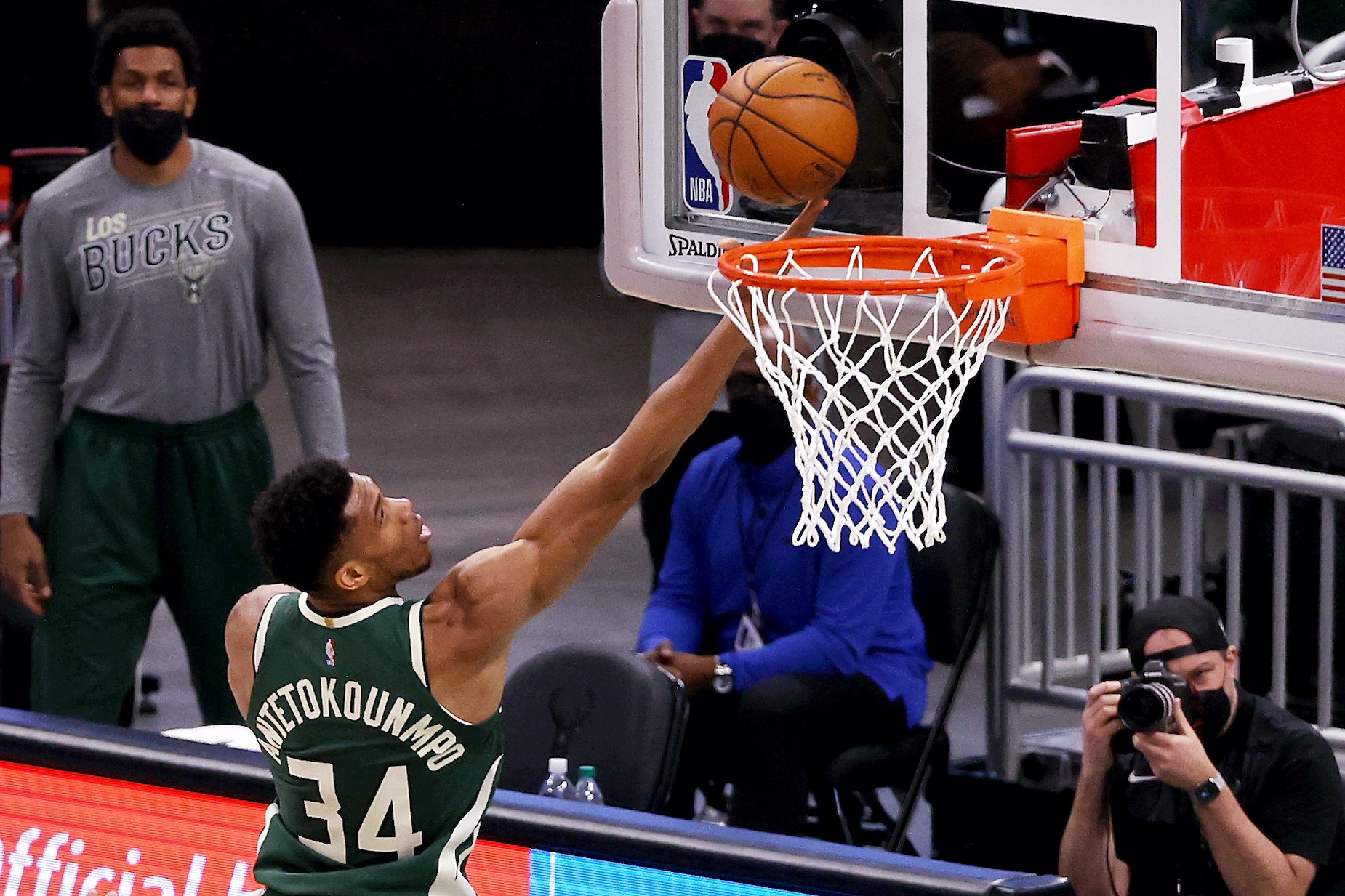 Giannis Antetokounmpo Refused to Appear in 'Space Jam 2' for an Incredibly On-Brand Reason
While Giannis Antetokounmpo is one of the NBA's biggest names, he won't be appearing in 'Space Jam 2' for a humble reason.
In the modern NBA, few players have the out-of-this-world talent of Giannis Antetokounmpo. During his time with the Milwaukee Bucks, the Greek Freak has proven to be an incredible player and a generational star. Despite that resume, though, he won't be joining LeBron James in Space Jam 2.
While his talent would make him a welcome addition to the Toon Squad, Giannis Antetkounmpo actually declined the opportunity to appear in the movie. So what was behind his choice? Unsurprisingly, given what we know about the Greek Freak, it was a combination of humility and preferring to focus on hard work.
Giannis Antetkounmpo has grown into a world-class NBA talent
The NBA, more so than other sports leagues, is dominated by individual stars. That landscape, for better or worse, has helped make Giannis Antetokounmpo one of the biggest names in the association.
As his nickname would lead you to believe, Giannis grew up in Greece where, despite some tough circumstances, he played basketball with his brothers. His talent shone through any obstacles, though, and he joined the Filathlitikos organization as a teenager.
In 2013, Antetokounmpo decided that he was ready for the next level and entered into the NBA draft. While his scouting reports were somewhat of a mixed bag—the forward was clearly gifted but seemed skinny and raw—the Milwaukee Bucks decided to take a chance on Giannis. That decision has since changed the course of NBA history.
Although there are still some flaws to his game, Antetokounmpo has developed into one of the NBA's top talents. Despite an iffy jump shot, the Greek Freak has a unique blend of size and athleticism that make him the perfect fit for modern basketball. He can run the floor, dribble the ball, score, and defend all with equal ease.
To date, Giannis hasn't been able to make it over the hump and claim an NBA title. His back-to-back MVP Awards, however, confirm what everyone's eyes can see: the Bucks forward is a legitimate star.
The Greek Freak has no interest in Space Jam 2
Given Giannis Antetokounmpo's freakish talent and star status, he seems like a natural fit to appear alongside LeBron James in Space Jam 2. When the movie hits theaters, though, the Greek Freak won't be part of the cast.
That wasn't an oversight from the casting department. Antetokounmpo actually turned down an offer to be in the film. Appearing in a movie, it seems, is less important than being prepared for the NBA season.
"Antetokounmpo does make summer modifications to accommodate relaxation and family time," Malkia Andrews explained in an ESPN story about Giannis' pregame routine. "Still, when approached about starring in Space Jam 2 with LeBron James, Antetokounmpo declined. Being in the film would have required him to give up two weeks of private workouts to train with his fellow stars while making the movie, a total non-starter, given Antetokounmpo's reclusive tendencies."
Beyond the scheduling aspect, the Greek Freak isn't one to seek out the spotlight.
"I don't like being Hollywood," the Bucks' star said. "I don't like all this extra drama. I am just going to try to be me."
Hard work and humility are nothing new for Giannis Antetokounmpo
From a personal branding perspective, you could argue that it's a bad move to skip out on Space Jam 2. Hard work and humility, however, are nothing new to Giannis Antetokounmpo; as he said, he's just being himself.
Even as a boy, Antetokounmpo was no stranger to work; he and his brothers would hit the streets of Athens, selling items like sunglasses and wallets to help their family. While the Greek Freak is now a multimillionaire, the money doesn't seem to have changed him.
While Giannis is a pretty private guy—how much do we really know a professional athlete anyway—the stories that do emerge about the forward paint him as a pretty humble guy. When he first came to North America, for example, he fell in love with smoothies and sent money back to his family in Greece; when he inked his massive contract extension in 2020, his first purchase consisted of clothes and toys for his baby boy.
Would it have been cool to see Giannis Antetokounmpo on the silver screen in Space Jam 2? Probably but, for better or worse, the Greek Freak doesn't change who he is for anyone.