Jimmie Johnson Is a NASCAR Veteran, but He Still Gets Scared While Driving His Indy Car: 'My Senses Have Never Been Through Anything Like That Before'
Over the course of his motorsports career, Jimmie Johnson has taken charge of a variety of different vehicles. While he's found plenty of success along the way, the transition into IndyCar racing still presents a new set of challenges. That reality isn't lost on the former NASCAR star.
In a recent interview, Jimmie Johnson got pretty candid about his experience behind the wheel of an Indy car. Believe it or not, the veteran driver even admitted that he's still feeling pretty scared whenever he hits the track.
Jimmie Johnson had plenty of racing experience before joining NASCAR
RELATED: Jimmie Johnson Tells Danica Patrick Why He's Expecting Plenty of Sad Moments
If you ask most motorsports fans about Jimmie Johnson, they'll probably mention his decorated NASCAR career. Even before climbing into a stock car, though, he already had plenty of racing experience.
Johnson grew up racing motorcycles and even claimed his first championship thanks to a specially modified bike that allowed him to race with a broken leg. He later transitioned into off-road racing and, despite some potentially fatal bumps in the road, proved to be quite a talent.
Although he won plenty of races and awards across several off-road circuits, Jimmie Johnson wasn't satisfied. Stock car racing was calling and, in 1997, he joined the American Speed Association. He stepped up to NASCAR's Busch Series the following year; from there, the rest was history.
Making a name for himself as a modern NASCAR legend
RELATED: Jimmie Johnson Acted as Ambulance Driver When Dale Earnhardt Jr. Split His Head Open
During his early days on the NASCAR circuit, Jimmie Johnson could get close to winning a Cup Series title but struggled to close the deal. At the end of the 2005 campaign, though, everything changed.
After a tough season, Rick Hendrick sat Johnson down with crew chief Chad Knaus; he then produced a gallon of milk and some Mickey Mouse plates stocked with cookies. While the tactics may have been unconventional, Johnson and Knaus got the point; it was time to stop acting like children and work together.
That meeting instantly paid dividends, as Jimmie Johnson claimed his first Cup Series crown at the end of the 2006 season; he'd follow that up with four more championships, giving him five in a row, and would add two additional titles before retiring.
At the end of the 2020 season, Johnson retired as a full-time NASCAR driver. His racing career, however, is far from over.
Jimmie Johnson is still afraid behind the wheel of his Indy Car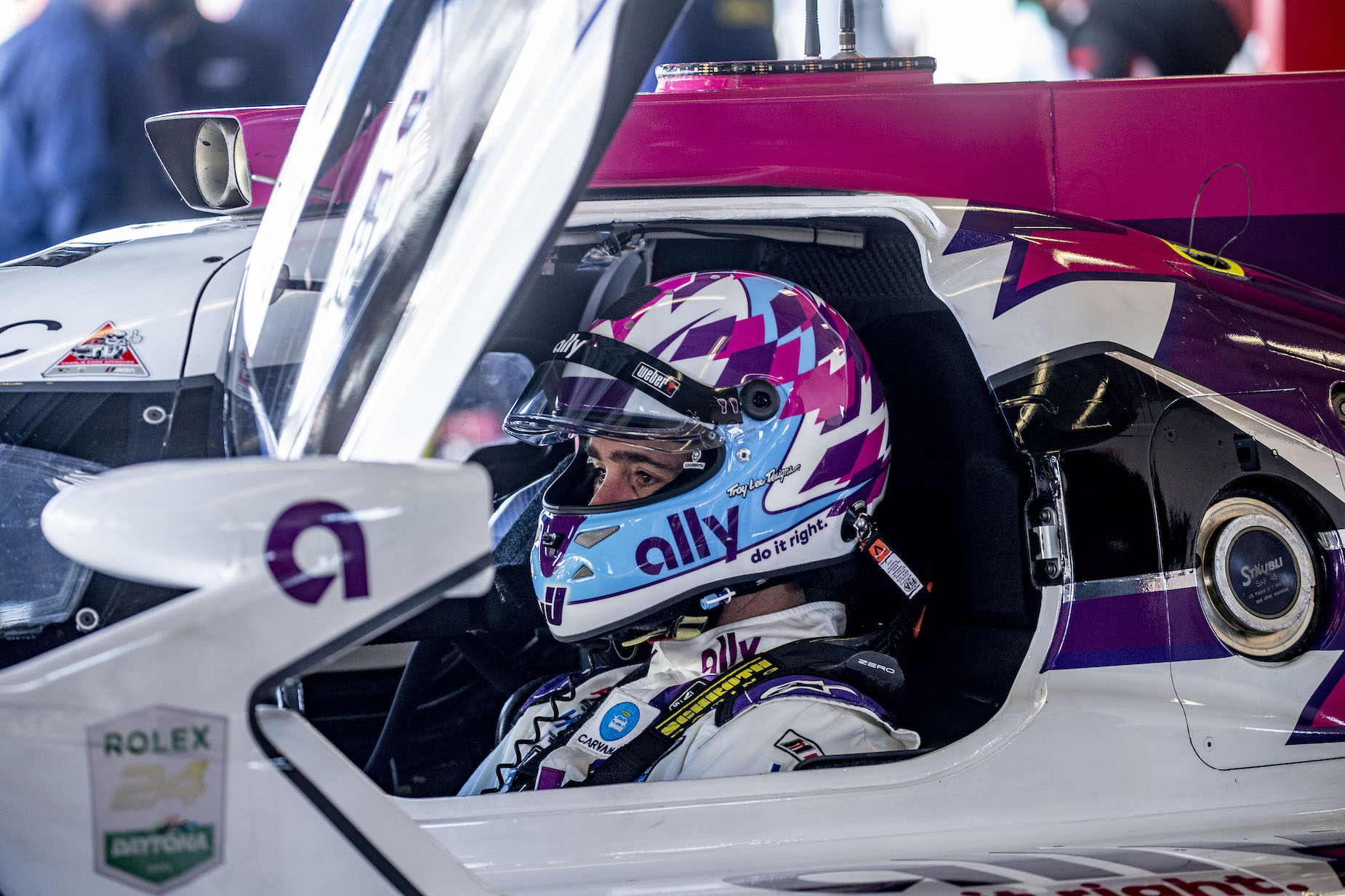 RELATED: Tony Stewart Saved Jimmie Johnson After the NASCAR Legend Embarrassingly Got Stuck in an Elevator
By transitioning into IndyCar racing, Jimmie Johnson is making a childhood dream come true. That reality, along with his wealth of racing experience, though, doesn't make things any less stressful.
During an interview with For The Win, Johnson was asked if he's "felt scared or out of your depths" behind the wheel of his new ride. Somewhat surprisingly, the veteran driver admitted that he had.
"Yeah, basically every lap I've made so far," he explained. "When you leave pit road on cold tires, it is so evil until you get enough tire temperature and tire pressure that you scare yourself and you pull back. And I'm learning that's when you need to keep pushing because the quicker you can gain temperature in the surface of the tire, the quicker that turns into tire pressure, and the better the car is."
Understandably, things have been getting more comfortable with experience. Johnson, however, isn't all the way there just yet.
"When I first started, it would take seven or eight laps to hit that target air pressure number in the tire," he continued. "And now I'm able to do it on lap three or four with my teammates. So that's been a big hurdle for me to get over, [and] that's just one example. And then once the tires are up at a track like Barber and the commitment level that's required to put up a lap time, my senses have never been through anything like that before. It's insane."
As the cliche says, practice makes perfect. That's apparently true for everyone, including NASCAR veterans like Jimmie Johnson.