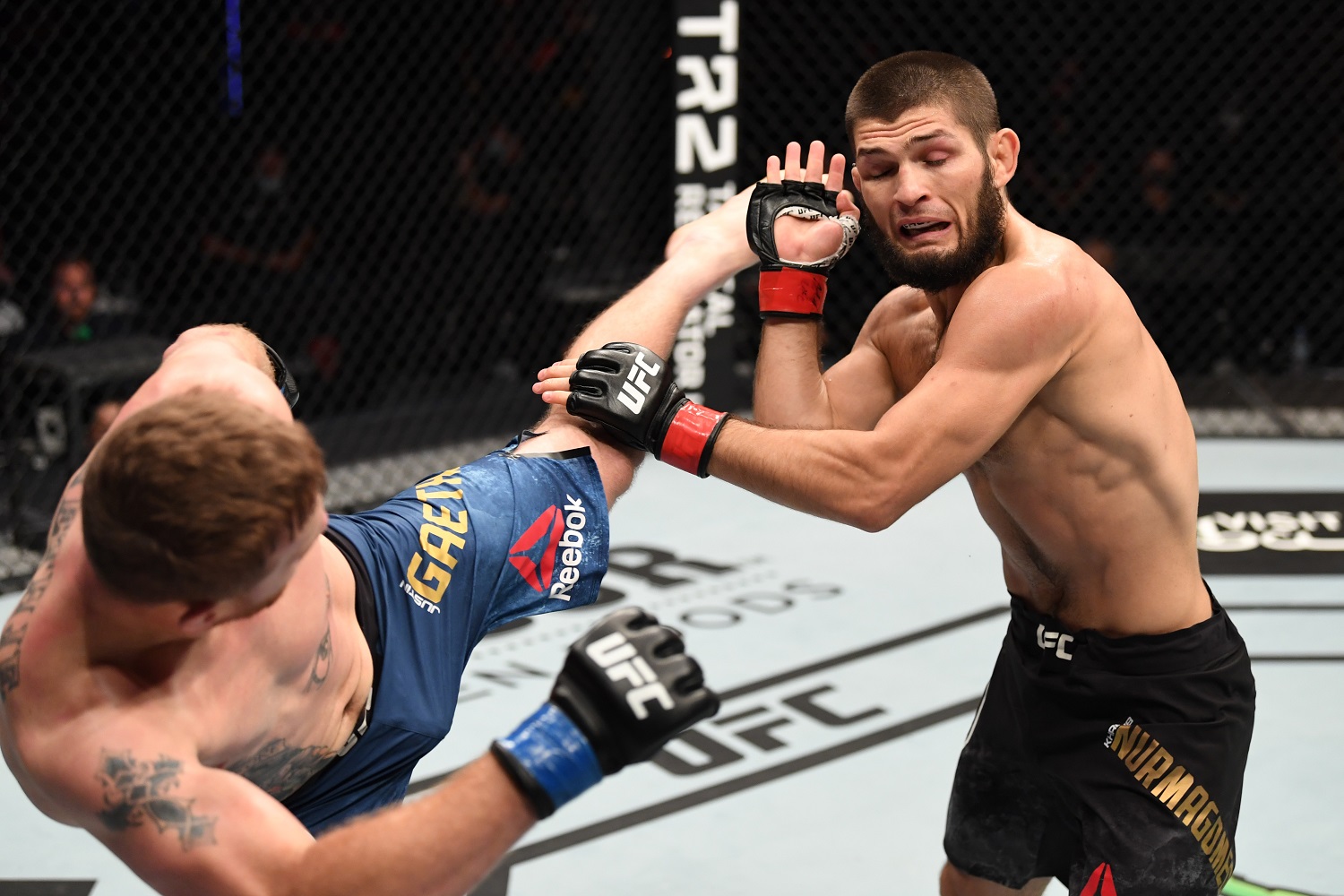 Khabib Nurmagomedov Hints He's Kicking the UFC To the Curb in Favor of His Real Love
Lightweight champion Khabib Nurmagomedov says he has retired from the UFC. He has also tweeted that that he's a free agent in soccer.
The UFC lightweight rankings just got a whole lot more interesting, without even factoring in the question of whether champion Khabib Nurmagomedov really has retired. A division in which Conor McGregor is no better than the sixth-ranked contender speaks to how intense matchups will be through the remainder of 2021.
All things considered, Nurmagomedov might be walking away from the sport he dominates for the one he loves. It would be 10% of the pain and twice as fun.
Khabib Nurmagomedov is the best UFC fighter out there
Khabib Nurmagomedov is regarded as the best pound-for-pound fighter in the UFC and one of the greatest mixed martial arts competitors ever. Nurmagomedov earned the UFC lightweight championship in April 2018 with a unanimous decision over Al Iaquinta. He has since successfully defended by registering submissions of Conor McGregor, Dustin Poirier, and Justin Gaethje.
Poirier stands as the No. 1 contender at the moment, with Poirier right behind him, so the champ has no worlds left to conquer for now. Nurmagomedov is 29-0 for his career. Seven of his 12 UFC triumphs have come via knockouts or submissions. Those are the lucky losers. Going the distance with Nurmagomedov invariably ends in a unanimous decision after lots of pain.
Nurmagomedov's popularity spans the globe. The first Muslim competitor to win a UFC belt has 27 million followers on Instagram and is always an attractive name atop pay-per-view cards.
Khabib Nurmagomedov's retirement has changed the division
The UFC continues to recognize Khabib Nurmagomedov as its lightweight champion despite his announcement in October 2020 that he has retired. Nurmagomedov was supposed to defend against Tony Ferguson six months earlier, a fight scrapped because he could not leave Russia during the COVID-19 pandemic.
The UFC subsequently matched Ferguson against Justin Gaethje for the interim lightweight title. Gaethje won via a fifth-round TKO that earned him the right to fight Nurmagomedov in a unification bout. Nurmagomedov triumphed via submission in the second round and then immediately announced his retirement from mixed martial arts to honor a promise he had made to his mother to not continue in the sport following the death of his father.
Nurmagomedov is such a huge name that UFC president Dana White will leave the door open to his return. However, there will come a time when the UFC must formally strip Nurmagomedov of his belt. At the moment, the field is so deep that White could legitimately create a year-long, eight-man tournament.
More practically, he could turn it into a four-man field consisting of Gaethje, Dustin Poirier, Charles Oliveira, and Michael Chandler, who made a successful debut at UFC 257 by beating Dan Hooker. That would give the UFC headliners for two pay-per-view cards.
Here's why the UFC needs to be prepared to move on
Unlike Jon Jones, Conor McGregor, and probably half a dozen other top-tier UFC fighters who threatened to retire in 2020 – mostly over contract disputes — Khabib Nurmagomedov is likely sincere when he says he doesn't expect to put his 29-0 record on the line. At 32 years old, he still has prime fighting years ahead but also has nothing left to prove – unless it's on the soccer field.
The UFC lightweight champion was in Abu Dhabi last week for UFC 257. While there, he found a soccer pitch and some competition, including Dutch star Clarence Seedorf, according to Low Kick MMA. The Real Madrid fan posted an Instagram video of himself running, presumably to train for his second career.
"Preparing for my football debut," Nurmagomedov wrote on Twitter. "I'm free agent, and ready to accept offers."
Obviously, playing soccer at the highest level isn't going to happen. Given the chance to play somewhere, however, he'd likely leap at the chance unless the urge to fight returns.
Like Sportscasting on Facebook. Follow us on Twitter @sportscasting19.