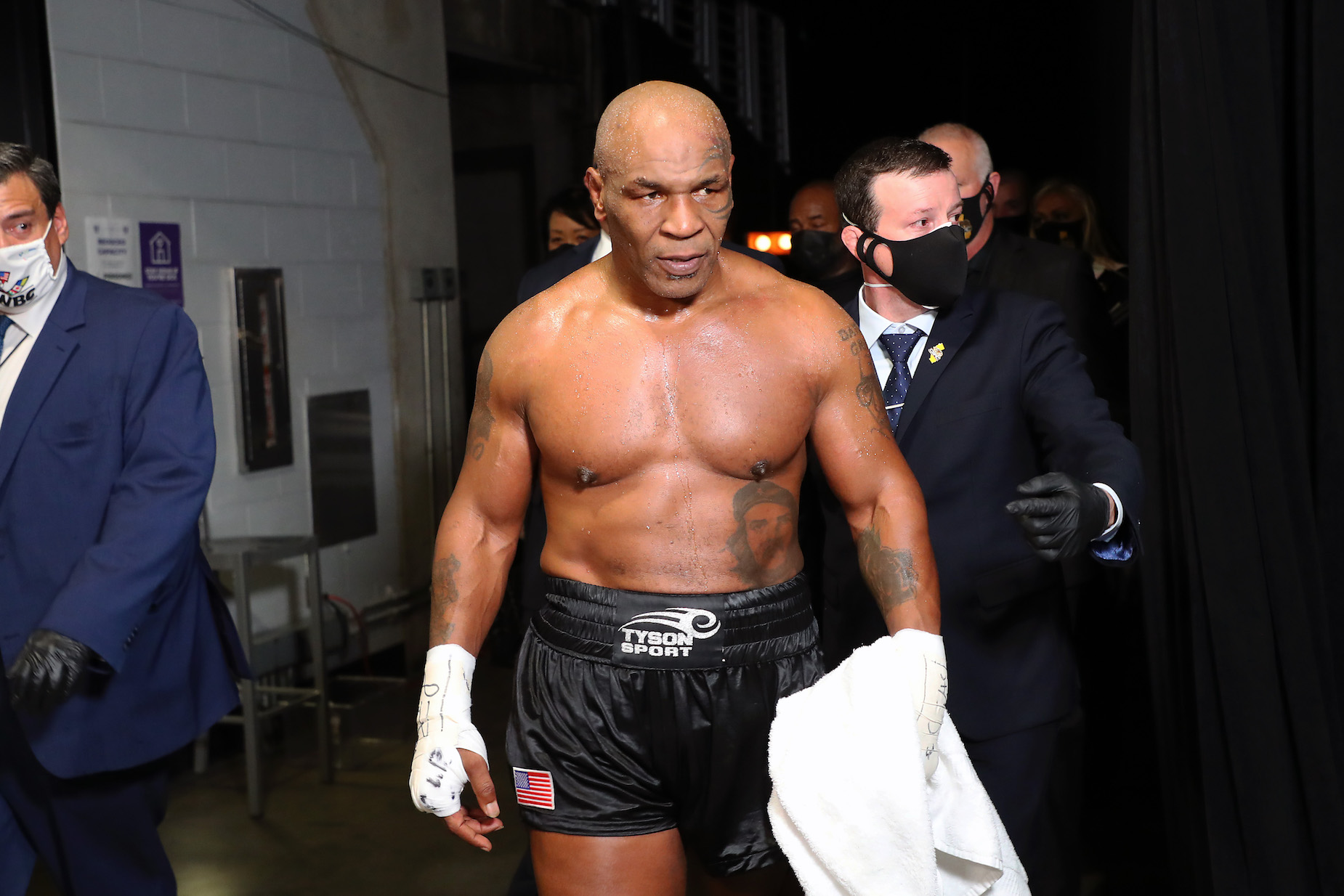 Mike Tyson 'Thought About Killing People' Before He Found Boxing: 'People's Lives Didn't Mean Anything'
While everyone knows Mike Tyson is intimidating, the former champ once admitted that he thought about killing people before he found boxing.
In the world of boxing, few men have been more intimidating than Mike Tyson. During his prime, Kid Dynamite was virtually unstoppable; it seemed like a matter of when, rather than if, his opponents would be knocked out. Iron Mike, however, could have been even scarier if he never started boxing.
During a 2019 appearance on Good Morning Britain, Mike Tyson shared a chilling nugget about his youth. Before finding boxing, he "thought about killing people" and believed that "people's lives didn't mean anything."
Mike Tyson's tough childhood in Brooklyn
During his days as a boxer, Mike Tyson was a pretty intimidating guy. Even as a child, though, you wouldn't have wanted to mess with Iron Mike.
As he explained on the IMPAULSIVE podcast, Tyson grew up in Brooklyn and frequently found himself in trouble. "I've been arrested 40 times before I was 12," the future heavyweight champ explained.
So what was Tyson doing to land himself in such hot water? "Burglaries, pick-pocketing, snatching jewelry," he said. "One-punch knockout and then go in their pocket, robbery."
Tyson's childhood wasn't just headlined by countless fights and arrests, though. Thanks to his lisp and appearance, Mike was a frequent target of neighborhood bullies. While it might seem unimaginable given his 'Baddest Man on the Planet' persona, Tyson felt insecure and only found solace among his beloved pigeons.
Thinking about killing people before he found boxing
Based on his criminal record and the fact that he was knocking people out in order to rob them, it's safe to say that you probably didn't want to cross paths with a young Mike Tyson. During a 2019 TV interview, however, the boxer admitted that he thought about doing something even worse.
During an appearance on Good Morning Britain, Tyson and Piers Morgan discussed knife crimes in London. Speaking from experience, the former heavyweight champ explained that, in his mind, the issues started with a lack of hope and opportunity.
"Well, they have to believe there's hope in life," Iron Mike explained in a video shared by The Sun. "They don't believe there's any hope in life, there's no hope for a better life. If they had believed there's any hope for a better life, they wouldn't conduct themselves that way. That's the only reason that I conducted myself [how I did]. I didn't believe I had hope for a better life and, then I started boxing, and I saw hope."
So how did Tyson exactly conduct himself before finding boxing?
"I thought about killing people," he continued. "People's lives didn't mean anything, and all that stuff, too. I was the same way as these kids. I used to be in gangs, I used to have guns, I used to shoot at people, I used to be shot at, and all that stuff."
Mike Tyson was apparently disappointed that he never killed an opponent in the boxing ring
Even after he started boxing, however, Mike Tyson didn't turn into a saint. He continued to have legal issues, did some time in prison, and eventually hit rock bottom. Death, it seems, didn't leave his mind, either.
During a 2013 interview promoting his book, Tyson was asked if he ever was afraid that he might accidentally kill an opponent. "Yes," he responded, "but I was so disappointed that I didn't. Although I'm happy now that I didn't."
Between his troubled childhood and his incredible punching power, Mike Tyson could have probably killed someone at various points in his life. Thankfully for everyone, though, he never did.