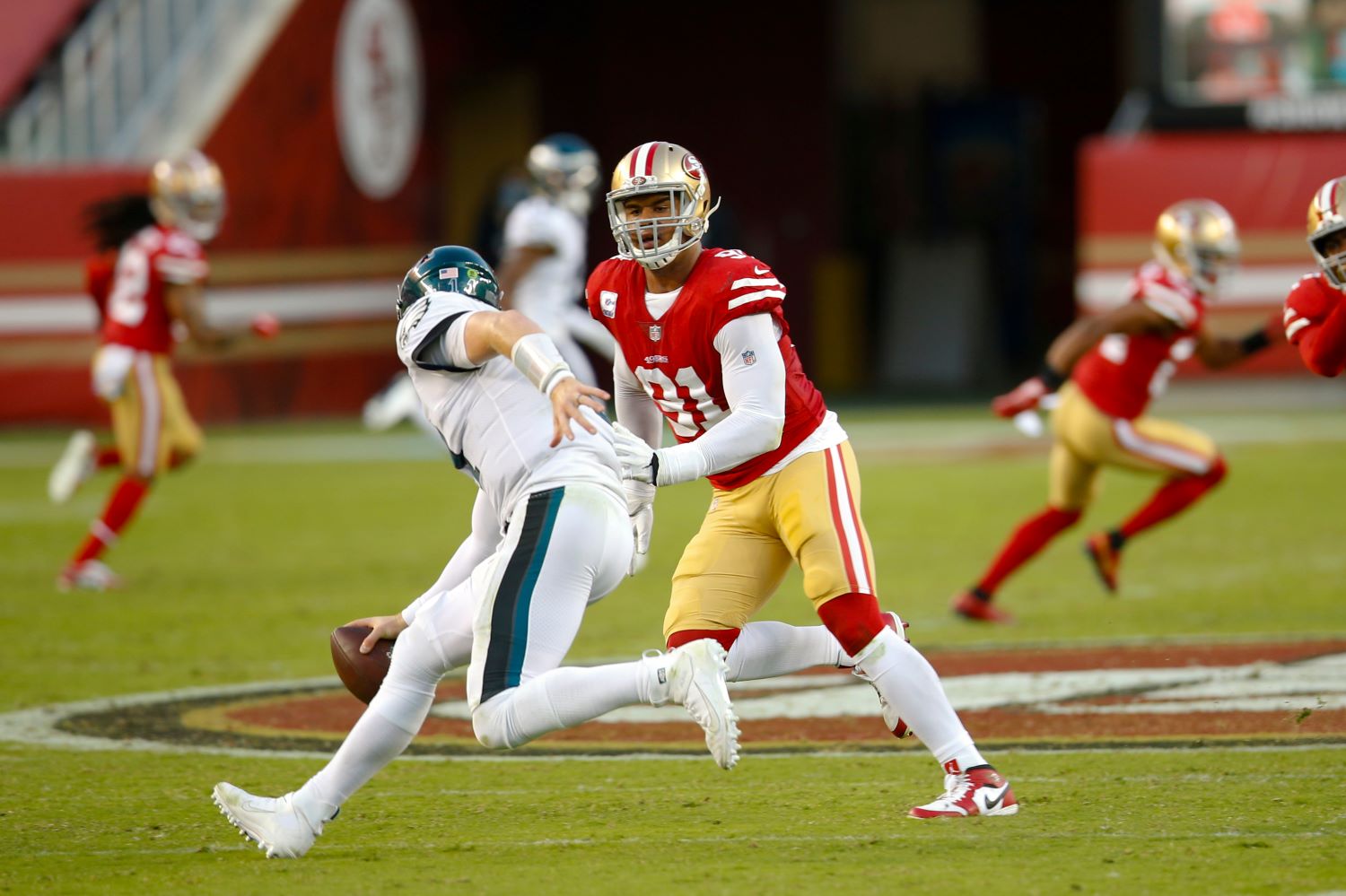 The 49ers Just Suffered a Major COVID-19 Loss to Start Their Bye Week
The San Francisco 49ers were dealt a tough blow on Monday, as star defensive end Arik Armstead got placed on the reserve/COVID-19 list.
After losing to the New Orleans Saints on Sunday, the San Francisco 49ers just suffered another loss on Monday. With Arik Armstead landing on the reserve/COVID-19 list, Kyle Shanahan may have to dig deep down the depth chart if the star defensive lineman cannot return to action following the team's Week 11 bye.
And unless the 26-year-old starts to play up to his $85 million contract, the 49ers have no chance of making the playoffs this season.
Arik Armstead has developed into a star in San Francisco
The 49ers selected Arik Armstead with the 17th overall pick of the 2015 NFL draft. However, it took the 6-foot-7, 292-pound defensive lineman a few years to find his footing.
In his first three seasons in San Francisco, Armstead recorded just six sacks in 30 games. However, he became a full-time starter in 2018 and finished the year with 48 tackles, three sacks, and 12 quarterback hits.
The 49ers then exercised the fifth-year option on his contract, which gave Armstead one more chance to prove his worth. In the final year of his rookie deal, he delivered a dominant campaign that included career-highs in tackles (54), tackles for loss (11), sacks (10), and quarterback hits (18).
This offseason, San Francisco signed the talented defensive end to a five-year, $85 million contract extension. The deal included $40 million guaranteed. Considering his rookie deal carried a total value of less than $10 million, Armstead certainly had to be happy about earning such a substantial raise.
The 49ers start their bye week with a loss to COVID-19
The 49ers have suffered a number of brutal blows to their roster this season. However, their latest personnel loss has nothing to do with an injury.
On Monday, ESPN's Adam Schefter reported via Twitter that the 49ers placed Arik Armstead on the reserve/COVID-19 list. The 27-year-old recorded two tackles in Sunday's loss to the Saints.
So far, Armstead has not provided a great return on the 49ers' expensive investment. The sixth-year pro has totaled just 1.5 sacks and 10 quarterback hits in 10 games. Of course, not having Nick Bosa on the field hasn't helped.
While it has not been made clear whether Armstead tested positive for the coronavirus, landing on the reserve/COVID-19 list certainly isn't a step in the right direction for a player who needs to justify his $85 million contract.
And if the 49ers have any hope of making the playoffs, they'll need their highly-paid defensive lineman to make a much bigger impact after their bye week.
Will San Francisco get back on track in Week 12?
Because San Francisco does not play this week, Arik Armstead may have enough time to get cleared before his team takes the field again. And with just six games remaining on their schedule, the 49ers can't afford to lose another one if they plan on playing in the postseason.
At 4-6, Kyle Shanahan's team has little margin for error. The 49ers face a tough first test after their bye in the form of the Los Angeles Rams. The following week, San Francisco hosts a Buffalo Bills team that should win the AFC East.
And after taking on the Washington Football Team and the Dallas Cowboys, the 49ers finish their season with tough matchups against the Arizona Cardinals and the Seattle Seahawks. Armstead has to win more one-on-one matchups and apply consistent pressure if the 49ers have any shot at slowing down two of the most explosive offenses in football.
Ultimately, though, San Francisco should lose at least three of its final six games. And if that occurs, the 49ers will finish with a losing record for the third time under Shanahan's watch.
For a team that came agonizingly close to winning a Super Bowl title back in February, it looks like the 2020 season will be a lost one.
All contract data courtesy of Spotrac. All statistics courtesy of Pro Football Reference.