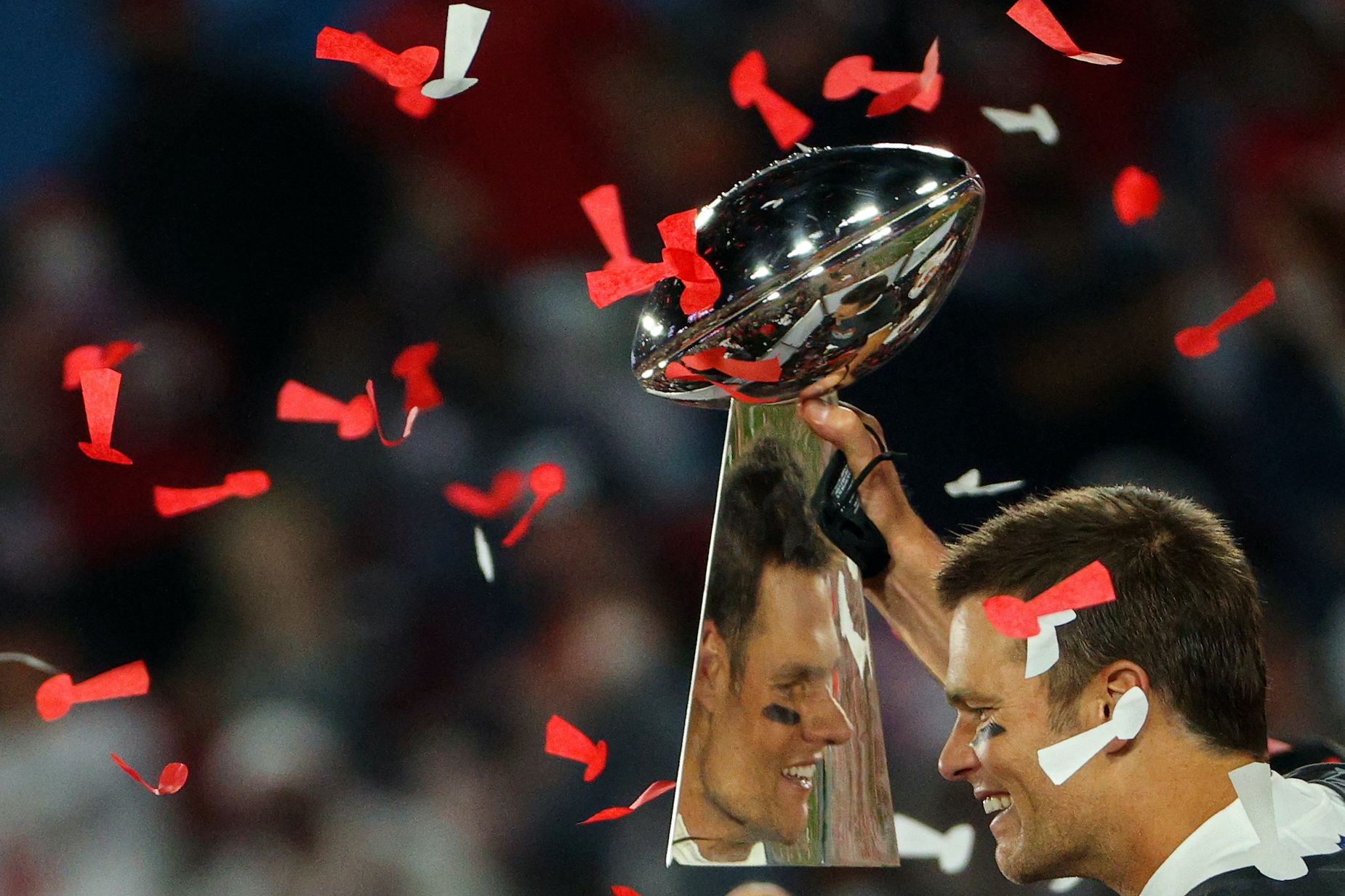 Tom Brady Sent His Tampa Bay Teammates the Same Three-Word Text Every Night to Turn Them Into Super Bowl Champions
While we've all seen Tom Brady's on-field leadership, he apparently used a three-word text message to prepare his Buccaneers for the Super Bowl.
Whether you like it or not, Tom Brady will go down in sports history as a serial winner. With his victory in Super Bowl 55, the Tampa Bay Buccaneers quarterback has now won an incredible seven championships. His skill set, however, isn't limited to throwing passes and lifting the Lombardi Trophy above his head.
While it's easy to get lost in intangible anecdotes and veer into myth-making, it does seem like Tom Brady is a pretty good leader who's capable of rallying his troops and pushing them to be the best. Leading up to the Super Bowl, he apparently did just that by sending out the same three-word text message every night.
Tom Brady will go down in NFL history as a legendary winner
During his time in the NFL, Tom Brady has never been a universally beloved player. Even his biggest hater, however, can't deny the quarterback's incredible success.
Brady, of course, arrived in the NFL as an unheralded sixth-round pick. Drew Bledsoe, who was the Patriots' starter at the time, never thought that the rookie would become anything more than a journeyman backup. Fate, however, intervened.
After Bledsoe suffered an injury, Brady took over the Patriots' offense. While there were a few growing pains along the way, he led the team to a Super Bowl championship. He obviously remained the starter and, before leaving New England, lifted five more Lombardi Trophies, won three NFL MVP titles, and did virtually everything else imaginable.
Even after leaving Foxborough and Bill Belichick behind, though, Brady's winning ways continued. While the Tampa Bay Buccaneers started the 2020 campaign slowly, the team eventually hit their stride and capped their season with a Super Bowl title.
Sending his teammates the same three-word text
No one, not even a quarterback with seven Super Bowl rings on his fingers, can win an NFL game completely on their own. Tom Brady, it seems, knows that better than most.
On the field, it's not uncommon to see Brady giving his teammates a piece of his mind; when you're widely considered the GOAT, you'll get a bit of leeway to call players out. Away from the field, though, things can apparently be a bit more supportive.
As reported by ESPN's Jenna Laine, running back Leonard Fournette said that the quarterback sent his teammates the same text message at 11:00 PM each night ahead of the Super Bowl. Its contents? "We WILL Win."
While it's not clear how many times he sent the nightly message, his teammates got the message loud and clear.
Tampa Bay wanted Tom Brady to change their culture, and the quarterback delivered
When you're talking about a quarterback who just won the Super Bowl, it's easy to delve into myth-making and try to explain how every little thing he did or did not do led to a championship. In this case, though, Tom Brady seems to have walked the walk.
Last season, the Buccaneers were a talented team who couldn't put it all together. Replacing Jameis Winston with Tom Brady, in theory, was supposed to give the team a real leader who, in addition to avoiding turnovers, could pull the entire roster together and drive everyone toward their ultimate goal. It's safe to say that's exactly what happened.
Before the season even began, stories emerged about Brady texting his teammates, leading practice sessions, and getting everyone to buy-in. During the campaign, we heard how the quarterback's mere presence helped the rest of the roster believe that they could win a championship. His 'we will win' texts seem to be the next logical step in that progression; while they might seem silly in isolation, it's tough not to believe in yourself when Tom Brady is telling you every night that you're a champion.
In theory, everything becomes cyclical now. Brady, at some point, will have to retire; guys like Mike Evans, Chris Godwin, and Ronald Jones II, however, now know what it's like to win a Super Bowl title. If everything goes according to the Buccaneers' plan, they'll be the ones leading the team, sending out encouraging texts and telling the new recruits what it means to push yourself to win the Lombardi Trophy.
At this point, though, there's no way to know if that will ever happen. What we do know, however, is that Tom Brady turned the 2020 Tampa Bay Buccaneers into Super Bowl champions.